In my absence, I'm going to post a couple bonus interviews this week. Here's choreographer and Artistic Director Chase Brock of The Chase Brock Experience on (not really) being from the theater world, the importance of having a brand beyond the stage, and critics crossing genres.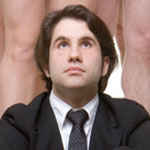 Chase Brock is a 25-year old choreographer working in the areas of dance, theater, opera, television, film and music. Recently called "prolific" in The New Yorker, he is Artistic Director of The Chase Brock Experience, the New York City-based contemporary dance company he founded in 2006.
You're one of the few artists I've ever met who's (just about) as concerned with the aesthetics of you company's website, materials and merchandise as you are with that of your artistic work! Why do you think presenting audiences with a complete, branded package is so important?
In short, because that's how I think we will survive — and thrive — as artists in 2009. I find much of the dance world, especially 'downtown dance,' to be far too insular and shortsighted in the sense of not reaching beyond the obvious audience base to try and speak to a larger and more diverse public, and as someone who is interested in reaching the broadest audience possible, I think it's essential to consider branding and marketing very seriously. I want our audiences to feel that every aspect of their experience has been addressed with care and meticulousness, from their first glance at our ad and the subsequent visit to our web site, to the atmosphere when they arrive at the performance venue, to the content, programming, design and execution of the performance, to the post-performance interaction and communication we engage in with our audience members.

Further to that, have you ever been criticized by the dance press or by other choreographers for having cool merchandise and/or a great website? If you're spending so much time making things look nice and connecting with your audiences off-stage you're not suffering for your art like you're supposed to be?
Yes, by the press. I'm not aware of other choreographers criticizing those aspects of my work, thought it's certainly possible. The web site has received almost unanimous praise, thanks in no small part to our incredible designer, Lisa Clayton of Starving Artist Web Design. I'm so bored by the idea that my putting a bit of thought and energy and care into developing a visual identity for my company somehow automatically means I must be neglecting the dancing, or taking precious time and energy away from my work in the studio. The fact is, I'm not taking time away — I'm adding it. When we're preparing for a season, I get up at 6am and work in my office until about 9:15, then I'm in the studio by 10. I usually have a series of afternoon meetings starting around 3 or 4pm, and then either return to rehearsal or to my office to work from about 6 to 10pm, followed by answering e-mails or reading until about midnight, when I go to sleep. Every artistic director, especially one leading a young nonprofit organization in New York City in 2009, has enormous responsibilities that extend far beyond his primary creative work, and I'm certainly not apologizing for that. I'm celebrating the fact that we all somehow find the energy for it.

You come from the theater world, correct? Do you think Broadway is currently undergoing a transformation, tapping modern dance choreographers like Bill T. Jones (Spring Awakening) and Karole Armitage (Hair) for productions rather than hiring choreographers who have made names for themselves in musical theater (e.g. Kathleen Marshall and Susan Stroman)? If that is the trend, how can shows expand their audiences by using choreographers who are fresh to Broadway?
I'd like to clarify where I come from. I started dancing when I was 6, and became increasingly serious about it as I grew older. At the same time, I also studied acting and performed in musical theater. When I was a teenager, I was studying ballet 6 days a week, with my dad driving me back and forth between schools (and between states), which ultimately led to the decision for me to homeschool, so that I could also find time to continue my acting and voice lessons. Dance was always my first love, but I kept having to choose between dance and theater. When I was offered summer scholarships to both Joffrey Ballet School and Broadway Theatre Project, I chose Broadway Theatre Project. In high school, when I had to choose between studying dance at Interlochen Arts Academy or moving to New York to train and audition independently, I chose to move to New York, and thankfully, Susan Stroman quickly cast me in her revival of The Music Man. So, even though I was dancing on Broadway by 16, I do come from the dance world, first and foremost.
I certainly hope Broadway is currently undergoing the transformation you describe. I think that would be thrilling. My favorite Broadway choreography from the past ten years has been Matthew Bourne's work on Swan Lake, Twyla Tharp's work on Movin' Out, Bill T. Jones's work on Spring Awakening, Karole Armitage's work on Hair, much of Mark Dendy's work on Taboo, much of Matthew Bourne and Stephen Mear's work on Mary Poppins, and some of Twyla Tharp's work on The Times They Are A-Changin', though I also particularly loved Peter Darling's work on Billy Elliot, and he is a more traditional theater choreographer.
Dance is the most primal, most basic, most visceral of the performing arts, and audiences recognize that when they're confronted with first-rate dance. If Broadway producers and directors continue to reach out to quality choreographers and continue to challenge them to articulate their choreographic artistry and compositional skill in the theater, audiences are sure to take note.

Speaking of coming from theater, we were recently cracking up going through your press together: the writers just can't let go of you having worked on Broadway! You can't change where you came from, as they say, and I suspect you aren't planning on adapting your style to suit the press, either. But explain to us why contemporary dance critics seem to be immediately turned-off by Broadway credits. Why can't we all just get along?
First, I'd like to say that I'm very grateful to all of the critics who watch and write about my work, and for the consideration and coverage they continue to give my work. I think, in general, my work has actually been received quite well, however it is interesting to note that I don't believe my dance company has ever received a listing, feature or review that didn't include the word "Broadway" at some point along the way. I don't know why this is the case. I'm sure some writers mention it because they just find the work particularly theatrical, maybe others because they're familiar with some of my background and are trying to give context to the reader, certainly others because they glanced quickly at my bio and noted the Broadway credits. I'm sure there are a variety of reasons this happens, but it would be refreshing to open the paper and read a review that simply addressed the work at hand, and not the work, or presumed work, in my past.

Who are some of your favorite dance writers?
Edwin Denby and Arlene Croce's criticism and essays are probabl
y my favorite, and I also love reading Joan Acocella (including her biography on Mark Morris). I love all of Susan Sontag's writing, including her essays on ballet. Same goes for Jean Cocteau. The best, most expert writer on dance — and certainly on the choreographic process — is the great Agnes de Mille. I have all of her books in my library, and often return to Dance to the Piper, To a Young Dancer and Martha, her incredible biography of Martha Graham. Another favorite of mine is Doris Humphrey's The Art of Making Dances. I think about her checklist every time I make a new dance. I also like Louis Horst's writing on composition and especially Twyla Tharp's Push Comes to Shove and The Creative Habit, which have given me great comfort and companionship.
What are the main dance blogs? In classical music, a lot of the critics have personal blogs where they provide additional or different coverage. Is the same true for dance? Has anyone Tweeted from the wings of a performance, yet? Tweeted on their iPhone while performing? ("just did good arabesque. partner @balletdude29 squeezing ribs too tight.")
Actually, I'm not sure. The only blog I read obsessively is yours! I'm kind of new to the blog world, and would love to find a good dance blog. I know Doug Fox writes one called Great Dance, but I'm not sure of others. I will do some research on that. I love your idea of Tweeting from the wings of a performance, and I'm going to find a way to make that happen one of these days. If it's already been done, I'm not aware of it.

I've been going through a phase of wondering why performing arts journalism isn't completely multimedia-based; why do we write about performances when we could record video and audio and then provide personal insight while showing the actual event. Have you seen or experienced any interesting multimedia arts coverage in the dance world?
Last summer, I choreographed the opera Roméo et Juliette for the Salzburg Festival, and the premiere was broadcast (with several intermission interviews and commentary) live across Austria on the ORF network, as well as on giant outdoor television screens, then later released on DVD. It became such a communal event, which I loved. I'm a huge supporter of videotaping, filming and broadcasting dance, and I hope that practice expands more and more. New York Theatre Ballet, a really lovely chamber company now in their 30th year, has just announced an enormously exciting deal they've made with NCM Fathom to release a series of NYTB performances exclusively in select movie theaters nationwide, building on the success of the Metropolitan Opera broadcasts. I'm sort of still in shock that this is occurring with ballet! How incredible.
You're currently choreographing a ballet to my client Gabriel Kahane's debut album. If we can get music critics out to the performances at the Abrons Arts Center, how do you think they'll react? Has The Chase Brock Experience ever been reviewed by a non-dance critic before?
First, I'd like to say that Gabriel is no doubt one of the brightest talents of our generation, and I'm honored to be collaborating with him. I love the idea of music critics attending dance concerts, and think it could be lead to some fascinating criticism. Music is the primary impetus for my work as an artist, and I strive to create dances with the musical sensitivity, reverence and care that's evident in the work of great choreographers (and musicians) like Balanchine, Graham, Mark Morris and Jiri Kylian. I would hope that a music critic would recognize the musicality of the dancing, and perhaps even hear the music more clearly or more fully as a result. I like the idea of using dance to awaken or reignite familiar, beloved or forgotten pieces of music for audiences, and especially to introduce audience members to music they may not have heard before, and I'm certain that our upcoming performances will help to expand the audience for Gabriel's music, which excites me tremendously.

If you could offer one piece of advice about how to brand a completely new dance company, what would it be?
My advice would always be to start with the work, and to let that guide everything else. I didn't necessarily know exactly what we were doing when we started this company, but as we began to work and as we've continued to work regularly over the past three years, our artistic priorities and goals have become clearer, and I hope a sense of branding has emerged as an authentic, logical and fun expression of our mission.
Click here to buy tickets for the Chase Brock Experience spring performances, April 23-26, 2009.