New York City subway stations are, in theory, prime for marketing because they're unavoidable; most of us need them to get from point A to point B, multiple times each day. That said, beyond standing and waiting for trains to come, people aren't paying attention to their surroundings when walking from outside-to-train-to-train-to-outside. Consequently, ads in subway stations have to be extreme enough to warrant stopping one's sprint-walk, pausing one's iPod, and possibly missing the next train.
Two friends and multiple strangers e mailed and directed me to the corridor between the Port Authority and Times Square subway stations. Apparently, there were ads for the HBO show Big Love there that I had to see. (It appears I have become predictable in my advanced age.) Here they are, and they are perhaps even more exciting than a program about polygamy (though let's not say things we can't take back):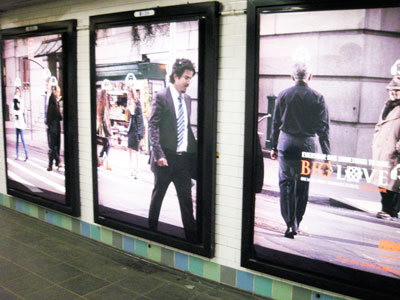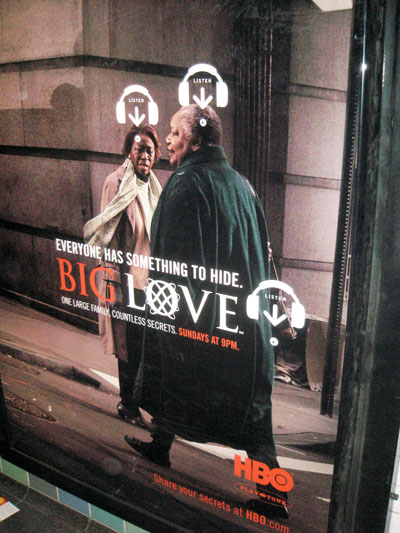 There are about 15 large photographs of regular people – not characters from the show – walking in generic city streets. Some have white headphones and the word "listen" above them. The tag line for this season of Big Love is "Everyone Has Something to Hide", so the idea is to get passersby to plug in their headphones and hear the poster peoples' secrets.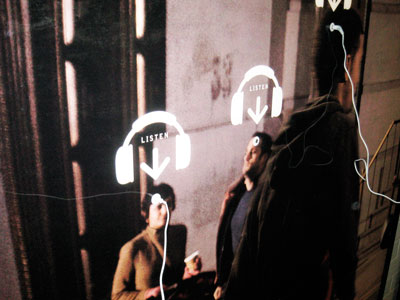 If this poster technology is out there, why aren't music promoters utilizing it? Wouldn't the best way to advertise performances be to give people the opportunity hear what the music you're presenting sounds like? Obviously, both the poster production and the ad space here are expensive, but so are bus banners (Metropolitan Opera) and the inside back cover of Time Out NY (Carnegie Hall). It would really be amazing if The Met displayed posters with audio jacks for each production of their upcoming season in that same Times Square/Port Authority corridor space. Then, people could stop and listen to an audio sample from each opera, and perhaps also hear a public service announcement of sorts from some of the leading artists ("Hi, I'm Plácido Domingo and I'll be starring in The Metropolitan Opera's production of Simon Boccanegra this season. Simon Boccanegra is a story about…"). Similarly, if presenters with posters outside their venues advertising upcoming concerts could have visiting artists record concert invitations (and maybe combine those with music clips), crowds might cluster around the posters and generate excitement/rubber necker-type buzz about the venue.
The Museum of Modern Art in New York, with the help of superior creative force The Happy Corp Global, recently attempted to solve their Tourist Problem: tourists visit the museum in droves, but locals do not. Two days ago, in an act which both the MTA and The Happy Corp are calling "Station Domination", MoMA installed 50 permanent collection prints in the existing ad units at the Atlantic/Pacific subway station in Brooklyn. The idea is to turn walking through that subway station into a walking-through-MoMA's-galleries-type experience. Said experience comes complete with audio guides – my personal favorite part of the campaign: the germy public phones that probably haven't been used since 1999 now have a toll-free number people can call for information on selected permanent collection pieces. Presumably, similar audio program notes could be available by toll-free number if it The Met, Carnegie Hall, or The New York Philharmonic dominated a station. Photos of the MoMA ad installation can be found here, and I'm sad to report that my non-Matisse-filled little Harlem stop really pales in comparison now.
It's important to note that both these subway ad initiatives received high-profile and widespread press coverage. New York Times features can be found here for the Big Love ads and here for the MoMA ads. Wouldn't it be nice to see some performing arts coverage in other sections of the paper every so often?