Each week (usually on Fridays, but, on occasion…Mondays), I'll post an interview with someone far
more
knowledgeable than myself on specific marketing and publicity
subjects. This week, vocal manager Matthew Horner on the changing faces (and bodies) of opera and how important (or not) marketing materials are at the onset of a singer's career.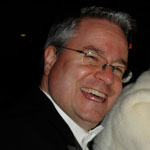 Matthew A. Horner is Vice President and Artist Manager at IMG Artists, New York. Previously, he was an Artist Manager at Columbia Artist Management (CAMI). He does frequent classes for singers at Yale University, The Curtis Institute and Bard College, among others. Matthew has also served as a judge for numerous vocal competitions including the McCammon Competition, the Palm Beach Opera Competition, the Metropolitan Opera National Council Auditions.
How has artist mainstream marketability affected the opera
industry? Do you think the introduction of The Met HD broadcasts
(close-ups, interviews) sparked this change?

Quite a bit. The Met's increasing visibility in cinecasts and HD transmissions, on PBS and international television (after several years of none of this) has made it important for them to cast a certain "look" and emphasize artists who are appealing and telegenic. The other houses both domestically and internationally are following their lead, so this will be a trend for some while to come.
Do you think the industry is moving toward hot-people-only, or will good singing always prevail over looks?
I view it cyclically. One sees even in the accounts of the Met under Edward Johnson and Rudolf Bing that the public believed that certain singers were being hired more for their looks than for the vocal goods they posessed or didn't. I think that there will be an increased desire in the future to hear great singing again. Certain operas rise and fall on having the requisite vocal chops, and no degree of theatrical energy or physical glamor can replace this. We will have the "hot" mentality for a period while cinecasts are still popular, but eventually one can only substitute so much before turning out a compromised artistic product.

Have we reached a point where marketing is so important that artistic
directors will actually think about an artist's website/headshots/press
profile when casting?
If not their materials, they'll certainly consider looks and have for some time. The materials are important, but most casting directors can see through puffery rather easily and still need some degree of substantive output before casting anyone.
How often do people approach you for management?

My colleagues and I get about a half dozen requests a week. I don't believe that anyone at IMG has ever taken on anyone who sent unsolicited materials.
What is the usual track for opera management? What is the next step after participating in a young artist program, for example?
Among American singers, it's fairly common to find your manager while in a young artists' program though some are already managed when they begin. The Met usually restricts their young artists from being managed for the first two years of the program. The "next step" depends largely on the individual. Some artists are ready to work right away after a program; others still need further work on various things. It's not uncommon especially for young artists to need more stage experience in principal roles.
How could an artist best market him or herself to a manager? I realize
a lot of it is referral, but what do you look for insofar as materials
and "package" at the onset of a working relationship?
Certainly at the top level of the profession referrals are critical. While we are always impressed by well-organized materials and elegant presentation, it doesn't replace talent for us.
Should aspiring opera singers be concerned about a lack of press?
It's hard to get press even for top singers. Should younger singers
focus on reviews from small, local publications, or does press not
matter as much at that point?
Having reviews is always important. Anything like a feature, profile or interview is usually the purview of more established artists. We don't put an enormous amount of stock in tiny papers or local critics outside the major centers.
What are the benefits of being managed by a big company like IMG Artists versus a smaller agency?
This is a discussion that could last for pages, but one thing that jumps to mind is information flow. Because we are a large and international company, we have access to more information than most and can use this to our clients' advantage.
Switching gears, how important have sponsorships become in the opera
world? Are all the top singers promoting some kind of product? Are we
moving toward product-placement in operas, or other such craziness?

It's been around for some time, and there are a number of top stars who are associated with fashion, jewelery, cell phone companies and the like. Like it or not, the audience for opera will remain limited, and thus there will never be a huge amount of interest from the commercial world for singer endorsements.
Will there be a backlash against this – where is the artistry when
we're worried about who's promoting which watch – or will the industry
just keep on trucking in that direction, like basically every other
industry?
Again, it goes in cycles. There has always been some degree of this and in fact singers' place in the world was much more visible in the past. I think there is some backlash against it already within the business.
What do think is the most important thing to happen to opera in the past year?

The Met's increased visibility has been very major and has "trickled down" to other companies as well. The company's national profile has really been helped by both cinecasts and the return to multiple telecasts on PBS.
What do you think is the most important thing a singer at any level can do to advance his or her career?
SING WELL!