Each week, I'll post an interview with someone far more
knowledgeable than myself on specific marketing and publicity
subjects. This week, multi-instrumentalist Rob Moose on performing in, marketing himself in and making a living in the classical, Broadway and indie rock worlds.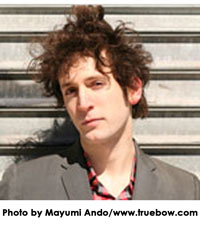 Violinist/Violist/Mandolinist/Guitarist Rob Moose graduated from The Manhattan School of Music in 2004 with a degree in violin performance. Since then, he has performed with The Orchestra of St. Luke's, Jay-Z, Burt Bacharach, The National, Savion Glover and Vampire Weekend, and has toured and recorded with Sufjan Stevens, Antony and the Johnsons, Beth Orton, Duncan Sheik and My Brightest Diamond, among others. He was recently featured in a Lenny Kravitz music video (playing the violin, with Kravitz…conducting) . Additionally, he plays for the Broadway show Spring Awakening and recently founded the string quartet OSSO.

What was your rehearsal and performance schedule this week?

Friday 11: Recording Prep Rehearsal with Bach Reformed (my duo project with fiddle player, Dana Lyn). (tenor guitar, mandolin). Performance with Beth Orton at WXPN XPoNential Music Fest, Philadelphia. (guitar, piano, mandolin, violin)
Saturday 12: Performance with Beth Orton at Celebrate Brooklyn Festival, Prospect Park Bandshell, NY. (same)

Sunday 13: Recording Prep Rehearsal with Bach Reformed (same)

Monday 14: Reading of Gabriel Kahane's new chamber song cycle, "For The Union Dead," a setting of poems by Robert Lowell. (violin, electric guitar). Spring Awakening at Eugene O'Neill Theater. (violin, electric guitar)
Tuesday 15: Performance with Capathia Jenkins and Louis Rosen at Iridium, NYC. (violin, electric guitar)
Wednesday 16: fly to London
Thursday 17: rehearsal with Beth Orton

Friday 18: Performance with Beth Orton at Latitude Festival, UK
What is the smallest venue you've ever played in? The largest?

Besides my mom's office Christmas party? The smallest would be either Jack's Stir Brew, a fair trade coffee shop in the West Village at which I occasionally play Bach, or the Sidewalk Café in Alphabet City, where I first performed with My Brightest Diamond (then called AwRY) in 2003. The largest outdoor venue I've played in was the 2005 Arezzo Wave Festival in an Italian football stadium with Antony and the Johnsons. For an indoor venue, I'd say either Radio City Music Hall with Jay-Z or the Royal Albert Hall with Antony.

When do you feel least connected to your audience? I.e. in a noisy bar where folks don't seem to be fully paying attention to the performance, or in a concert hall where some people are sitting so far back they can barely see you? Most connected?

I think that outdoor venues tend to create the largest disconnect between performer and audience member. In non-classical situations, I find that lighting also has a great impact on the feel of a performance. If I cannot see my audience, I sometimes feel isolated on stage, unless they are particularly vocal. In general, though, I would prefer a noisy, intimate situation over a silent, formal one simply because performer and audience are more likely to directly interact, whether through energy exchange, eye contact or actual conversation.
Do you connect with the audience at all when you play Broadway shows? You're on stage for Spring Awakening; that must be totally different than playing in the traditional Broadway "pit", right?
Broadway shows are automatically a different breed of performance because as a musician, one is confined to a supporting role in favor of the actors. I have only a limited experience with traditional pit playing, but that does seem to offer the least possible amount of connection with an audience. In a pit, most musicians cannot see what is happening on stage, so we are unable to even share in the experience of the acting and singing. Spring Awakening provides a welcome contrast to the typical musical theater performance, both for musicians and audience members. Because the show is as much a rock concert as it is a theatrical narrative, the presence of the band on stage is absolutely crucial to its delivery. Additionally, the onstage seating guarantees that someone is sitting less than ten feet away, a distance that guarantees they will hear my natural, unamplified sound nearly as well as I.
I've seen audience members come up to you after Gabriel Kahane/My Brightest Diamond/Sufjan Stevens concerts to compliment you and discuss the performance/music. Does that ever happen after orchestra concerts? Broadway shows?
Nearly never. That is one of the biggest reasons I prefer playing in non-classical settings. There is an inherent anonymity in orchestral performance that matches the requisite submission to a conductor. When an orchestra musician walks onto the street, the only reason someone will recognize him is because of his tuxedo. They will not know which section of the orchestra he played in, much less what instrument. Orchestra playing can be transcendent, particularly with a group as flexible and open-minded as Orchestra of St. Luke's, but I always remember to check my pop music expectations at the door.
Stereotype: audiences at a The National concert wouldn't know how to act at a NY Philharmonic concert. Thoughts?
I think the indie rock audience is pretty well versed in a variety of musical styles and performance situations. Many groups have incorporated strings, woodwinds and brass into their live performances in recent years. Organizations such as BAM and The Kennedy Center have programmed concerts involving collaboration between orchestras and rock bands. If anything, I feel that new audience members would bring a much-needed dose of curiosity and enthusiasm to the concert hall.

What have you been asked to do marketing and publicity-wise for your various performance projects? Have you ever been interviewed about playing for Spring Awakening? Asked to write something for the Orchestra of St. Luke's website? Sent an e mail out to your contacts about a My Brightest Diamond concert?
Actually, I have not been asked to do anything that I can think of. I always invite people to performances but I do not send out a regular e-blast or anything formal. If I was asked to write something on behalf of any of the groups with which I am performing, I would be more than happy to do it.
What would you be willing to do if asked? Interviews, e mail blasts, quotes for websites? Are there any pres
s/marketing tactics that you feel are off-limits for artists?
As long as I am not asked to sign my name to something I have not written, or to express a sentiment that does not feel genuine, I would not make any general objections to promotional strategies.
How do freelance musicians market themselves? To orchestras/bands/collaborators/press? Is it a total burden to have to self-promote while practicing/touring/recording, or do you enjoy it at all? What's your advice to recent conservatory graduates who are looking for jobs?
Freelancers market themselves informally and constantly. The most important thing is connecting with fellow musicians, and I mean that in as non-superficial a sense as possible. Attending performances, meeting and speaking with the musicians that inspire you, learning other people's music, writing music to play with specific people…these are all integral networking tools as well as ways to expand one's artistry. On paper, the process sounds very active, but these methods are best utilized in an organic, almost subliminal way.
Something that has helped me recently is to recognize and embrace my niche. If I happen to be one of a very few who can act as a concertmaster, hire musicians, write string arrangements, conduct if necessary, double on guitar, and serve as a personal liaison for an artist operating outside of his realm of comfort, then my realization of that fact enables me to promote myself as such and bring my skills to a variety of situations.
To recent graduates, I would advise pursuing cheap rent, avoiding a 9 to 5, being courteous and appreciative in all situations, seeking mentors and asking advice, bringing pencils to rehearsal, learning new instruments and buying new clothes, and, most importantly, thinking of gigs as investments in your future (i.e. playing concerts for little to no money if you believe in the music).
Josh Ritter with the Boston Pops, The Decemberists with the LA Philharmonic: important artistic collaborations or marketing/publicity ploys?
The effectiveness of the classical/pop cross-pollination phenomenon depends entirely on the quality of the band and its arrangements as well as the competence and interest of the conductor and orchestra. Having experienced both formats with multiple artists, I honestly feel that a group of freelance players are a stronger asset to a band looking to integrate classical instruments than a traditional symphony orchestra.
Coolest thing to happen to 1) classical music 2) Broadway 3) indie rock in the last year? One answer for each, please.
Classical: Alex Ross on The Colbert Report discussing his book, The Rest is Noise.
Broadway: Mario Lopez in A Chorus Line (I don't know enough about Broadway to make an intelligent remark, but who doesn't love Saved by the Bell).
Indie Rock: Ditmas Park, Brooklyn.