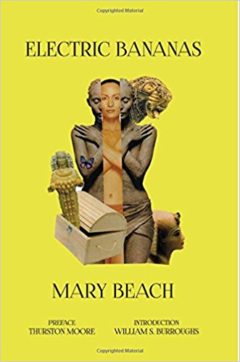 Mary Beach's Electric Bananas, a brilliant posthumous collection put together by her daughter Pam Plymell, uncovers a writer who has the kind of filthy wit that belongs in James Joyce's league. Beach is more dangerous, however, because she is more accessible. She has mastered a style along the lines of Finnegan's Wake, but simplified it. You can understand it the way you understand one of Joe Orton's hilariously scatalogical plays.
Electric Bananas is funny and angry at the same time, and it entirely justifies William S. Burroughs's claim in the introduction that it offers "a unique auditory experience approaching the actual found sounds of language as it mutters." Or as Thurston Moore puts it in his preface, you will hear "a FEMALE voice ripping sideways."
Not everything in the collection is written in a Joycean mode. Here, for example, from the opening story ("The Electric Banana"), is that withering, entertaining voice of hers, not obscure in the least — and it is very much the way I recall Mary speaking so long ago:
"How can I sleep in a bed of pure love with wads of chewing-gum & bananas stuck all over the brass frame?" I shouted, but my voice didn't carry, it was very embarrassing . . . how disgusting can you get? I thought. . . .

"Pretty disgusting, I guess." Someone retorted, reading my mind.

An iron grey sky puked blue sparks, white hot against the fiery sun.

"Take a hike! Get lost! You'll never get out of here alive anyway!" Another swig of rotgut. Barroom Gobbledygook.

I'm a woman, see? A female, ya dig? And it's absolute hell to live in this pocket handkerchief edition of Hades.
And here is a random example of her Joycean mode:
UPANDOWN UPANDOWN humpling sexer sizes [the normull thing aztheysay] are less paynfullthan sidelwaize.

Less paynfull than what?

Enny of thother ways they say there're 10001 ways to make love!

The real Amurrican gal ain' teazy to find ennymore: Sellofane-rapt 'n' Keenex schnozblowing, now this bloojenes an dirty tresses lokt in horse tail, spectin injexshuns from good ole Doc ortha Burning Boche whose best amigo is Jewish, the kind evrywon has inniz back pocket to pull out enny time attall . . .
Mary Beach was a helluva lot of fun in real life. And so is Electric Bananas. It does her rare justice.