Slate points out that today's frontpager in The New York Times print edition, about the evidence collected in the British investigation of the alleged airline bombing plot in London, doesn't appear on The Times' Web site.* Neither (fortunately) does this spread, which ran in the print edition of the Sunday NYT Magazine: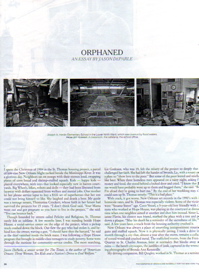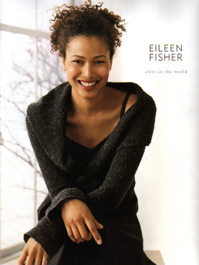 On the left, above, is the first page of an essay by Jason DeParle, "Orphaned," about children victimized by Hurricane Katrina. On the right is the opposite page, the first of four luxurious pages advertising Eileen Fisher "Alive in the World" clothing that were sandwiched inside DeParle's piece.
"New Orleans was always a place of unsettling juxtapositions," DeParle writes. So, apparently, is the print edition of the magazine. You'd think the editors would have noticed this one, though, and done something to separate the editorial content from an ad that mocks DeParle's entire piece, let alone the photos of the children. Unless, of course, they did notice and could do nothing or, worse, didn't notice at all.
But how could they not? Vide: the double-truck photo by Brenda Ann Keneally, below (one of four, among many other photos that show the destitution):
And how about the ad execs for Eileen Fisher? Wouldn't it have made sense for them to notice and object?
*Aug. 29 — The story about evidence in the airline bomb-plot investigation, "Details Emerge in British Terror Case," was posted late yesterday after being withheld from the NYT Web site "on the advice of legal counsel," The Times reports today.