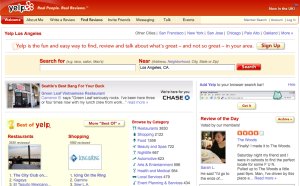 Craigslist stole in and took the classified ad business away from newspapers while they weren't looking. The same thing seems to be happening to A&E reviews and listings with Yelp. Newspapers have been doing a worse and worse job of reviewing local performances. And most newspaper listings are not very good. #
Yelp is a community built around reviews. Yelp users review everything, and as its user base has grown it has become more and more useful as a way to sort out what you're looking for. I use it to find restaurants when I'm traveling. #
Increasingly, Yelpers are using the site to review performances. Newspapers, rather than step up their game, seem to be conceding this segment of their audience. #
What's happening is that Yelp now has enough crowdsourced
participants and reviews of enough businesses in enough markets to be a
truly useful tool in trying to decide what to do for entertainment (and
more). Combined with search and geo-location (Yelp's iPhone app is
indispensable), Yelp is becoming a very powerful tool.

That's
a big deal for newspapers, which long have touted their allegedly
encyclopedic knowledge of the local scene, as well as their restaurant
and entertainment reviewers. But why grapple with clumsy newspaper
entertainment-guide and calendar interfaces, and take the word of a
single, over-stretched reviewer, when you can quickly see what the
crowd is saying on Yelp about the place you want to go? And as Yelp
expands its reach beyond restaurants and entertainment locations into
other local businesses, it's becoming even more valuable. Advertisers
will be sure to follow.
#