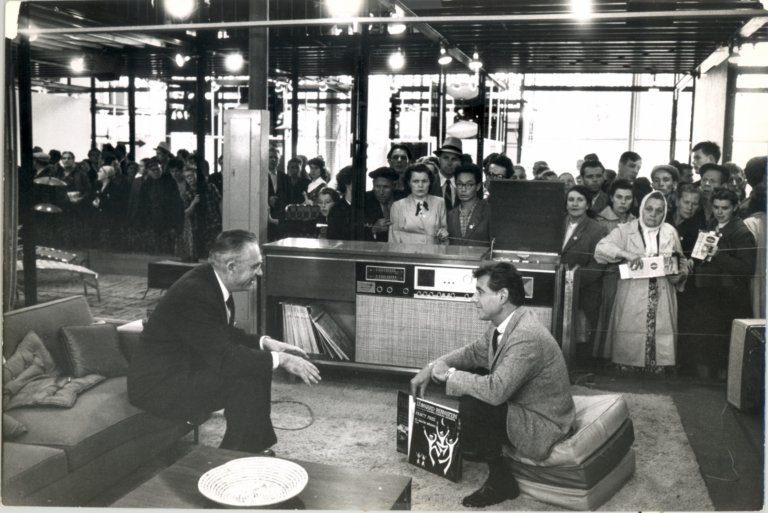 Leonard Bernstein at a USIA exhibit in Moscow in 1959
The vanishing presence of the arts in the American experience has implications for America's reputation abroad, and for its pursuit of foreign policy goals.
If the US is in fact embarking on a new Cold War, the cultural Cold War with the USSR is urgently pertinent. My latest "More than Music" program on NPR is "The Cultural Cold War Revisited." It's based on my new book The Propaganda of Freedom: JFK, Shostakovich, Stravinsky, and the Cultural Cold War. 
In a nutshell: the CIA-funded Congress of Cultural Freedom was initially a seminal Cold War propaganda instrument. In my book, I argue that, by claiming that only "free artists" in "free societies" produce great art, it failed to produce credible propaganda. Far more successful was cultural diplomacy with the Soviet Union, beginning in 1959 with Leonard Bernstein's New York Philharmonic (a visit about which I have new things to say). But as the Cold War waned, so did cultural diplomacy. So much so that when in 1986 Vladimir Horowitz triumphantly returned to Russia, Ambassador Arthur Hartman had to raise funds on his own.
Today, cultural diplomacy could be a formidable tool in, say, Central Africa, where the US is vying with China to exert influence. My "More than Music" show features remarkable testimony from Alexander Laskaris, the US Ambassador to Chad – who recently hosted the African-American baritone Sidney Outlaw. You can hear Sidney Outlaw sing "I am a Pilgrim of Sorrow" for fishermen on an island in Chad – and hear them sing a fishing song of their own in response.
John Beyrle, former US Ambassador to Russia, contextualizes this vignette. Beyrle persuasively extols cultural diplomacy. He also worries that the arts today wind up "on the chopping block."
A LISTENING GUIDE. [listen here]
00:00 – Willis Conover's "Jazz Hour" on the Voice of America and its electrifying impact in the USSR
3:00 – About my new book The Propaganda of Freedom
6:00 – The late Alexander Toradze on how jazz symbolized "American freedoms" in Soviet Russia
10:00 – A knowledgeable Soviet audience boos Benny Goodman because he's old-fashioned
12:00 – Leonard Bernstein speaks to a Moscow audience about musical bonds
16:25 – Contradicting CIA-sponsored propaganda, Bernstein extols Shostakovich in Russia
18:30 – Former US Ambassador to Russia John Beyrle on misconceived CIA-sponsored cultural propaganda
21:30 – A triumph of cultural diplomacy: Vladimir Horowitz in Russia (1986) — a visit for which the US ambassador had to raise funds on his own
25:00 – Horowitz performs Schumann before a weeping Moscow audience
30:30 – Ambassador Beyrle: the arts "on the chopping block" once the Cold War waned
34:30 – Ambassador Beyrle on the potential importance of cultural diplomacy in Africa today
35:15 – US Ambassador to Chad Alexander Laskaris on cultural diplomacy in Guinea and Chad
38:25 – Sidney Outlaw singing in Chad
40:00 – Ambassador Laskaris on the arts and US foreign policy
43:00 – William Dawson's Negro Folk Symphony – a foreign policy opportunity
45:00 – Philadelphia Orchestra President Matias Tarnopolsky on visiting China