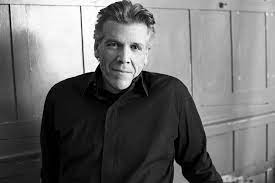 Thomas Hampson, a singer long identified with the songs of Gustav Mahler, has kindly recorded a couple of excerpts from my new novel The Marriage: The Mahlers in New York – a book he calls "revelatory."
Here's Tom reading my account of Gustav and Alma interacting in Gustav's dressing room, following a rehearsal of Tristan und Isolde at the Metropolitan Opera:
If you're curious to know how my book begins, you can see me reading the opening chapter – in which Heinrich Conried, the bumbling director of the beleaguered Metropolitan Opera, greets the famous couple from Vienna.
I next discuss The Marriage at the Colorado Mahlerfest symposium on May 20 in Boulder.
My Einsamkeit, adapting songs by Mahler and Schubert for bass trombone and piano, will be performed with choreopraphy by Igal Perry at New York's Peridance Center on June 17 and 18.
My Mahlerei, a bass trombone concerto adapting the scherzo from Mahler's Fourth Symphony, will be performed by David Taylor at the Brevard Music Festival on July 5.
Advance Praise for The Marriage:
Horowitz is a master of what I would call "passionate scholarship." He has a stake in what he writes. There is a lot of very sensitive skin in his game. As a literary writer he is at heart the free-spirited scholar he has been for decades; his prose frames in precise words the psychological ambiguities of personalities no less than the nu- ances of musical compositions or performances. His deep histor- ical knowledge blends with his narrative imagination to bring to life the sounds, the smells, the physical textures, the very air his characters breathed: Gustav and Alma Mahler are, at the same time, accurate historical portraits and haunting literary presences.
Antonio Muñoz Molina, winner of the Jerusalem Prize
❦
Despite his emotions having so often been on show, there has al- ways been something enigmatic and unknowable about Gustav Mahler. But where biographers and other musicologists have struggled, Joseph Horowitz succeeds brilliantly in revealing the inner Mahler in this powerful and moving novel. It is a triumph of historical imagination.
Richard Aldous, author of Tunes of Glory: The Life of Malcolm Sargent; Eugene Meyer Professor of History and Culture, Bard College
❦
If we want to get closer to the "truth" of Mahler and his music, if we hope to improve our understanding of the person and his crea- tions, we need to acknowledge the role our imagination must play in the learning process. In the case of Mahler, the essential facts have long been known. What we need now are fresh attempts to conceive what further truths they might contain. Joseph Horow- itz's brilliant novel reveals much to us about who Mahler was, what he accomplished, and how he related to his world. Readers will be as eager to study it as they would any biography, and they can expect to learn as much.
Charles Youmans, author of Mahler and Strauss: In Dialogue (2016); editor of Mahler in Context (2021); Professor of Musicology, Penn State University
❦
Joe Horowitz's The Marriage portrays Mahler with more power and poignancy than anyone else ever has. Set in a spider web of New York City wealth, power, and intrigue, the writing is so pro- foundly personal, so searingly intimate, that it is sometimes painful to read – to get that close to Mahler and his wife Alma – "the most beautiful woman in Vienna." I found myself unable to resist reading passages several times. This is a book for people who love Mahler and long to know him intimately (and there are millions) – a truer, more human Mahler than we have ever before encountered. Alma is also fabulously drawn, with all her love and antipathy towards her husband.
JoAnn Falletta, Music Director, the Buffalo Philharmonic Orchestra
❦
Persuasive and fair. It is refreshing to see this chapter of Gustav Mahler's biography from an American perspective, written by someone not automatically biased in favor of Europe.
Karol Berger, author of Beyond Reason: Wagner contra Nietzsche; Osgood Hooker Professor in Fine Arts, Stanford University