Who was the American Bartok?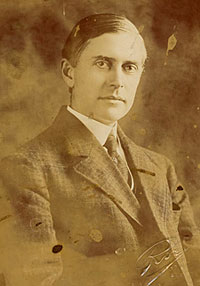 The most plausible candidate, I would say, is Arthur Farwell (1872-1952), who led the "Indianists" movement in American music beginning around 1900.
Here is a sampling – his "Pawnee Horses" for 16-part a cappella chorus, sung in Navajo.
Farwell is one of the most fascinating figures in the history of American classical music. His life-long quest was for the "unGerman" – a musical idiom as capacious and indigenous as Walt Whitman's free verse was to American literature. He lived with Native Americans and studied their music and rituals. He reported out-of-body-experiences. He was inspired by Dvorak's notion that the American Indian could supply rooted ingredients for a distinctive New World concert trope.
We don't know Farwell, I would say, mainly because American music predating World War I remains largely unexplored. And of course Farwell bears a stigma: cultural appropriation. Yet he cannot be written off as a naif. The late David McAllester, an eminence gris of American ethnomusicology, held Farwell in high esteem. McAllester distinguished between "imitating" Native American music, and discovering "inspiration" in Native American music. The inspiration forging Farwell's "The Hako" string quartet, in McAllester's opinion, was formidably authentic.
PostClassical Ensemble will be celebrating Arthur Farwell at the Washington National Cathedral next October as part of festival we're calling "Native American Inspirations." The same series of concerts will sample the work of the eminent contemporary Native American concert composer Jerod Tate. And we'll host the South Dakota Symphony's visionary Lakota Music Project. That means we'll bring to DC distinguished musicians from the Pine Ridge Reservation, as well as members of the South Dakota Symphony who have long been interacting with Lakota drummers and singers.
The festival pursues our mandate as Ensemble-in-Residence at the National Cathedral – to explore music as an instrument for mutual understanding. In seasons past, that's fostered programs celebrating Whitman, Indonesian gamelan, and Harry Burleigh.
This coming season, PCE will also produce "An Armenian Odyssey," for which the Cathedral's Great Nave will dramatically frame the singular live animations of Kevork Mourad. And we close with a Haydn Festival featuring Jean-Efflam Bavouzet, whose Haydn CDs for Chandos argue for fresh understanding of a composer/inventor harder to place than Mozart or Beethoven.