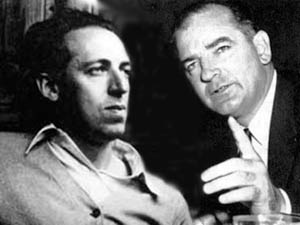 How did Aaron Copland's film music attempt to counteract the Hollywood influence of Erich Korngold? To what degree did he draw inspiration from the master Mexican populist Silvestre Revueltas? How did the Red Scare change Copland's style in the 1950s?
These were some of the questions tackled by "Copland's America," this summer's festival-within-a-festival at North Carolina's impressive Brevard Music Festival.
So far as I can tell, Brevard is unique. It manages to combine the focused intellectual exploration that Leon Botstein has long pursued at Bard with the ambitious training activities for gifted young musicians that we associate with places like Aspen and Tanglewood.
The Copland festival – in which I was fortunate to participate as a teacher, producer, and speaker — engaged all three Brevard orchestras (including high school, conservatory, and professional musicians) plus a range of chamber music, film, and lectures. Copland's turn to populism in the 1930s was an inescapable central topic. When Roger Sessions quipped that Copland "was more talented than he realized," he of course meant that for him Copland the high modernist trumped Billy the Kid, Rodeo, and Appalachian Spring. I myself have long been similarly disposed; my favorite Copland is the 1930 Piano Variations, which once emptied rooms with its scathing dissonances and skittish urban energies.
Formidably performed by Douglas Weeks, the Piano Variations kicked off "Copland and the Cold War," a Brevard program tracking Copland's compositional odyssey as well as his political lurch to the left. Copland's prize-winning 1934 workers' song "Into the Streets May First" preceded a 25-minute re-enactment of his 1953 grilling by Senator Joseph McCarthy and his aide Roy Cohn. In this context, encountering the 1950 Piano Quartet – a non-tonal work eschewing Copland's accustomed ebullience – was a chilling experience. For the first time, it occurred to me that the example of Shostakovich – whom Copland more esteemed for his mission than his music – might be pertinent to the stark textures and black humor of this little-known example of Copland's "late style." I would call it music by a composer to whom something bad has happened.
Brevard's music director, Keith Lockhart, is a true believer in Copland's capacity to reach a "new audience" – to (like Shostakovich) compose for both "us and them." And Lockhart's reading of the heroic Third Symphony – a symphony unthinkable without Shostakovich's example – was the most persuasive I have ever encountered. This 1945 patriotic paean can easily sound overwrought. Lockhart tracked a long line and ascended to high ground.
It was my pleasure to work with more than 100 high school musicians, exploring Copland the film composer in juxtaposition with Korngold, Revueltas, and Bernard Herrmann. Six of them hosted their own orchestral concert, conducted by Kenneth Lam (who every summer achieves stellar results with pre-college players). Copland's music for The City (1939) was compared with Korngold's for Kings Row (1942). The former is Copland's highest achievement as a film composer – the most important Copland score we don't know. The latter is one of Korngold's admired Hollywood soundtracks, for a film featuring a signature Ronald Reagan performance.
Copland's loud critiques of Korngold's plushly upholstered style, smothering Hollywood with Vienna, were pondered by the student hosts. The swagger of the Kings Row score made a great effect in concert. But I emerged with a fresh appreciation of its redundancy – Kings Row would be a better film shot "silent," sans dialogue; Korngold repeats everything the actors have to say. The title music (played at the first Reagan inauguration) is risibly irrelevant to the film's subject matter – Korngold composed it thinking the movie would be about kings, not smalltown America. Even so, I'm glad he kept it.
Another symphonic program explored in detail Copland's Mexican epiphany. This is a scripted, bi-lingual presentation I have produced many times in all parts of the US — including El Paso, where its impact was unique. Part two is the film Redes (1935), which I have often extolled. At peak moments in the story, its combination of Paul Strand's majestic cinematography and Revueltas's explosive score (which impetuously charts its own course) is simply unbeatable. Brevard's conductor was my DC colleague Angel Gil-Ordonez, who memorably commands this music and has recorded it with our PostClassical Ensemble.
My three weeks at Brevard were capped by Dean Anthony's production of Johann Strauss's sublime Die Fledermaus. As I have previously written in this space, he achieves miracles with his young singers — I have never seen a Brevard production that failed to ignite.  In Fledermaus, Anthony waltzed a fine line between humor and sentiment. The score's crucial number – Falke's "Bruderlein und Schwesterlein," here rendered as "Sing to Love" in the Ruth and Thomas Martin translation – was given full emotional weight. Unlike so many opera directors nowadays, Anthony is musically literate — he was a comprimario tenor of wide experience. He paces his productions flawlessly, precisely gauging the cadences and the silences, seizing the big trajectory. Of necessity, he works intimately and organically with his conductors. (I am reminded of the difference between Copland scoring The City, as a core member of the creative team, and Copland scoring the Hollywood films he was handed by their creators. He abandoned Hollywood in 1949.)  
A cavil: Is the Viennese waltz a lost musical art? The original performance style of a Mozart or Verdi or Wagner opera is informative but not imperative; fresh perspectives are fine. But I don't see any alternative to kicking the second beat in The Blue Danube. There are different ways to do it – the beat needs a rhythmic accent (play it early) and/or a dynamic accent. But it has to be done. And it isn't – cf. Jonas Kaufman at Carnegie last fall with the Orchestra of St Luke's (not youngsters) and a German conductor; every Lehar waltz was flat as a table and tables don't dance. You can hear Lehar conducting the Merry Widow Waltz – he recorded it. You can hear Clemens Krauss conducting Strauss, or Carlos or Eric Kleiber, or (my favorite) Josef Krips. They're all hiding in plain site on the web.