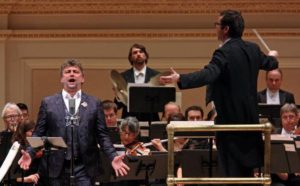 My father, who grew up on the Lower East Side, probably never heard opera until – like other Jews of his generation facing American quotas — he went to medical school in Vienna in the 1930s. His only prior exposure to full-throated singing, I imagine, came in the synagogue: cantorial tenors.
When I was very young and precociously amassing LPs of Beethoven, Brahms, and Wagner, my father collected recordings of the operetta tenors from his medical school years, singers whose high temper and juicy high notes connected with Jan Peerce singing "Kol nidre," or Richard Tucker in the Yiddish songs of Goldfaden. Richard Tauber and Joseph Schmidt were his favorites. So I grew up with songs of Vienna and Berlin ringing in my ears.  And they're still there.
Jonas Kaufmann, who must be today's most celebrated operatic tenor, commands a wide repertoire in German, Italian, and French. But for his Carnegie Hall concert last Friday night, Kaufmann presented selections from his 2014 "Berlin album" — "You Mean the World to Me." I read in the Carnegie program book that this cross-over CD "made it onto the pop charts."
Having never heard "You Mean the World to Me," I looked forward with excitement and mild trepidation. I imagined that a brainy singer – and Kaufmann assuredly is that – might bring self-conscious artistry to this repertoire, now nearly a century old. I was expecting something a little synthetic.
But Kaufmann made no attempt to sound like Tauber or Schmidt – any more than they had sounded like one another. Instead, he gloriously found his own way into the tradition they embodied.
Certainly Kaufmann's chocolate tenor is darker in timbre, and heftier in weight, than the instruments once associated with "Dein ist mein ganzes Herz" or "Wien, Wien nur du allein." But it rings on top. And it's wonderfully susceptible to the crooning head voice that was a Tauber signature.
We heard selections by Lehar and Kalman, by Ernst May and Tauber himself, by Robert Stolz and Mischa Spoliansky – songs composed between 1925 and 1933 for operetta and for early talkies. Somehow, the bewitching Tauber combination of spontaneity, intimate charm, and vocal fireworks was renewed. The evening climaxed with a heroically robust rendition of "Dein ist mein ganzes Herz." Kaufmann made the songs his own.
The dimensions of this feat were inadvertently magnified every time the singer departed the stage, and we were left alone with the Orchestra of St. Luke's conducted by Jochen Rieder. Never have I heard so clueless a performance of a Central European waltz as the St. Luke's treatment of Lehar's divine Ballsirenen from The Merry Widow; a lilt was not even attempted. But the evening's nadir was the waltz from Giuditta. Whatever time was allotted to rehearsing this number (surely very little) would have been better spent inviting the instrumentalists to audition Hilde Gueden in "Meine Lippen sie Kussen so heiss" via youtube (I am perfectly serious). They showed no more familiarity with the pertinent style than they might have performing an Indian raga or a Javanese gamelan number.
My wife, who is Hungarian, said she would have preferred "the Budapest postal workers' orchestra." We were both reminded of hearing the Kronos Quartet attempt Bartok back in the 1990s: a harbinger of things to come. Musical performance devoid of context.
So it was a weird evening at Carnegie Hall. Rarely have I listened to an orchestra with such discomfort. Never have I responded to a tenor with such gratitude.
The penultimate encore was a classic Old World torch song: "Don't Ask Me Why." I'm not claiming that Jonas Kaufmann's performance eclipsed my father's Greta Keller LP. But it was damned good.