Here's some history that might not be much remembered now. Involving a 1980s push to get new operas produced, and a funding coup pulled off by opera companies, theater companies, and Broadway producers. Which unexpectedly helped artists in what was then called the avant-garde, people like Meredith Monk and the late Robert Ashley.
Back In the 80s, many of us were pushing to get more new operas produced. If we somehow could have known how much new work is on opera stages now, we'd have thought thst paradise was coming! That all our grants and workshops, all our panel discussions, all our work with an organization called the National Opera Institute, all of this had really paid off.
And behind the scenes came the coup
Opera companies, getting federal funds through the music program of the National Endowment for the Arts, didn't think they were getting enough. People involved with producing musicals, funded through the NEA's theater program, thought the same thing. (Commercial musicals could be funded by the NEA if on the way to Broadway, they were first produced at a nonprofit theater company or workshop.)
So opera and musical theater people joined forces. Declared that operas and musicals were in essence the same art form, music theater. And lobbied for a new NEA program hat would give special funding for both.
This push succeeded. The new NEA program, called Opera/Music Theater, was born. (I think I remember the name correctly.) And much of the field fell in line. The National Opera Institute became the National Institute for Opera and Music Theater. (I hope that's correct! See below about these names.)
Unintended consequence
I don't know if opera and musicals got more funding from this coup. I wish that at the time I'd thought to ask. But one lovely unintended consequence was more attention for the avant-garde. (I'll do another post on why I don't think that label was appropriate.)
People like Meredith Monk and Robert Ashley were very likely marginalized at the NEA, outsiders in both the music and theater programs. But now they could correctly say, "Hey, we're music theater, too!" And even people in the mainstream, who might not have encountered work like theirs before, had to admit that they belonged.
In part because of that, I got put on many panels. Including those st the NEA and the Music Theater Institute. I was a widely-read critic at the time, writing about the downtown New York music scene (where the musical theater avant-garde mostly came from), for the Village Voice. And I also knew opera thoroughly. So double bonus in having me!
I served with some delightful people…
…including Sheldon Harnick, who wrote the lyrics for Fiddler on the Roof (and also was a worthy composer), and Richard Gaddes, who as its director put the Opera Theatre of St. Louis in the high place it still has on the artistic map.
But if you asked me my favorite memory from these panels, the choice would be easy Once at the Music Theater Institute, a piece by Robert Ashley was up for funding. "That's not music!" some people said. "It's not theater!"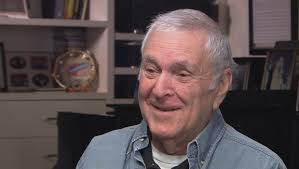 And then John Kander, a truly lovely man, spoke up. John is a top Broadway composer, who with lyricist Fred Ebb wrote Cabaret and Chicago, among many other shows. And for a Scorsese film wrote an immortal song that just about everybody knows, "New York, New York."
After others rejected Ashley's piece, John, in a quiet, happy voice, said, "I don't know what it is. But I like it!"
Had to love him. And Ashley got funded.
About the names. I may not remember quite correctly. It's been awhile! And — which underscores how forgot I think this history may be — I can't find any information online. Or any mention at all of the National Opera Institute or its later incarnation, except in an entry for its wise and excellent director, the late John Ludwig. in an online database called Prabook I'd never heard of.
And about the quick and the dead…when I checked to see who else I might have to label "late," I was delighted to find that John Kander and Sheldon Harnick, in their 90s, still are with us.