[contextly_auto_sidebar]
An oratorio about lynching! About one of the great horrors of American history. Premiered by the New York Philharmonic in 1940. And now, as far as I can see, largely forgotten, though there's a recording. And you can hear it all on YouTube. (The link takes you to the first movement, where you'll find links to all the others.)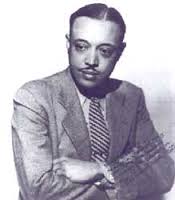 The composer was William Grant Still (1895–1978)(Wikipedia here, website for him here). Still was the first African-American composer with a major career, the first to have an opera performed by a major company, first to have a work performed by a major orchestra, and also the first African-American to conduct a major orchestra.
Notable premiere
"And They Lynched Him on a Tree" — for male speaker, mezzo-soprano soloist, chorus, and orchestra — wasn't premiered on the Philharmonic's regular season, but instead on the summer concerts they used to do in an outdoor stadium. That didn't marginalize the performance, which was conducted by Artur Rodzinski, the Philharmonic's music director. And was attended by an array of important people, including a Supreme Court justice, one of New York's senators, the Secretary of the Interior, and, not least, Eleanor Roosevelt, the wife of President Franklin Roosevelt and a major figure in her own right.
The piece was then conducted by Leopold Stokowski with the NBC Symphony (a concert I'd assume was broadcast, since the NBC Symphony was a radio orchestra). Carlos Chavez conducted the work in Mexico.
In one way, the anti-lynching message was toned down. The great horror of lynching in the American south zwas that innocent people were killed, often simply because they'd looked at a white person in a way that white people didn't like. In Still's piece, the lynching victim is a convicted murderer, So what the piece shows only is a white mob taking justice into its own hands. Though still that's strongly condemned.
Rodzinski had trouble with the piece. The last words of the text are "A long dark shadow will fall across your land!" which of course is wholly appropriate. Rodzinski, concerned about possible backlash, wanted the text changed to predict a happier future, an "apotheosis of humanity." In what surely looks like an absurd compromise, an optimsitc text was printed in the program book, while the original, much stronger words were sung.
One other thing that's very strong in the piece. The chorus is divided into two parts, white singers and black. And the white singers unabashedly represent the lynch mob.
And now…
You'd think this work would be performed, at the very least for Black History Month — it addresses something of huge importance in African-American history — but not only then. Let's not marginalize it. Musically it's quite strong.
And let's not marginalize William Grant Still. I'm not equipped right now to do a deep assessment of his work, but after listening casually to an array of pieces over the past week, I'd say he's way overdue for a revival. Music written with great skill, immediately attractive, often (but not always) populist, often (but not always) depicting African-American life. And he's a master orchestrator. Has a major catalogue of work — five symphonies, eight operas, much more.
He hated being called, as he often was, "the dean of black composers." If he was called that, he'd say (with, I can imagine, such disdain), why wasn't Copland the dean of white composers?
It's time to honor that thought, and take the label "black composer" away from Still's memory. He's an American composer, who along with Roy Harris, Copland, Walter Piston, Howard Hanson, Virgil Thomson, and many others we all can name, was a major figure of his time. He should be ranked with the others.
Which doesn't diminish him as a great African-American, any more than it would make Copland any less American if we call him an important composer for all the world.