[contextly_auto_sidebar id="cybmj5APWYlvIbPh5rKDH7ECM2aVCjJt"]
Here's a followup to my last blog post, about music, excitement, and another frontier for classical performance .
The post was about an exciting performance the National Symphony did in a Washington, DC club, for an audience of around 2000 people who don't normally go to classical concerts. Younger clubgoers, to judge from how they looked.
On the program were classical pieces, and also some marvelous things — which easily held their own with the classical works — aimed at the club audience. One of them was a take on the prelude to the first Bach cello suite, written by and featuring Wytold Lebing, an ireeistible electric cellist.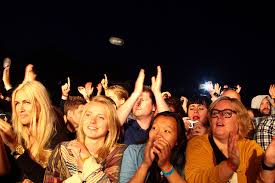 And if you love the thought of an engaged audience, you'll love what happened at one point in this piece, which was a rising passage taken straight out of Bach, performed exactly as Bach wrote it. It's this one. (I've excerpted the classic old Casals performance, which — for its easy, compelling musicality — still stands for me as one of my touchstones for how music ought to go. I'm talking about all Casals' cello suite recordings, not just this one.)
When Lebing got to this, the audience cried out in excitement, with a rising cry that mirrored the rise in the music. I loved this, and I think it's a lesson for all of us. Because, if you walked around in the club, as I did, you might not think people were paying close attention. Some were talking, some were dancing, some were on their phones. But then came the exictement of the rising passage, and the excited shout. There are many kinds of listening.
And so here's a challenge — a next frontier — for our normal classical performances. Can we make people shout like that? I know we value silent listening, etc, etc., etc. But that — in the long history of classical music — is a relatively recent development. Handel, Mozart, and Verdi would have found the shout from the club audience entirely familiar. And completely welcome. Because, in their world, people who didn't make noise during a performance would be showing that they didn't like the music.
I doubt our existing, older audience will shout when it's excited. But when we get younger people in, shouts will show we've really hooked them, and entered their world.
For some accounts of audiences making noise during the music, in past centuries, see some anecdotes about classical performance in the past, which I prepared for the course I'm teaching at Juilliard right now, about the future of classical music. And also Mozart's letter to his father, about how he got the audience to applaud during the music, at the premiere of his Paris Symphony."
And you can also hear a rippple of applause from an Italian audience in the 1950s, right in the middle of a high note from Maria Callas, during a performance of Norma.