[contextly_auto_sidebar id="Cz19u65owQa4WzVOPbGyaq19QJBAdRSf"]
Here's a book by Adam Tendler, 88×50: A Memoir of Sexual Discovery, Modern Music and The United States of America. And here's a well-meant quote, from Kirkus Reviews, which picked this as Indie Book of the Month: "An honest, searching exploration of the artist as a young man."
Which is a safe, conventional description of what's going on. It's accurate enough: The book definitely is what the quote says, or rather fits into the category of books like that, since the words describe many books.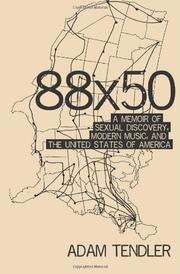 But what sets this book apart — and makes me write about it — is what boils behind the words "modern music" in the title. Tendler, in this book, describes the damndest thing. He toured all 50 US states, playing a piano recital (hence 88×50) of 20th century American music. Without a concert career, without a performane track record, with no credentials other than a piano degree from Indiana University.
And yet he made the tour happen, often having no idea, until he got to each new place to perform, exactly what awaited him. A battered upright? Four people in the audience? Three of whom had never heard music like this before?
So book is an account of many things. An entrepreneurial music project, to start with. Seen from the inside, in the kind of detail you'd find in a book-length sociological study of something little-known, but fascinating. And I hope that when I put it this way, you'll understand that this isn't the usual music entrepreneurship story, the kind you usually read, the kind people guest-post on my blog.
Those stories mostly are triumphant. Someone had a great idea, figured out the best way to make it a reality, and then made it real, advancing both their own career and the greater cause of music.
But Tendler lurches. Careens from one booking to another. What he has in common with the smoother, better-packaged stories is determination. He will not be deterred. And he does succeed. He gives concerts in every state, and then writes this book. And now has presence in the world as a writer and a pianist. Here's his website.
Here's the really fine, not at all conventional program he played on his tour:
Ives, Three-Page Sonata
Griffes, Three Tone-Pictures
Ginastera, Doce preludios Americanos
Copland, Four Piano Blues and Piano Sonata
And here's a video, in which he plays the Copland Piano Variations. And one thing to say about his performance is that he plays the obsessive, noisy, crazy repetitions in the piece as if they were the story of his life. Which — if you think of all the hardy American dissonance he played on his tour, in other works — in a way they are.
Which then brings us to the "sexual exploration" in the title, which is very much the story of that part of his life, and is about something far more intense than the phrase in the title might normally mean — a long and painful struggle to come out, even to himself, as gay.
I can imagine that feeds the intensity of his dissonances in the Variations. And I hope no one will ask what his difficulties with his gay identity are doing in a music book. Because — though this book has music in it — to label it a "music book" would limit it, and also limit music.
Because music, even classical music, flows within the larger stream of life, disturbed by sticks and rocks and whirlpools, and all the other things you find in streams. Disturbed by every question any musician ever asks about who they are. And musicians ought to ask! Because who they are is what their music is. Something we forget, I fear, when we try to idealize classical music, and the people in it, talking wistfully as if our art form transcended all the messiness of life.
Tendler's messiness brought him to a musical breakthrough, in the form of something like a Hail Mary pass, as an almost impossible career move, aka his tour. And it brought him a life breakthrough into being gay. Which is a good reminder, to all of us, that we ourselves might have a proces like that in our musicmaking, and that we should embrace it, not consider it a distraction. Or, worse, something disgraceful, not worthy of the high goals we may have set for ourselves as musicians. The path to those goals starts wherever you are now.
A good book to read.
This is my third recent book recommendation in this blog. The others:
Sarah Robinson's Clubbing for Classical Musicians: A Do-It-Yourself Guide to Working in Alternative Venues
and
Will Roseliep's The Libertine's Guide to the Classical Music Revolution
And I realize there's a fourth book I should talk about: Robert Freeman's The Crisis of Classical Music in America: Lessons from a Life in the Education of Musicians. In which a man who's run three major music schools — and was the visionary who created the first music entrepreneurship program, at Eastman, as far back as 20 years ago — says that the education of classical musicians has to change, along with the rest of classical music. A major statement, and that Bob makes it is a major sign of how much classical music is changing. Major enough to save for the new year. But there's no reason not to look at it now.