Many items today.
Mannes — formally known as Mannes College the New School for Music — is headed down a new road, led by its dean, my old friend Richard Kessler. Among much else, they'll stress new music as a central part of their curriculum. This is a revolutionary step for a conservatory, and they're just starting down this road. You can read about it in a story from Opera News.
Of course I'll blog more about this, in months to come. Along with radical developments at least at one other music school.
***
The Knights, already an unconventional chamber orchestra, will be even more unconventional when they premiere a group composition on July 30, at one of the Naumburg Orchestral Concerts in Central Park in New York.
The piece is called Chaconne, and, says a press release, it's
inspired by Italian Baroque composer Tarquinio Merula's Ciaccona, which is founded on a ground bass. As Knights bassist Zach Cohen explains,
Listening to The Knights' Chaconne, you will hear musical sections influenced by salsa, Irish reels, gypsy, raga, and free jam all tied together by Merula's bass line in its different incarnations and variations. 
Unlike traditional concert music, Cohen continues,
The Knights' Chaconne is not a fixed composition but will vary as the musicians who are its composers change and evolve. We hope that this collectively composed piece achieves a synthesis of our diverse musical ideas.
***
My friend and guest blogger Erica Sipes just published a lovely book on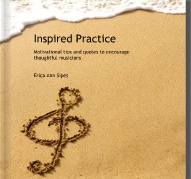 practicing, called Inspired Practice. She's worked a lot with musicians as a practice coach, and her book distills her wisdom on the subject, thoughtful and inspiring ideas (which, if I can riff off this for a moment, can help beyond practicing music, for instance with a lot of my own repetitive work).
This isn't an essay, but instead a collection of thoughts. Erica calls it a coffee table book.
When in doubt about what you want to do musically, sing!
Start with what you ended with the previous day, since what we end with is usually done with more of a tired, fatigued mind.
Try learning a piece starting at the end. When you go to perform it you will be playing towards what you've played the most.
And much more.
You can preview the book here. And buy it here in all formats, hardcover, paperback, and ebook. Though for everything but the hardcover, you might want to buy directly from Erica. It's cheaper that way.
It's a lovely book. I'm so happy to support it.
***
On a less happy note, here's a blog post about major philanthropic donors. They're not giving to the arts. But maybe this is (sorry for the heresy) a good thing. They're not taking the value of the arts for granted, and neither should we. These donors — and so many other people — care about the larger good of the world. How do we show that we're part of that?
***
And finally the evolution of classical music into something blended with the wider world. Bang on a Can, one of our absolutely top new music organizations, flows in many directions. The work of its three founding composers, its annual New York marathon, its touring Bang on a Can All-Stars, its record label. All of which are linked from the website, so I won't link them separately.
And then there's their Asphalt Orchestra, a 12-piece band that "unleashes innovative music from concert halls, rock clubs and jazz basements and takes it to the streets and beyond." (Says the site.) On July 28, they'll play their version of the Pixies' 1988 album Surfer Rosa, an indie rock classic. This is a free concert (also featuring the Kronos Quartet and Jacob Garchik) at the Lincoln Center Out of Doors festival.
And, you know…this intersection of new music and indie rock is the most natural thing in the world, for younger people. Who maybe include David Lang, Julia Wolfe, and Michael Gordon, the BOAC founders, who are in their 50s. Or maybe you don't have to be young to have this very natural taste, since I'm 70, and was loving Surfer Rosa (thanks, Spotify) as I wrote this. Any sociologist will tell you that, in our arts taste, just about everyone these days is an omnivore. So we don't have to tear down the walls. They're already down. We just have to open our eyes and see that.
And, hey…thanks Erica! If I hadn't browsed your book, I'd never have written (above) "then there's their," which for me is pure music. To take one of your thoughts and make it my own: "When you're tired of work, sing!"