This hard-to-resist photo — taken at the French Cultural Center in Khartoum, Sudan — is an entry in a photo contest, for photos showing conversations. It's a semi-finalist, a contender for the prize.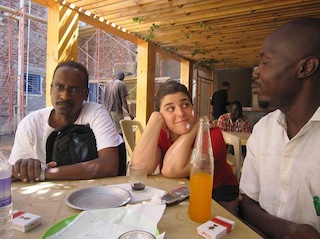 But let me backtrack, because I'm part of this. The photo contest is a spinoff from a
symposium
held every year at Southwestern University, near Austin. This year's topic — the dates are February 23 to 25 — is salons and conversation, and I'll be taking part, first as part of a salon discussion titled "Arts – Sciences – Religions: Conflict or Convergence" — a topic I was more than happy to be invited to discuss, because (since i'm a religious person, unaffiliated, with a deep attachment to science) it interests me a lot. And then, secondly, on the 25th, I'll be part of a discussion of ethics, the arts, and public policy — questions (this would be my focus) of arts funding and arts education.
This happens on February 24. But I'm also taking part in another way, as a judge in a composition contest — called "Musiconversations" — with a $500 prize. Quite generous, really, when you see how the contest works. All you do is submit from 3 1/2 to 4 minutes of a recording of something you've created since 2005, which you think embodies (in whatever way) the spirit of conversation. Doesn't have to be the whole piece (or song, or sound art, or whatever) — can be an excerpt.
For an overview, go to the symposium website. And for details, go to the Musiconversations blog, and scroll down to the first post. The entries so far are fun, and intriguing. Submit your own! The deadline is 5 PM (I'd guess that's Central Time, in the US) on February 16.
But that's not all. First, there's a video call for submissions that's an absolute delight. The two people involved very modestly don't list their names, but the singer and hostess (so to speak, and terrific in both roles) is Brooke Lyssy, a recent Southwestern graduate, who's curating the contest (and whose very worthy academic project, in musicology, is archival research on George Antheil's Ballet méchanique).
Second, there's another contest, more for fun than anything else, though there's a prize (a DVD set, documenting the symposium) — submit a video, a cover version of a song about (or representing) conversation.
Third, there's a YouTube page with stellar examples of conversational music. A bewildering variety — one segue, for instance, is from a song in one of Elvis's movies to the Richard Strauss string sextet, the one that opens his opera Capriccio.
And while I suggested one of the examples — Otis Redding's "Cigarettes and Coffee" — there are two others I like a lot more. One is the Elvis song ("A Little Less Conversation," from Live a Little, Love a Little). And the other — my favorite — is Hermann Prey singing Schumann's "Waldesgespräch," a performance I've totally, completely, and hopelessly fallen in love with. Prey has all the down-home heft of a regular ol' German guy — who's also one of the most sensitive and powerful lieder singers you'll ever hear.
I'll blog bout that separately, but do yourself a favor — watch the video right now. You won't regret it.