I once told my telegenic comrade Dave Zirin (America's leading, if not only left-wing sports commentator) that, in my case. it is a matter of political responsibility not to appear on screen. Nonetheless, I serve as a talking head in Every Cook Can Govern: The Life, Work, and Impact of C.L.R. James, which premiers in London at the end of the month, with the DVD scheduled to be available in April.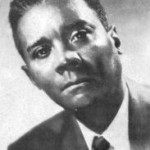 The questions the filmmakers asked were well-informed and intelligent, and the director says they've got some incredible archival photographic and audio material. The page linked above gives an example: a photo of CLR in his prime, speaking in front of a large audience — no later than about 1940, I would say.
Coincidentally, but happily, this coming Friday (March 25th) the journal New Politics will hold an event to celebrate and discuss the first publication of a talk James gave in 1971 on Oliver C. Cox's perennially neglected Caste, Class, and Race (1948), with a substantial introduction by Derrick White and Paul Ortiz. Here the texts are, with details on the forum on the New Politics homepage.
And now, with these announcements out of the way, I go back to work trying to come up with something that can be said about James in my 15 minutes at the podium…..