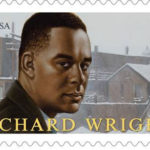 The following review by George Breitman — who among other things wrote and edited a number of books about Malcolm X — appeared in August 1977 issue of the Socialist Workers Party journal International Socialist Review, which is now defunct. I post it here, under fair use, as a service to other scholars sharing my interest in Wright and the history of the American left. (The neglect of Breitman in the Malcolm X scholarship is a question to which I will return at some point.)
American Hunger by Richard Wright Harper & Row, New York 1977, 147 pp., $8.95.
Prospective buyers of American Hunger should be warned that the Harper and Row book jacket makes a false and highly misleading claim about its contents. (I leave aside errors of fact such as the assertion, made twice, that Richard Wright moved from the South to Chicago in 1934; as Wright wrote in the first paragraph of the first page in this book, "The year was 1927.")
Wright was one of the best American writers of his time (1908- 60). Nobody wrote novels, stories, or essays so vividly depicting the reality of racism in the United States and its effects on Blacks and whites. He was also a severe critic of the inhumanity, brutality, and spiritual barrenness of capitalism. His Black Boy remains one of the great American autobiographies.
American Hunger is published seventeen years after his death as an expatriate in Paris. It was written originally as the last six chapters of Black Boy. Wright agreed before its publication in 1945 to omit these six chapters and to restrict Black Boy to the story of his life in the South, which he left at the age of nineteen when he moved to Chicago. The omitted chapters were about Wright's life in Chicago from 1927 to 1936.
Of these six chapters, the book jacket says that "the bulk of it has, until now, remained unpublished. . . . Any find relating to Richard Wright is exciting. The reappearance of this absorbing work is more than that; it is very much an event."
Responding to such cues, Gwendolyn Brooks, the poet, agrees: "It is an event, this discovery." Irving Howe, the literary critic who has written much about Wright, including a famous controversy with Ralph Ellison, cannot understand how a "personal history by one of our most important writers" could have been "'lost' or 'forgotten,'" and notes peevishly that the publisher does not explain "why we have had to wait so long"· (New York Times Book Review, June 26); but he accepts the publisher's contention that we have had to wait. Darryl Pinckney, another critic, not only accepts it but takes it a notch further by quoting a speculation that Wright may have considered it too "sensitive to publish during his lifetime" (Village Voice, July 14).
But the facts are that "the bulk" of American Hunger was published quite a while ago, and while Wright was alive. The last three of the six chapters, dealing with Wright's experiences in the Communist Party, were published in 1950 in a book edited by Richard Crossman, The God That Failed, with only a few minor and insignificant changes. These three chapters make up 76 of the 135 pages by Wright in American Hunger, or 56 percent of the total. Before that, in 1944, this material had been published in the Atlantic Monthly. The Crossman book, by the way, was published by Harper.
That is not all. Virtually all of the material in the first three chapters has also been published before: first as an essay in a book edited by Edwin Seaver, Cross Section, 1945, and then as an essay in Wright's Eight Men, published in 1961 after his death. Adding this to the material from The God That Failed enables us to say that well over 90 percent of American Hunger was published before. (So long ago that Howe, who. read The God That Failed and Eight Men, has forgotten that he read it before; so long ago that the younger Pinckney may never have heard of these other books.)
The publisher, however, is well aware of the facts; he has to be, to avoid suits for infringement of copyright. His awareness is shown in a publisher's note inside the book, stating that "portions . . . saw scattered publication in the 1940s." This note discreetly avoids mention of the number and size of the "portions." How else are you going to gull critics, poets, and more credulous people? How else are you going to make "an event" out of the prosaic publication for the third time of articles that were first published in the 1940s and then published a second time in the 1950s and 1960s?
***
As for the book itself, it adds little to Wright's stature, and it is not hard to see why he chose not to publish it as a separate work. It has some excellent episodes, especially about his jobs as dishwasher in a cafe, agent for a Black insurance company, and orderly at a medical research institute in a large hospital, and about his alienation from his fellow workers as well as his employers. But I don't think that the force of these passages about Wright's lonely life in the urban North can be fully appreciated unless you have first read about his preceding years in the South. Standing by itself, American Hunger is insubstantial.
The major part of the book is about Wright's experiences as a member of the Communist Party in Chicago. This will be of interest to people who are concerned with U.S. radical history, the relation be- tween politics and art, the role of intellectuals in workers parties, and similar topics. But a word of caution is needed here too: the author does not display much political insight, and he is not completely candid.
In a later book, Black Power, published in 1954, Wright says that he was a member of the CP from 1932 until 1944. For reasons that he does not explain, at the end of American Hunger he deliberately makes it appear that he left the CP in 1936. He did have a rift with the CP that year, but it was temporary and must have been healed by 1937 when he was in New York and was writing for the Daily Worker as its Harlem correspondent.
The real break did not take place until 1944, when he was completing his autobiography. Meanwhile, he served on the board of New Masses and numerous CP front organizations and faithfully supported its political line, whatever that might be – for the "People's Front" and support of Roosevelt until 1939, then against the war and against Roosevelt until Hitler invaded the Soviet Union in 1941, then for the war and for Roosevelt, and so forth. This means he was for a separate state in the "Black Belt" of the South when the CP advocated it in the early 1930s and against it when the CP shelved it during the "People's Front" period; for Black militancy during the Stalin-Hitler pact and against it during the Stalin-Roosevelt alliance.
Although the book is very short, it suffers from many anachronisms. Wright says that during a writers' conference in Chicago in the summer of 1934 there was discussion about the CP's "new People's Front policy," but this policy was not introduced into the United States until 1935 and had not yet been christened with that name when it first appeared in France in mid-1934. He says that at a CP inquisition trial where a Black CP member confessed his "deviations" some time before May 1936, "I knew, as I sat there, that there were many people . . . who had been skeptical of the Moscow trials." However, he couldn't have known or thought that because the first of the Moscow trials was not staged until August 1936.
Such anachronisms are bound to 'happen when people rely on their memory rather than more objective evidence. Wright's deliberate obfuscation about when he left the CP is a different and more serious defect because it tends to undermine the credibility. of his narrative for anyone who reads the facts elsewhere.
Wright's conversion to communism as he understood it was a very important stage in his development. It broadened his horizons immensely and led him to the themes of his best writing. But most of his story is about the unsatisfactory side of his relations with his comrades in Chicago, especially his Black comrades on the. South Side. He is very critical, sometimes even contemptuous, about their mannerisms, pronunciation, modes of speech, dress; about their suspiciousness, intolerance, anti-intellectualism, and "militant ignorance."
What Wright is describing here is a style that pervaded the whole CP at that time, and not only the American CP but all the other affiliates of the Stalinized Communist International. It was the style of the "third period," which lasted from 1928 to 1934. Third-period politics were ultraleft, sectarian, adventurist, often seemingly in- sane, and based on the delusion that revolution was around the corner, or nearer; the bizarre style of the period (when Wright first approached the CP) merely reflected the bizarre politics. At first it seems strange that Wright castigates the style of the third-period Black members but has nothing to say about the same style of the white members. It seems less strange when you realize that he has nothing whatever to say about third-period politics, even after they were abandoned and replaced by the new "People's Front" politics, which led to a new and "more respectable" style. Wright did not have much understanding of, or real interest in, politics.
Wright had a prickly personality, and the frictions between him and the CP could not have come all from one side. Relations became bitter at some points-for example when two CP leaders physically assaulted and ejected him from the May Day parade in 1936. But, as he says, he never had any political differences with the CP leadership, whatever policy it was pursuing. The CP leaders knew this was true, despite their occasional slanders against him. That was why they never expelled him, despite his long stretches of inactivity. Wright did not know the difference between revolutionary Leninism and counterrevolutionary Stalinism when he joined the CP, he never grasped the difference while he was in the CP, and he continued to equate these opposites after he left the CP. That is why there is not much to be learned politically from this book.