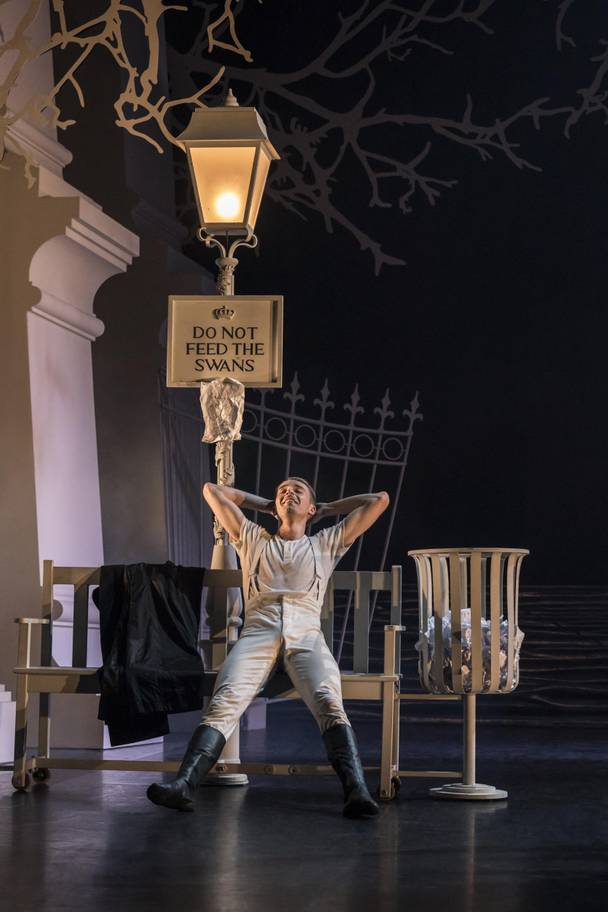 There aren't many props in dance. Some may intrude on classical ballet, though only the most trad production will drag out the shiny swords and goblets. Otherwise, anything that gets in the way of bodies is considered clutter, and faces the full Marie Kondo. After all, there's a reason those tights and tutus don't have pockets.
That's not the case in Matthew Bourne's production of Swan Lake for New Adventures – first seen in 1995, and now retuned and sharpened to deliver one emotional slap after another. Routine classical productions sometimes forget to ask why Tchaikovsky's heartsore ballet is so compulsive. Why does it matter? The triumph of Bourne's production was that he thought about this, and found in answer in the hero's aching heart.
Although the bare-chested, ash-and-charcoal daubed male Swan has become the poster image of Bourne's version, an aubergine-grabbing icon of modern dance, it's really the prince's tale – the story of a young man keening to be loved. There's no love in the regimented court, with its iceberg-chill white surfaces and stiff-backed protocol. There's certainly none from his mother the Queen, for whom touch produces a shudder and a cuddle is terra incognita. (Even Nicole Kabera's cheekbones seem weaponised, and her shoulder squirm from her lovelorn boy.)
Eventually, the prince wanders off into the night, awash with misery and vodka, and after a brawl in a joylessly swanky bar, finds himself in the royal park, ready to end it all. Sitting on a park bench in his longjohns, he scribbles a note, sticks it on a nearby lamppost, prepares to hurl himself into the water.
There's something about that pale, forlorn sheet of paper – scrawled with unhappy words that we can only imagine, skewered for the world to find – that catches my heart. Watching the Petipa-Ivanov Swan Lake on the classical stage, I'm usually emotionally invested in Odette, the swan-princess, whose helpless transformation makes the ballerina's art a journey into extremis. But it's the New Adventures prince who is spun around by every successive emotion – stiff-backed with effort, fumbling with nerves, blindsided by desire.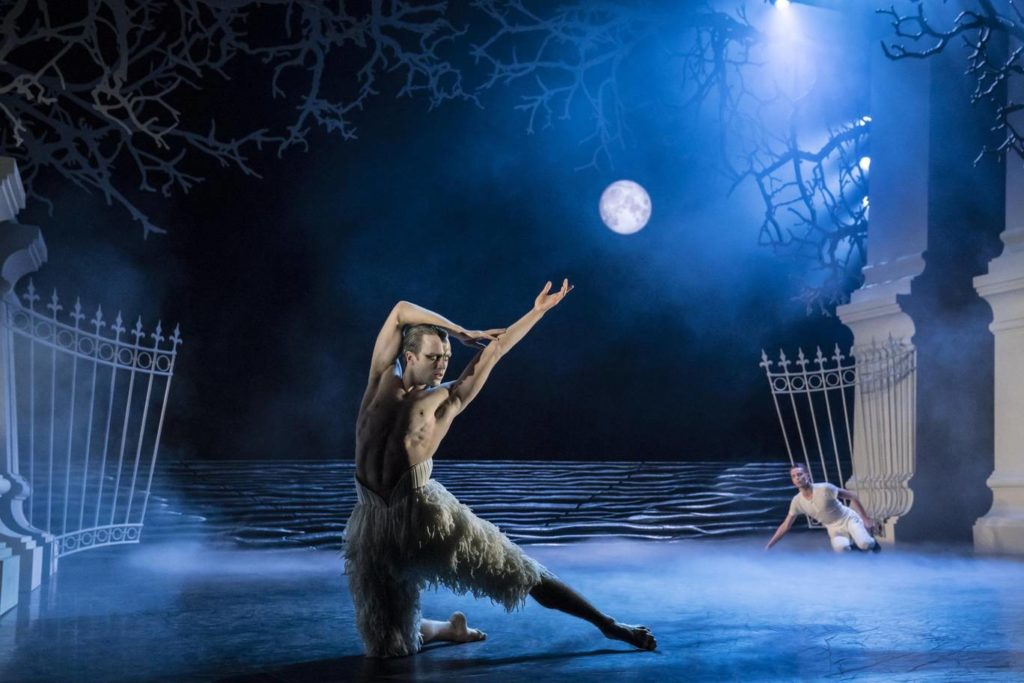 And then the swans appear – topless, reckless, thrillingly unbiddable. And then the Swan, who is all that and more. Matthew Ball, briefly escaped from the gilded aviary of the Royal Ballet, makes a finely-honed creature – wild, wary, unpredictable, keeping the prince at bay with scything arms before trustingly nestling a head or wing. Their swooping, swivelling duet is mesmerising.
For the prince, love – however species-inappropriate – is a reason to live. In his dead-eyed royal routine, he's honoured but not valued. He receives curtsies rather than cuddles. He's surrounded by people who want him to be well-bred, not well fit. It's pretty desolate. Dominic North, a mainstay of New Adventures, is superbly heartfelt in the role, his round eyes and dogged profile brimming with unspoken sorrows. No wonder, when dawn breaks and the swans must disappear, he's giddy with delight. The end of the first act is pure Gene Kelly – he capers in the early light, startles an old lady who ignores the 'Do not feed the swans' sign (a lovely little defiance that chimes with the prince's own transgressive desire). And he rips that unneeded suicide note and bins it. It's joyous.
The post-pond delirium doesn't last. After the interval, the prince will be tormented by a Swan-doppelganger who crashes a palace party (Ball gives his best dirty hips and hornbag sneer, but the gatecrasher's leather trousers could perhaps be retired – they're more sexpest than sexbomb). A gun will be raised. Then another. The prince is considered a suitable case for treatment, and the last act – the return of the swans – is wrenching. As Paule Constable (whose exquisite lighting adds intent to the revival) noted when we spoke last year, the production speaks to our current mental health crisis among young men. Bourne accesses anguish in a way that is not just personal but political.
But still I cling to the teary joy of that moment in the park – when a man who finally found someone to love tears down his suicide note, his lonely heart lonely no more. A reason to love, a reason to live. A reason to return to Swan Lake.
Above: Liam Mower as the prince. Below: Matthew Ball as the Swan. Photos: Johan Persson.
Follow David on Twitter: @mrdavidjays