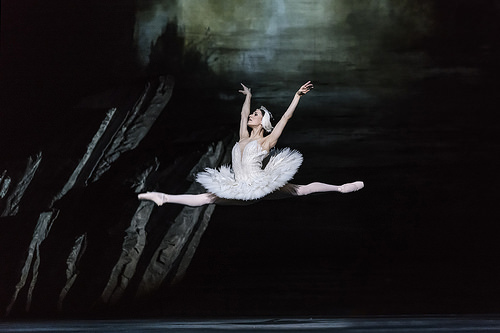 I've spent a week thinking about swans. Ballet swans, mostly, with feathery bodies, aching hearts. Last Thursday, Liam Scarlett's richly imagined Swan Lake opened at the Royal Ballet, replacing a 31-year-old version and offering an opportunity to rethink the way the story is told. I took part in some of the events the Royal Opera House held in its wake – interviewing artists, facilitating discussions, chatting about birds. It's been fascinating to think, in particular, about the story – what it means to us, and why. Here's what I've learned from my week with swans.
What story?
At an ROH insight event about versions of Swan Lake, the mythographer Marina Warner admitted that she'd abandoned a plan to commission new versions of the stories behind classic ballets when she realised how few had that kind of stable source. Even masterpieces are often built of shreds and patches, and none more so than Swan Lake, which takes elements from Russian and other folk tales for a narrative which is famously short on explanation, long on tantalising silences. Why does Von Rothbart turn Odette into a swan? And why so many other swan/maidens? Who is Odile, the daughter who helps him delude the prince? How does the spell work, and how should the story end?
It's all questions – which is perhaps its lifeblood. Every Swan Lake, whether classical showcase or modern reworking, must answer all these questions, or dump them in favour of its own concerns. It makes the story infinitely mutable and responsive to the needs of the moment at which it is retold.
Damage is a thing with feathers
For women who are transformed into birds, whether in classical myth or classical ballet, the process is often one of damage. However beautiful they appear, that beauty comes with losing voice and agency.
In Greek myth, humans are changed into other life forms as punishment, protection, or when their circumstances become simply too extreme to bear. Take Philomena, kidnapped and raped by her brother-in-law. When she threatens to denounce him, he tears out her tongue. She nonetheless manages to get word to her sister (key skill: embroidery) and they enact a hideous revenge (key skill: cookery). As the torment that all three humans suffered and enact becomes unendurable, each transforms into a bird. Philomena's new form is the nightingale – a double-edged release. Now she can sing her song, tell her story, without restraint: but we cannot understand it. She sings her pain; we hear burbling lyricism. Metamorphosis is another form of silencing.
Is this also Odette's fate in Swan Lake? As the apogee of the ballerina's art, it's easy not to recognise her pain finessed into grace – but she too is a figure without agency, except to dance her sorrow and wait for the spell to lift.
Timeless is never timeless
Folk and fairy tales, like the plots of classic ballets, often seem to take place outside history – but always carry traces of the moment of their telling. At the ROH, we heard from two choreographers whose very different Swan Lakes might be an index of their respective creative moments. Ben Duke made There Were Definitely Swans for Magpie Dance with dancers with learning disabilities in 2016: part of a continuing principle that work for differently abled performers should be made with rather than simply on them. Matthew Bourne's tale of icy royals and feral male wildfowl premiered in 1995 – as deference to the British monarchy was on the slide (exacerbated two years later by the death of Diana) and LGBT rights were regrouping in the wake of Section 28. It's tempting to see these movements informing what has become an iconic modern production.
More telling still is Michael Keegan Dolan's piercing Swan Lake/Loch na hEala. Set in a rural, corrupt Ireland, it draws on recent news stories: the death of a severely depressed man in a police siege, and the sexual abuse uncovered in the Irish Catholic church. A priest's sexuality, repressed and shamed, emerges as brutality: he who turns the young women he abuses into swans, stifling their voices. Myth meets the current moment with immense power.
How about the Royal Ballet's new production, destined for a long life in Covent Garden? In years to come, will we see 2018 writ large? Few reviews drew contemporary parallels, except to detect a touch of Putin in its Von Rothbart. But the emphasis from the prologue on of the sorcerer's villainy – we see him snatch the princess Odette's crown and turn her into a swan – makes me think inescapably of the stories brought forward by the MeToo movement. Stories of male power used to coerce women, and to silence them. Stories of enforced victimhood. I watch the breathless patterns of the corps de ballet and wonder about the swan-maidens' untold stories, and how we can bear them.
The swan in the body
Introducing the story to a first time audience at the welcome performance (a heart-lifting audience – every show should be a welcome show), I wondered about living in Odette's body. There's something uniquely cruel about her curse: she's a swan by day, a human by night. Day after day, night after night, a cycle without relief. We talked about how that would feel. How horrible to know that your body would change, utterly, every few hours. That you would wake to find your neck extended, your feet webbed, your arms become wings. Would the change feel blurry as featherdown, or an uncomfortable prickling of feathers through the skin? Maybe you'd hope against hope that today, finally, the magic might wear off – only to open your eyes and realise that your body is still not your own.
It's fanciful, sure, but sobering – to watch how the ballerina's body, even when playing the human Odette, retains those limpid ripples, the sinewy bend of the neck, the feathery flutter of a foot. The swans' beauty is an index of distress; their elegance a technical trial. To relish Odette's beauty is also to prolong her suffering.
I do love a dark-sided fairy tale, so it felt necessary to also mention other feathery metamorphoses – whether Fevvers, the raucous heroine of Angela Carter's Nights at the Circus (who may be a fraud or a freak, but is certainly a phenomenon in control of her own winged body); or the glamorous villain Anastasia, given a brusque comeuppance in Tod Browning's film Freaks, and last seen as a sullen mutant chicken. Ben Duke mentioned Woody Allen's Guide to Some of the Lesser Ballets, imaginary synopses including 'The Spell', whose prince falls in love with the swan woman – though 'she is unfortunately divided between swan and woman lengthwise.'
It also felt important to mention beauty – musical and visual, as well as in the dancers' hard-won grace. But these images of exquisite damage won't leave me. At the insight event, I asked Marina Warner when stories die – what would have to change for us to no longer need Swan Lake? She didn't see it happening – and noted that stories are resilient, returning to hearts and minds when least expected. The image of the voiceless bird/woman remains with us: somewhere beyond everyday humanity, her beauty obscuring her story. It's part of the cultural baggage we bear. Now we have to think about what to do with it.
More of me on dark versions of Swan Lake in the Guardian last year.
Main image: Marianela Nuñez in Swan Lake (Royal Ballet). Photo: Bill Cooper
Follow David on Twitter: @mrdavidjays