The past is another country: they drink things differently there. After the gin-marinated 1950s of John Osborne's The Entertainer, this week I hit the whisky: in the 1960s Connecticut of The Red Barn and then with the 1970s Hampstead topers in Pinter's No Man's Land.
Gin, in Osborne's play, is predominantly a woman's tipple: mother's ruin, and the ruin of Archie's maudlin wife Phoebe, loosening her maundering tongue. Whisky, on the other hand – that's a man's drink, and couldn't be better chosen to run through two plays about masculinity queasily asserting itself.
Strong plays weak
The Red Barn at the National Theatre is David Hare's adaptation of La Main by Georges Simeon, in which a man's life swirls out of kilter after his friend disappears in a rural snowstorm. Characters reach for the amber stuff in extremis, pouring another finger of poor judgement. Police lieutenant arrives in search of your friend, missing-presumed-dead? Offer him a drink, and when he gives you the fish-eye, have one yourself. Fetching up for an affair at the widow's apartment? You could surely use a whisky. The lady has one too? Watch yourself, buddy, you're in dangerous waters.
Robert Icke's production fairly shines with masculinity's fragile veneer. It may look chic with Mad Men assurance – the tailoring, grooming and swinging furnishings – but the male who negotiates this environment is far from alpha. Icke's coup is casting Mark Strong as Donald, a lawyer sinking in a life half-lived. Strong plays weak, a mighty actor cast for frailty. Last seen on stage compact with hair and muscle as raging Eddie in A View From the Bridge, Strong (photo above by Manuel Harlan) here blinks in specs and a suit. His stillness is paralysis; his eyes aren't like tunnels but lost holes in the snow. He's always out-foxed.
Bunny Christie's fantastic set – a variation on the cinematic moving shutters of her Baby Doll some years ago – means the play keeps its counsel. No one gets full perspective, all views are partial, shifting and liable to close down at alarming speed. Donald – the good husband, father, friend, adviser – sees less than anyone, and pours away his reputation. Scotch doesn't ruin him, but alongside lust and lost ambition, it's another occluding lens through which he miss-sees. When Mona (Elizabeth Debicki), the lost friend's widow, joins him in a post-coital glass, the amber fluid stands out in her chic white apartment, signalling caution: beware the woman with a man's drink. (Simenon's period sirens often activate a male impulse to self-sabotage.)
This Propwatch series is mildly obsessed by onstage catering, whether a celebratory cake or solitary fried egg. No apologies for that – we are how we eat, and these choices can reveal a character. Take Donald's wife Ingrid (Hope Davis, unnervingly poised). Even in the midst of a snowstorm, a power failure and a man hunt, she nonetheless emerges with a platter of perfect sandwiches, neat triangles with the crusts cut off. No wonder Donald clings to and chafes at his marriage.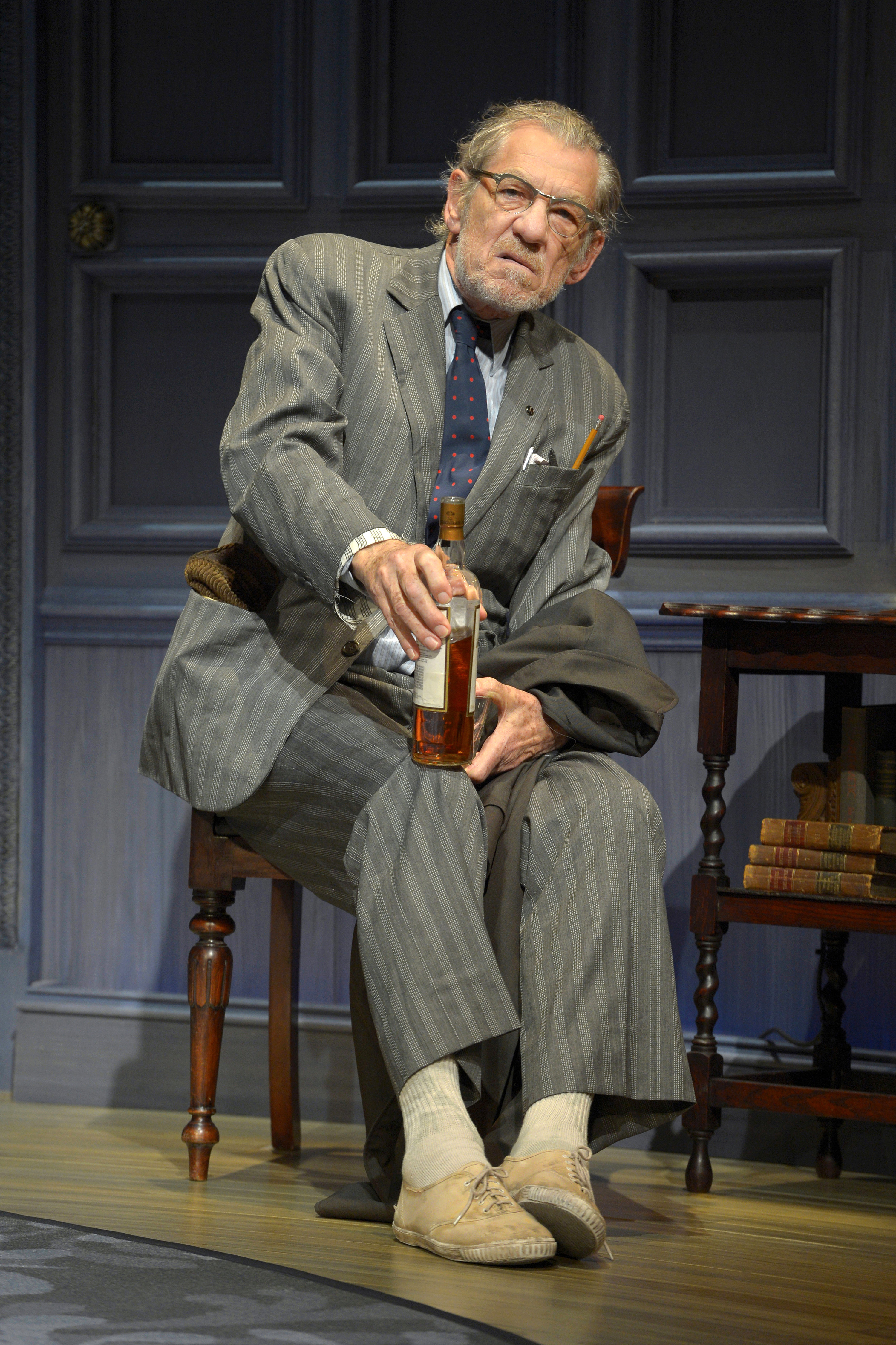 What does stage management use for scotch? Tea and toast can both do the job. It's probably just as well in No Man's Land (Wyndhams Theatre), where much drink is consumed. And I mean much. Pinter states that the drinks cabinet is 'the central feature' of the set, with its 'great variety of bottles: spirits, aperitifs, beers, etc.' Those bottles get a good going over during the course of the play, from the first 'As it is?' to the last 'I'll drink to that.' In the first act alone I counted four vodkas and a bottle of beer, alongside at least ten glasses of whisky, until Hirst the host (Patrick Stewart, quietly stocious) loses patience with small measures and demands to swig from the bottle. His intrusive guest, Spooner (Ian McKellen, pictured above by Kevin Berne) attempts to make coffee, but that doesn't get very far. Champagne makes an entrance in the second act, and Spooner's wheedling anecdotes include a Hungarian emigré on Pernod and his own extensive wine tours around Dijon.
The company of men
But whisky, 'the great malt which wounds,' will put the man in man of letters. McKellen's acute sensitivity to the whereabouts of the bottle becomes the defining note of his first act. However bleary, he keeps it in his sights, weaving over to the cabinet in hope of a refill, eyes wide in expectation, cheeks sagging in disappointment. Whisky becomes a physical challenge too: as he weaves back and forth in his grubby plimsolls, he keeps his mac folded over his arm – he's clearly accustomed to being asked to get his coat – and eases the tumbler from one hand to the other as he tries to maintain a wordly monologue. When he then tucks the bottle under one arm, he's on the verge of juggling. Spooner is a man who needs to improvise on the fly, and who grabs a whisky while he can.
We're in the company of men here. Boasting, bullying, angling for a job, laying claims to status. Women only feature in hazy recall: wives, lovers (these usually other men's wives), the odd emotionally ambivalent mother with a gift for currant buns. But there are only men in no man's land. A calcified state 'which never moves, which never changes… but which remains for ever, icy and silent.' Heavy curtains drawn tight, even on a summer's morning. Men stuck with themselves, pickled. Hand on glass, now and forever. 'A drop for you, sir?'
Follow David on Twitter: @mrdavidjays