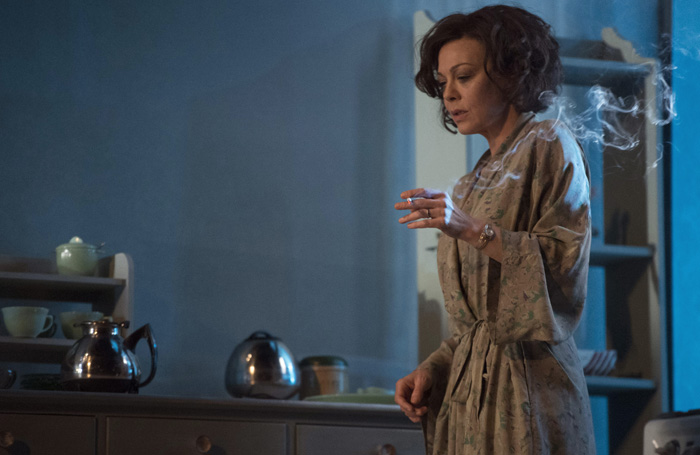 You can't look glamorous when eating a fried egg. Or tragic, or sombre, or noble. Can't be done. As Hester, the anguished heroine of Rattigan's The Deep Blue Sea, Helen McCrory is all of those things for much of the evening. But not when she's forking down an egg.
(If you fear that knowing when McCrory eats her egg, or why, may spoil it for you, best come back in a few weeks. Let's meet up after the NT Live screening on 1 September?)
In The Deep Blue Sea (1952), Hester has left her respectable husband for the younger Freddie, an ex-pilot. She's abandoned Eaton Square for the raffish jostle of a Ladbroke Grove boarding house, the press of neighbours seen through the melancholy blue scrims in Tom Scutt's set. Love's equations never work out in Rattigan (take one, carry over), and Carrie Cracknell's National Theatre staging honours all the characters, suggests that any of their solitary struggles might deserve attention. Here it's Hester, who loves her husband – but not enough – and is loved by Freddie. But not enough. Not enough to justify carrying on: the play opens with her attempted suicide.
Like many West End plays of the 1950s, The Deep Blue Sea is pleasingly proppy. Glasses and teacups, shoe brushes and sleeping tablets. There are a couple of significant letters to advance the plot (never underestimate a well-placed plot letter. When Freddie, fishing for cigarettes in Hester's dressing gown pocket, pulls out her suicide note, the entire audience gasped in dismay). And there are, of course, those cigarettes. You could compile a history of British acting in its cigarette technique. Held in trembling fingers, brandished to suggest bravado, drawing the smoker close to another person's lighter with a crackle of intimacy, or shared between lovers in smoke-wreathed comfort. Cracknell even makes a neighbour (brilliant Yolanda Kettle) heavily pregnant and has her join the ladies smoking circle while their men are on the town.
There's much smoking ('I know I brought a packet in with me'), more drinking ('go easy on the scotch, old boy'), but not much eating in the play. No wonder everyone's so anxious. Rationing was still in force in Britain (it ended in 1954, when a review of Rattigan's Separate Tables records the audience murmuring longingly at the smell of toast in a breakfast scene) – so Hester's birthday steak was a significant treat, and the fact that it goes uneaten a genuine misery. Everyone bar McCrory in this production is dressed to look a little plump and bundled up, as if they've been munching on stodge to keep going.
Keep on keeping on
Hester, however, is heedless. McCrory (pictured above by Richard Hubert Smith) cranks up the poshness in her voice, its diamond surfaces but also its broken huskiness. Having seen her at her wan, dishevelled worst as the play opens, we know not to trust her later show of poise. Hers is the familiar agony of being misread by the person before whom she's laid herself out like a book. It's not the only pain in the world, but that doesn't necessarily make it bearable.
Rattigan might have been tempted to make her pain so unbearable that when Freddie does finally leave her, she would indeed top herself. Yet he doesn't, and Cracknell finds the perfect image for Hester's new resolve to live, at least for today. While she packs up Freddie's clothes, she makes herself a fried egg. Not that delicious steak, or a frivolous cake, or a bare-minimum piece of toast. Instead we see her put a knob of fat in the pan, hear the crack of the egg against its edge. She breaks it in and moves away, but when she hears the sizzle returns to the ring. Not wanting that egg to burn means she's still with us.
Regular meals aren't glamorous, but they measure out the drudging day – no more, no less. At a time when hope seems a struggle, the crack of shell at the side of the pan, the solitary munch of a well-done egg, carry a palpable weight. The weight of someone who'll keep on keeping on.
Follow David on Twitter: @mrdavidjays