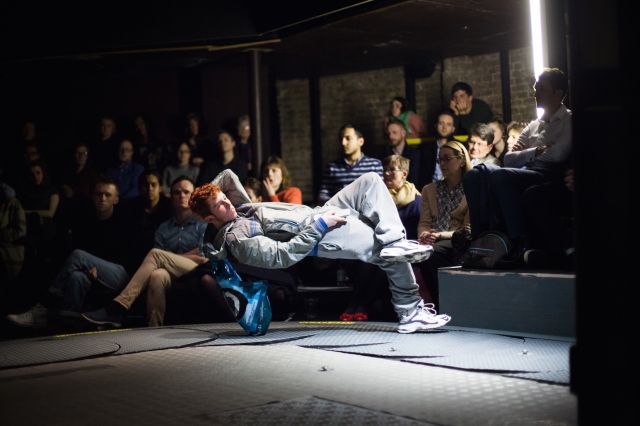 Our chat before Boy began was all about the travelator. The Almeida Theatre has been reconfigured for Leo Butler's play to allow a moving walkway to snake around the space. Actors were already sitting, gliding past and waiting for something to happen (the play opens in a GP's waiting room).
But how are they sitting? It took us a minute to realise that there were no chairs on the travelator. Instead, everyone seems to perch on the empty air, miraculously unsupported. We stared at the invisible cube between buttocks, knees and ankles, fittingly mystified.
You'll see this everyday marvel in any city centre. Lines of queasy green Yodas hover in Covent Garden and Trafalgar Square, seemingly defying the laws of physics. Playing with wonder: how did this take so long to reach the theatre? Kudos to designer Miriam Buether.
Two things to consider: the how and the why. I'm almost unwilling to know about 'the strategic placement of steel rods and plates' – keep the magic, guys – but the answer's here.
As to the why… Leo Butler's play is short and sombre. Liam, the boy of the title, is a 17-year-old Londoner, lost and lonely. He's left school and sinks through any possible safety net – too young to access benefits or training, too shy to chat up girls or share his worries with a doctor. Frankie Fox jolts heartbreakingly through one mistimed conversation after another, missing cues, fumbling jokes, grinning and fronting in all the wrong places.
In just over an hour, Boy follows Liam through just over a day. It's a play of muted fury about unacknowledged need, about a society whose gaze glides past so many of its citizens. Liam tries, God knows he tries – he visits two doctors and the job centre, trails a former friend to Sports Direct on Oxford Street. Butler has him repeat phrases, scrabble for a toehold on conversation, but even his sweary eight-year-old sister has more confidence and swagger.
Liam is adrift, so the travellator is perfect. Situations drift towards and away from him. If he steps off or looks away, they're already half gone. In Sacha Wares' production, brisk stage managers hoist doors, trees, ticket barriers and self-service supermarket tills on and off the moving stage, but Liam remains, without much purchase on his surrounds. 'Busy…' he mumbles to an elderly woman looking after a baby at the bus stop, in one of his trailing, unacknowledged conversation killers. He aches to know how busy feels.
London represents a throng of possibility and self-fashioning in so much Jacobean and Restoration city comedy. Although a Londoner, the centre of town is a forbidding mystery to Liam: you feel the strain and courage in his futile odyssey towards Oxford Street. 'Do you live here?' asks a woman, baffled by his inability to offer directions. Yes, but his here is unimaginably circumscribed.
We look down at the travelator, as its plates curve and curl together. I'd usually only stare so intently at this kind of moving belt at an airport, hoping to reach a gate or make the baggage reclaim move faster by sheer power of glare. It's always a hiatus of frustration, of irrational anxiety. For Liam, it seems a hiatus without end.
If the why of the travelator seems clear, how about the invisible seating? Does something so whizzy fit Butler's no-hope realism? Isn't an eye-grabbing illusion simply too fun for this fearful world? Buether is an inspired designer – reconfiguring space in unexpected materials and unlikely colours. Are her magic chairs too flashy? Perhaps not. They open the evening to something playful, something explicable but potentially transformative. It might be sentimental to imagine that Liam will find a momentum out of the holding pattern. But is it sentimental to hope?
Follow David on Twitter @mrdavidjays