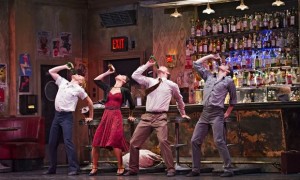 Liam Scarlett's The Age of Anxiety at the Royal Ballet
Three guys and a gal walk into a bar. It's a set up for a gag, a murder, or perhaps an Edward Hopper painting. And now a ballet – Liam Scarlett's The Age of Anxiety, newly premiered by the Royal Ballet in London. It is another absorbing, tantalising piece by a prolific yet puzzling British choreographer.
The one-act ballet, centrepiece of a double bill that also included delicate work by Kim Brandstrup and Christopher Wheeldon, is another indication that Kevin O'Hare's tenure as director of the Royal Ballet involves a commitment to narrative ballet – or maybe merely that Britain's leading choreographers are currently interested in storytelling. When I interviewed O'Hare a while back, I glimpsed a scenario in his office for a piece based on the film Truly Madly Deeply – 'you weren't supposed to see that,' O'Hare said – which hasn't come to pass but suggests that the company is in the market for emotionally fraught, musically aware stories.
Mucky-pup imagination
Scarlett's dramaturgy continues to be a puzzler. Still only 28, he is much in demand – The Age of Anxiety follows premieres this year in San Francisco, London and New York; new works for 2015 will include a full-length Midsummer Night's Dream in New Zealand). He talks like a polite product of British ballet (still slightly in thrall to the finishing school), with a gift for striking design and heightened lyricism in his abstract work. But he also has a mucky-pup imagination, pooling in the sleazy corners of Hansel and Gretel (slattern parents, paedo oddballs) and Sweet Violets, his riff on Jack the Ripper. In this, he's the heir of Kenneth MacMillan, ballet's last great perve, with a similar nose for the tang of desire gone wrong.
He has the moves, he has the mind, but Scarlett hasn't quite nailed a storyteller's imperative of making every detail count, giving moments clarity, complexity and a resonance that adds up into something that lingers. Christopher Wheeldon worked with playwrights Nicholas Wright and Craig Lucas to shape his story ballets. Perhaps Scarlett might be paired with a Simon Stephens or Lucy Kirkwood: someone who might help hone the strangeness and make it resonate?
So who are the people we meet in The Age of Anxiety? It is based on Auden's long poem of urban alienation, and set to Leonard Bernstein's score of the same name. The music doesn't always support the piece; it tremors on the edge of bursting out into the rorty energies and pinot noir melancholy of Broadway scores like West Side Story or, even more apt, the shore leave avidity of Fancy Free and On the Town. Instead, it swerves inwards, subdues itself; less a night on the tiles than an evening's introspection.
John Macfarlane's designs, starting with that bar, are gloriously Hopperesque – seedy-sad, grimy-glamorous – and Jennifer Tipton's lighting brings out their slaughterhouse reds. An omniscient bartender (Kevin Emerton) opens the piece – clicking his fingers to animate each of the denizens in turn. He uses his freezeframe fingers periodically – at one point, to pick everyone's pocket and stroll out with the cash (that's how lots of us feel about American service charges), only to saunter back later, when everyone is steaming, and snap on the lights. Who is this demi-divinity of the optics, what's his game and where does he go to? Is he the poet/narrator, gazing dispassionately from afar? Is he a lumpy device to get the party started? It's hard to tell, and he's soon discarded.
At the bar, solitary drinkers peer into their old fashioneds with disappointment and regret. Rosetta (Sarah Lamb, always classy, detailing her hands with porcelain finesse) and two gay (or gayish) men: Bennet Gartside's reserved Quant and Tristan Dyer's mixed-up Malin. Once Steven McRae's sailor speeds in on leave – so much party, so little time – they're all magnetised, and when the bar closes make their way to Rosetta's apartment with its swank views and cocktail shaker.
Everyone wants a sailor
Everyone wants to fuck a sailor – at least, they do McRae's sailor, who leads with his pelvis, springing with lewd showman's sass. No dancer delineates a move with such glinting precision; to his laser-cut spins and slides, McRae adds arse-waggling sauce and a habit of letting his hand slide from a shoulder to grab a handful of bum cheek. He's a dirty promise that galvanises the barflies, but it's a promise that doesn't deliver – liquor beds him before any of his companions manage it.
Rosetta is disappointed, though too much of a lady to show it, leaving him tucked up on the couch. Mailn is distraught, though Quant gives him his card and a kiss before strolling off into the dawn. And we're left, belatedly, with Malin's coming out epiphany. Dyer is great, but has had the least interesting choreographic material (though he adds electrical charge to every glance, watching McRae, yearning and resentful). The sailor-boy's dazzle; the businessman's lonely-town solos with wraparound arms; recurring sequences when the quartet appear from behind, heading rakishly upstage towards some fresh hangover hell – these are the best bits. After a night where he's snogged and soused, been rejected and rejected in turn, Malin heads into a glorious papercut Manhattan, his shining island of promise. He'll take Manhattan. Scarlett will too, no doubt.
Photo (top) by Tristram Kenton/Guardian
Follow David on Twitter: @mrdavidjays