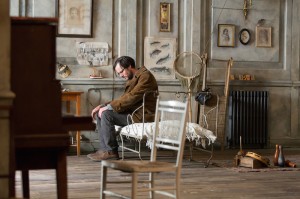 Katie Mitchell directs The Cherry Orchard
It's not dark yet, but it's getting there. I haven't seen Katie Mitchell's polarising 2071 at London's Royal Court – an animated TED warning about falling off the climate change cliff – but the honed steel of the director's Cherry Orchard at the Young Vic makes a similar argument with baleful panache.
Snowclouds of cherry blossom, a backdrop shimmer of silver birch – these are the clichés of Chekhovian scenographry. At the Young Vic, Vicki Mortimer's meticulously lived-in interior offers paintwork so exquisitely distressed it's on medication, clacking floorboards, dim-lit wood. We remain inside for Chekhov's garden-set second act, and actors face the audience to gaze at the orchard – we are their picture window – so that nature figures as something that people see through sentiment, retreating into nostalgia. Remember when there were fields, and woods, and things grew and smelled of soil and blossom? All gone.
Buy local, squander global
Most engaged with the Ranyevsky family's orchard is the entrepreneur Lophakin (Dominic Rowan), who wants to level it, develop the land, monetise those bastard trees that remind him of everything he was excluded from as a serf child: and then lease the plots to timeshare townies craving a slice of sylvan illusion on their holidays. These are the people who Alec Wilkinson skewers in a New Yorker feature on Modern Farmer magazine: food cultists, aspirational farmers, 'people who stay at hotels on farms where they eat things grown by the owners.' I'm those people too – this week I bought a bag of 'blemished windfalls' at Waitrose, positively radiant with wholesome ethics. My own salve for exquisite distress.
So, yeah: buy local, squander global. Consign the natural world to memory, mourn rather than act, let developers torch it while we savour our crocodile tears.
In a dark place
The production left me in a dark place, like the doddering valet Firs. Played with a right-angled spine by Gawn Grainger, Firs isn't merely forgotten in this version, he's all but murdered – Yasha, the thuggishly aspirant help, has decided to forget to have Firs sent to hospital and tears up a letter for the medical staff. It's a callous touch characteristic of this show, and Simon Stephens' urgent text, which won't let negligence seem dizzy or adorable. Rowan's destructive triumph when Lophakin buys the estate is as hurtful as possible for all around – the family can't look at him in the final act – even though it may be a hollow man's self-destructive manoeuvre. Charlotta the card-playing companion, armoured within eccentricity, performs a skit about a baby which she drops into an imaginary lake – 'splash' – just as her employer's son drowned many years ago. Chekhov's characters are always self-involved – he writes ensemble plays in which everyone thinks they're playing the lead – but Mitchell tweaks this into deliberate cruelty.
A Twitter chum, reading my bereft response to the show, urged me to embrace change – he'd clearly experienced it as far more hopeful a piece. Charlotte (Sarah Malin) was his guiding light, but I can't share his optimism, about her or the world she inhabits. An outsider among the misfits, she's about the only character to crack a joke – but her self-awareness is lonely. An abandoned child who grew up to forage a career as she may, she has the nous to grab at fun, sex or a job – but the best you can say is that she's surviving.
That's all you can say of anyone here – Mitchell's cast, including several exceptional regular collaborators, delineate the awkward edges of Chekhov's characters. The family and its hangers on feel even less resilient than usual. How will Angus Wright's shambling Gaev cope in a bank? (Imagine entrusting your account to him). Will Varya ever find emotional fulfilment as a professional bossyboots? Paul Hilton's eternal stinky grad student (pictured top), ducking romantic overtures: hopeless. At least Lyubov – Kate Duchene in what is usually the star role presents her shorn of gush and glamour, trotting lumpily about her old nursery – knows exactly what will happen as she crosses Europe to be mistreated again by the cad she left in Paris, knowing that she will never return, knowing that home is a lost idea.
I've seen compassionate Cherry Orchards, grieving ones, bittersweet and bright ones. It's a capacious play. But this is, I think, the darkest: on the brink. It will only take a nudge, and we're gone.
Follow David on Twitter: @mrdavidjays