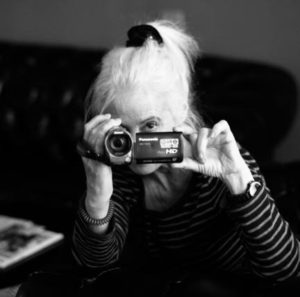 Hello. I'm a musician, writer, painter, producer and videographer. I've been been a professional singer since the age of 11. Between 1995 and 2001 I produced award winning world music compilations for the Ellipsis Arts label, and wrote music criticism for various publications, including Songlines (UK) Tower Pulse, Rootsworld and Global Rhythm (USA).
My paintings have been used in movies, commercials and television shows, the most high profile of which was Mad Men, in which my painting "Butternut" adorned the office of Don Draper for the first 3 seasons. For a more in-depth look at my art work, go here.
I have always been interested in the intersection of visual art and music. In the ten years that I was the Director of Music Programming at Link TV, I was mentored by Steven Lawrence, the Director of Cultural Programming, and a fine film maker in his own right. He eventually got the channel to buy me a camcorder with which to get acquainted with shooting live performance.
This led me to documenting music and culture from around the world, which further led to learning Final Cut Pro, and doing my own editing. I currently have my own website at InterMuse, myown channel on YouTube and Vimeo, and I've been a regular contributor to the Huffington Post for over 6 years.