Maija Kauhanen sings about child brides at WOMEX from Michal Shapiro on Vimeo.
As you might have noticed from my last posting, this past year's WOMEX had some pretty powerful women performing. Among them was most certainly Finland's Maija Kauhanen, whose day case was exceptionally compelling.

I always make sure to attend and shoot the day cases at WOMEX. For one thing, they are all in the same room, and the stable environment makes for an easy setup. These concerts are generally more intimate so there are fewer dynamic issues to deal with.
I've got enough of Maija Kauhanen's own explanation of this song about child brides on the video, so I will instead talk about her WOMEX performance. She is quite literally a one-woman band, playing first and foremost the Finnish kantele (several different styles, all made by her father) plus various bells, gongs, cymbals, and kick drum.
The range of sounds she gets is quite surprising, but then again, the kantele is amplified so the bass notes really ring out. Add her strong, true voice which can handle ambient ululations as well as sweet crooning and hoarse cries, and she is totally self-sufficient.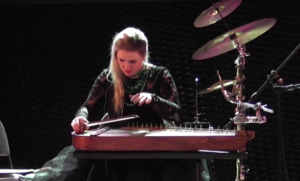 The songwriting is thoughtful, and in this concert she tackled tough subjects like domestic violence, as well as child brides. She pretty much brought the house down at WOMEX.
To find out more about Maija Kauhanen: www.maijakauhanen.com
For more of this artist's music, visit worldmusicandculture.com