No traveling. No shows. So for your viewing and listening pleasure, I have decided to dig into my personal archives and find some of the video for which I have a special fondness. Although this is rough around the edges to say the least, it is truly one of my favorites, "Aboubacar "Badian" Diabate: Malian Guitar Master" a video I made in collaboration with Banning Eyre, of Afropop Worldwide. The video project started in 2010, and when I contacted Banning to get permission to re-post it here, I found out that ten years later, he has an entire album's worth of music from Badian in the works. So here is the video, the story and the music. It is as much about Banning's quest to learn the Malian way of playing guitar as it is a lovely document of Malian music and the evolution of a terrific, innovative player. I have included the commentary as I wrote it in 2011 (although I do apologize for the dreadful lighting in the interview with Banning!):
The back story: I've known guitarist/writer Banning Eyre for years and of course, his and Sean Barlow's tireless efforts with their baby, Afropop Worldwide. I've followed their travels and travails, and admired their dedication and perseverance. I always wanted to collaborate in some way, and I got my chance when Banning called me up in the summer of 2010 and told me he was going to visit a great guitarist who was in town, to record him for a radio show, and would I like to come along? As we drove up to the Bronx, Banning filled me in on how he had first met Badian, and I got a feeling for why this interview was going to be special for him.
After a rather steep climb up to a rambling house on a hill, we were greeted by the elegantly clad Badian, and his regal wife. Banning set up his gear in the sunny backyard, and recording commenced. As I shot the performance I realized that the technique Badian used was unlike any I had seen before. One hears rippling melodic lines coming out of koras and ngonis, but transferring that sound to the guitar requires a great delicacy and precision utilizing both the up stroke and the down stroke of the "picking" fingers. Badian's technique is utterly fluid in this way. Thank goodness for a good zoom on my camera; I was able to get nice close-ups of his hands.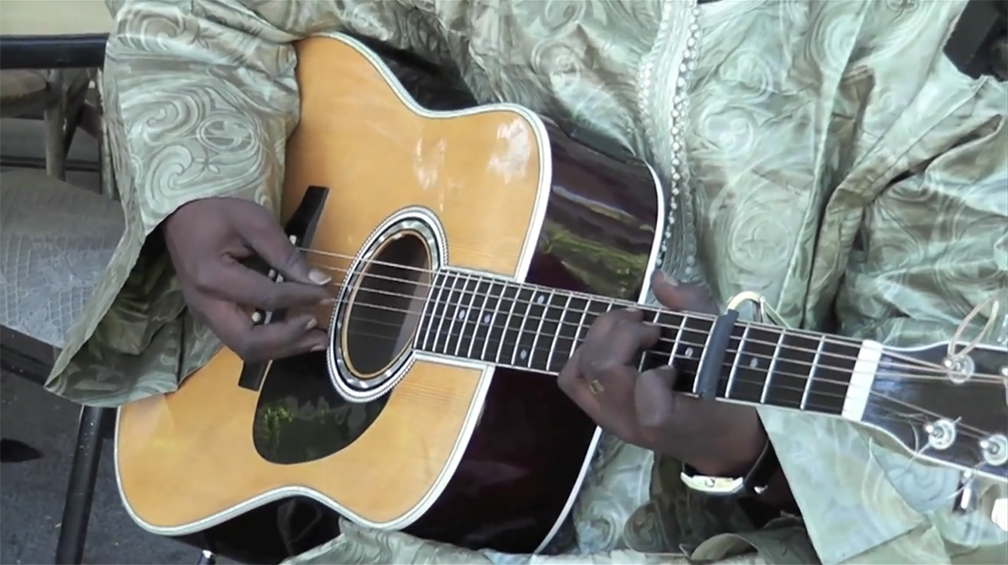 Badian was in town for a month playing for the various celebrations within the West African community in the Bronx, which at this point is considerable. I can only imagine how wonderful the music must be at these events, but you will never see this kind of thing covered in Time Out or any publications of that ilk. You just have to be hooked into the scene. Banning and Badian had much to say to each other (mostly in French so I got only the gist of many names, and being brought up to date on everyone's doings), so I just concentrated on shooting. When I got back to my house I reviewed the footage and considered how to use it….for my Huffington Post vlog? As an exclusive here on my own site? To post on guitar sites? I was in a quandary. In the midst of this indecision Banning called to say he had footage of Badian from 1996 that he had been saving for all these years and maybe there was a bigger story to be told. Could I hold off on posting until we could put something like that together?
So I held off for over a year. Banning was off and running with countless Afropop Worldwide projects and trips, and working with his own band, Timbila. But after he returned from a music collecting trip to Egypt, he was back with a vengeance, wanting to get the project up and out. So here it is at last, after hours of footage in many formats sifted through, and condensed into 15.5 minutes.