« Say What? | Main | A Picture »
June 21, 2007
Reactions to the Book from the Field
by Molly Sheridan
Gerard McBurney is up first. (You should read this part of the post in a charming British accent for full effect--adds impact, let me tell you.)
McBurney brings his dual-coast experience abroad and at the Chicago Symphony to this discussion. He is struck by the traditional arts audience member's unfortunate instinct to only look for two traditional key characteristics at a classical concert: it should be familiar and uplifting. He also draws attention the importance placed on performers over pieces. These are the points we focus on when discussing the art, so that's how we listen: in comparison. McBurney's professional focus is on exploring what the composer meant, and he urges us to focus on the interplay between the composition and the performance.

In the book, McBurney takes issue with the use of the word "consumption" when talking about art: paying for something does not mean you eat it. The audience member must be a participant, but only in the sense that he or she is an extremely active (i.e. alert) listener. Live performance is not a relaxing massage.
Clive Gillinson, executive and artistic director, Carnegie Hall (and also British), agrees with the authors that the challenges are huge and it's a very exciting time of change, but when you stand back it requires an act of faith that this extraordinary art will continue to matter to people, even if the economic model is not clear right now.
But he has some concerns. The book is focused on America, missing the broader picture/world. He also finds the scope of the book too wide in terms of the art forms it explores (i.e. not just the complex ones like the orchestral world), and that might lead to some false conclusions. He also cautions against drawing direct parallels with other arts institutions. We are not an art gallery. But we also don't have to become a cathdral. We can go on about concert dress and such, but who has walked out of a great concert and said they loved it but wished the musicians had been wearing different clothes.
When it comes to concerns about 21st-century audience engagement, we do need devote resources to education, and we need to ensure that there aren't barriers to access. There's no problem if they don't want to come, but we have to have given them the chance. Increased creativity (witnessed online) is great, but this so-called creativity prevalent in culture right now can be an avalanche. Good for people, but much of it is boring to a wider general audience.
Infinite choice is just as difficult as no choice at all. The role that communities play in selection is very important in helping people not waste time and highlights the fact that we're all desperately going to need people who can help up, show us where to look across this wealth of content.
Brent Assink, executive director, San Francisco Symphony (and not British), gets an early cheer from the crowd when he announces that people love live orchestra performances. His comments this afternoon focused on how right the orchestra concert experience is as it is based on the great concerts he has witnessed. His position is that we need to keep audience in the dark literally, but not figuratively. People come to the halls even though they could stay home and hear it on CD. They spend a lot of money and time to come to shows. Something more is at work not fully addressed in the essays. Audiences dictate not only what they are going to hear but how it will be played. The exchange of energy between the stage and the audiences makes that possible. Pre- and post-concert talks and program notes help support that situation. Education broadens the experience and allows them to be better participants. They don't want to co-author, he argues. Audeinces are looking for expert guidance.
Vanessa's chapter inspires him that future generations of creative people will become very enthusiastic audiences in our concert halls. More than any group, we should be encouraging the young people who play musical instruments, encourage them to write for orchestras and chamber ensembles. More than any factor, this is the most siginificant indication of future attendance.
At the end of the day, he says, this is all a mystery. It's not about the analysis and research in the end. We are in a wonderful position, let's focus on doing what we do with renewed vigor and enthusiasm.
Here are your questions:


How would you define success for your organization ten years from now, what would it look like?

What one action do you intend to take when you get home?

What big, unanswered questions remain for you?

Now, talk amongst yourselves. I need some coffee.

Posted by msheridan at June 21, 2007 2:28 PM
COMMENTS
Just a little comment to the concert dress question. I was surprised to read one critic last autumn in the Donatella Flick Conducting Competition. He wrote:
"You are a young, or youngish, musician with a noise to make at the Donatella Flick Conducting Competition. For half an hour you have a chance to conduct a world-class ensemble, the London Symphony Orchestra. What do you wear? Ivan Arboleya-Montes, 33, from Spain, chose creased, very casual black. He could have been en route to the pub -- or, even worse, on his way back. Stuart Stratford, 33, the British contender, was casual, black, but uncreased. Only Poland's Michal Dworzynski, 27, rose to the occasion. Tails. Bow tie. Baton, too. He won."
Funny? I think not.
Posted by: Sasha Mäkilä at June 21, 2007 2:53 PM
I have to voice my disagreement with Sasha. It's possible I am misreading him, but I believe he is expressing disapointment that dress mattered in evaluating the Donatella Flick conducting competition.
Knowing, as I do, nothing whatever about the purely musical attributes of the named contestants, I'd have to say I'd be biased toward the with some understanding of the importance of visual presentation. What may seem to be a plea for "concert dress freedom" strikes me as possibly another example of performers insulating themselves from their audiences. In other words, part of the problem being discussed in this forum. First of all, the role of the conductor is inherently visual -- for both the musicians he conducts and for the audience. And clothes really do make a difference in expectations -- and, yes, in execution too.
I understand it's possible to dress like a rock star and be taken seriously as a classical conductor -- but it's an ill-advised route to take unless you know your audience really well.
Reading shamelessly between the lines, I wonder of Michal Dworzynski did not simply take the music and the audience (and the orchestra) seriously -- deserving of his best efforts -- and the others did not. As I say, I cannot know this. It's just a hunch.
Posted by: Bill Brice at June 27, 2007 10:01 AM
Post a comment
Tell A Friend
Resources
Engaging Art: The Next Great Transformation of America's Cultural Life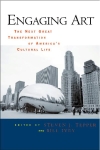 Abstracts more

Chapter downloads
Chapter 4
In & Out of the Dark - (a theory about audience behavior from Sophocles to spoken word)

Chapter 7
Artistic Expression in the age of Participatory Culture (How and Why Young People Create)

Chapter 8
Music, Mavens & Technology

(all chapters in pdf form)

MP3s


Vanessa Bertozzi on audiences and participation



Vanessa Bertozzi on involving artists in work



Steven Tepper argues the historical context of arts in America


Steven Tepper talks about technology and the future of cultural choice



Lynne Conner on the historical relationship between artist and audience


Lynne Conner on event and meaning and sports
AJ Blogs

AJBlogCentral | rss

culture
dance
media
music
publishing
visual

---
Special AJ Blogs