« Engaging Bloggers | Main | Technological Determinism or Determining Technology? »
June 19, 2007
Creating an Environment for Exploration
by Ed Cambron

In Alan Brown's recent post, he said,
"If anything, this blog underscores the need for us, as an industry, to reach for a higher level of understanding of how people benefit from arts experiences, and the roles that institutions and other delivery mechanisms can play in unlocking those benefits. Although my fellow bloggers make reductive statements for argument's sake, we have to deal with complexity here. There is a valid philosophy that everything you need to get from music can be achieved through the act of listening. There is another valid philosophy that much more needs to be done to open up the experience to people in a way that will help them become more active listeners. We can't afford not to negotiate these viewpoints into some workable plan for the future."
I agree with Alan that we need to understand more about our audiences, but my greater concern is the capacity for orchestras to act upon what we might learn. We have no R & D money or muscle. Our organizations are risk averse. We are always living on the financial edge. Our relationship with our musicians is typically highly structured and incredibly rigid. And on top of all that, we are often faced with extremely conservative musical leadership and administrators who view any change as suspect, and music critics standing in the wings protecting the status quo.
I've got an idea for Moy Eng, who asked,
"What else should we foundation funders be thinking about to support increased engagement in arts and culture?"
What if a foundation fully funded (100%) an orchestra whose mission was to innovate and test ways of engaging audiences? What if this orchestra had musicians who agreed to no rules and a music director who really got the mission? Imagine how much we could learn. And how much fun it would be working for an orchestra like that.
Posted by ecambron at June 19, 2007 7:10 AM
COMMENTS
Post a comment
Tell A Friend
Resources
Engaging Art: The Next Great Transformation of America's Cultural Life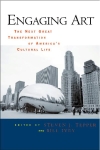 Abstracts more

Chapter downloads
Chapter 4
In & Out of the Dark - (a theory about audience behavior from Sophocles to spoken word)

Chapter 7
Artistic Expression in the age of Participatory Culture (How and Why Young People Create)

Chapter 8
Music, Mavens & Technology

(all chapters in pdf form)

MP3s


Vanessa Bertozzi on audiences and participation



Vanessa Bertozzi on involving artists in work



Steven Tepper argues the historical context of arts in America


Steven Tepper talks about technology and the future of cultural choice



Lynne Conner on the historical relationship between artist and audience


Lynne Conner on event and meaning and sports
AJ Blogs

AJBlogCentral | rss

culture
dance
media
music
publishing
visual

---
Special AJ Blogs