« The European model | Main | The Arts Experience vs. The ARTS (Warning!-- this entry contains a sports analogy) »
June 16, 2007
An audacious new world of creativity?
by Moy Eng
I am witnessing the redefinition of artmaking and cultural engagement at the beginning of the millennium. A redefinition fueled by technology and the internet where everyone is creative; anyone can be an artist; and creative expressions have expanded far beyond the standard art idioms to encompass anime and machinima. Compared to jazz pioneer Ornette Coleman whom could not readily find support or an audience after music critics claimed he played out of tune instead of hearing the crafting of a new language, experimentation with new forms can find a global audience/community with virtually one click. As articulated in Jenkins and Bertozzi's article Artistic Expression in the Age of Participatory Culture and my personal observations with teens and young adults, many have bypassed formal intermediary institutions such as nonprofit theaters for validation, and support. As a result, they are changing not only how art is created and disseminated but fundamentally redefining what constitutes art, culture, an artist, the artistic/creative experience, its role in daily life and where it's experienced.
Will this trend radically change the way in which arts and culture is funded? Quite likely for supporters who care about artmaking or cultural participation. For institutional funders such as The William and Flora Hewlett Foundation, it will be a challenge to figure how to adeptly shift resources to support new ways of artmaking and cultural engagement. IRS tax code regulations and established philanthropic practices have long focused the bulk of foundation support to the creators, producers and presenters of art via nonprofit arts organizations. Quite simply I am awed and thrilled by the proliferation and breadth of diverse cultural engagement. I believe that the most important step for the Hewlett Foundation is to learn more, listen and be open to what is unfolding to determine how we could more fully respond with the right strategies to support this new world of creative expression.

Posted by meng at June 16, 2007 1:52 AM
COMMENTS
Post a comment
Tell A Friend
Resources
Engaging Art: The Next Great Transformation of America's Cultural Life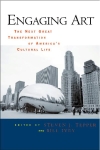 Abstracts more

Chapter downloads
Chapter 4
In & Out of the Dark - (a theory about audience behavior from Sophocles to spoken word)

Chapter 7
Artistic Expression in the age of Participatory Culture (How and Why Young People Create)

Chapter 8
Music, Mavens & Technology

(all chapters in pdf form)

MP3s


Vanessa Bertozzi on audiences and participation



Vanessa Bertozzi on involving artists in work



Steven Tepper argues the historical context of arts in America


Steven Tepper talks about technology and the future of cultural choice



Lynne Conner on the historical relationship between artist and audience


Lynne Conner on event and meaning and sports
AJ Blogs

AJBlogCentral | rss

culture
dance
media
music
publishing
visual

---
Special AJ Blogs