« 3:10 p.m. | Main | Say What? »
June 21, 2007
3:30 p.m.
by Molly Sheridan
Steve Tepper is up to talk about how young people use technology to discover art that is important to them. Is the technology we're using today just a fad, here for good, or will there be a hybrid form that evolves out of it?
Tepper walks us through a history of technology and the arts since the phonograph. Whew, what timeline.
Today technology means we face unlimited choice. 20 million available tracks, 7 million blogs (blogs talking about those 20 million tracks?). This allows an amazing range of grazing. Tepper's research focuses on how college students are using technology. His stats: most listen to 15 different artists a week, almost half actively looking for new things to try. Social networks and MSM still mean a lot more (80% vs 40%) than technology--radio station listening and friends vs P2P. But there are fewer mavens--i.e. the people we look to to recommend music in our communities--active in the "classical" genre" as compared with other genres. Mavens are more important than the technology. Technology is a tool, not a driving behavior.
How can orchestras position themselves in this social networking world? This is the path to getting into young people's communities. Search through playlists on services like Rhapsody to find them.
When we discover something new, we like to share. People are looking for new things, but they want it to have social currency they can share with each other. The challenge is figuring out how we can do that.
Tepper had lots of great slides and talked very fast. I know I missed a lot of great content. Sorry. Please check out his chapter in the book if it catches your interest.

Posted by msheridan at June 21, 2007 1:33 PM
COMMENTS
Post a comment
Tell A Friend
Resources
Engaging Art: The Next Great Transformation of America's Cultural Life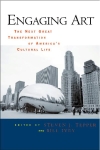 Abstracts more

Chapter downloads
Chapter 4
In & Out of the Dark - (a theory about audience behavior from Sophocles to spoken word)

Chapter 7
Artistic Expression in the age of Participatory Culture (How and Why Young People Create)

Chapter 8
Music, Mavens & Technology

(all chapters in pdf form)

MP3s


Vanessa Bertozzi on audiences and participation



Vanessa Bertozzi on involving artists in work



Steven Tepper argues the historical context of arts in America


Steven Tepper talks about technology and the future of cultural choice



Lynne Conner on the historical relationship between artist and audience


Lynne Conner on event and meaning and sports
AJ Blogs

AJBlogCentral | rss

culture
dance
media
music
publishing
visual

---
Special AJ Blogs