« A Grainy Picture of Molly Blogging | Main | Discussion Time »
June 21, 2007
2:50 p.m.
by Molly Sheridan
Vanessa Bertozzi, who has been participating all along in this AJ blog, is up first and has some great photos of Chloe and the cosplay folks she talks about in her chapter in the book. Check in with her website to catch up on her work and take a look yourself.
The focus of her comments comes to a simple point that these new active cultures common among today's artistic young people represent a great community of enthusiastic arts participants, but they want to know all the background and participate with the artists. Her conclusion as it applies to orchestras is that the music is great; there's no problem there. New ways for the audience to participate alongside will not only be inspiring, they'll possibly be fundamental.
Questions to ponder here in the room and at home:



How is this concept different from the world you know?

In what ways do these forms of engagement represent opportunities and/or challenges for orchestras?

Posted by msheridan at June 21, 2007 12:41 PM
COMMENTS
Post a comment
Tell A Friend
Resources
Engaging Art: The Next Great Transformation of America's Cultural Life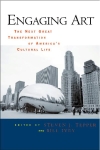 Abstracts more

Chapter downloads
Chapter 4
In & Out of the Dark - (a theory about audience behavior from Sophocles to spoken word)

Chapter 7
Artistic Expression in the age of Participatory Culture (How and Why Young People Create)

Chapter 8
Music, Mavens & Technology

(all chapters in pdf form)

MP3s


Vanessa Bertozzi on audiences and participation



Vanessa Bertozzi on involving artists in work



Steven Tepper argues the historical context of arts in America


Steven Tepper talks about technology and the future of cultural choice



Lynne Conner on the historical relationship between artist and audience


Lynne Conner on event and meaning and sports
AJ Blogs

AJBlogCentral | rss

culture
dance
media
music
publishing
visual

---
Special AJ Blogs