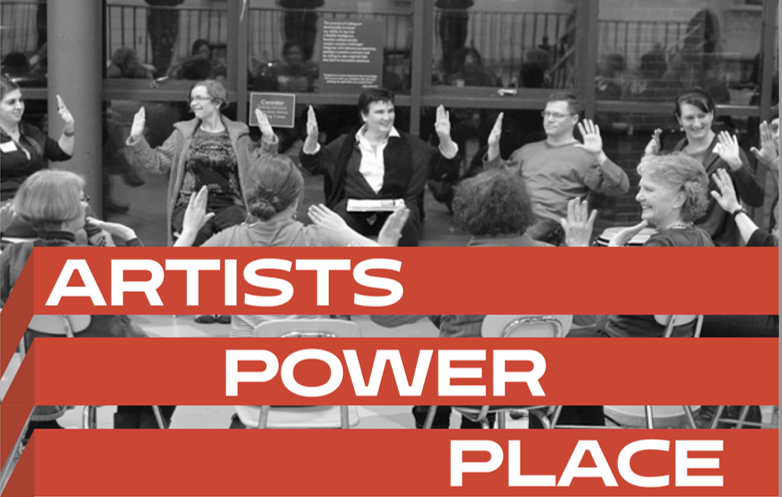 For those who don't know, for the past three years I have been working in NYC at The New School, a progressive university with a rich history, located in the West Village of Manhattan. I was hired in 2017 as an assistant professor and program director at The College of Performing Arts to help build a new MA in Arts Management and Entrepreneurship for artists.
That program (MA AME) has now come to fruition, having graduated two cohorts—a total of 30 talented and socially engaged artist-entrepreneurs—and has a third cohort of 15 terrific students slated to graduate in spring 2021. During my tenure, I also had the opportunity to help design and launch a new graduate minor in Creative Community Development—one of several projects across the US to receive support from ArtPlace America under its last round of grants to support institutions of higher education. The graphic above is from the launch event for that graduate minor—a webinar with Sarah Calderon, Marty Pottenger, Juanli Carrión, and Yasmin Vega discussing the role of artists in equitable community development that you can watch here.
My three-year contract with The New School ends next week. While the College of Performing Arts generously offered me the opportunity to extend my time, in January I made the difficult decision to leave The New School when my current contract ends. I am deeply grateful to have been part of building these programs the past three years–it has been both a joy and a privilege. However, my heart and mind have been calling me to other lands, to other ways of being and living in the world, and to center work that has been squeezed into the margins the past few years.
What's next? Read on …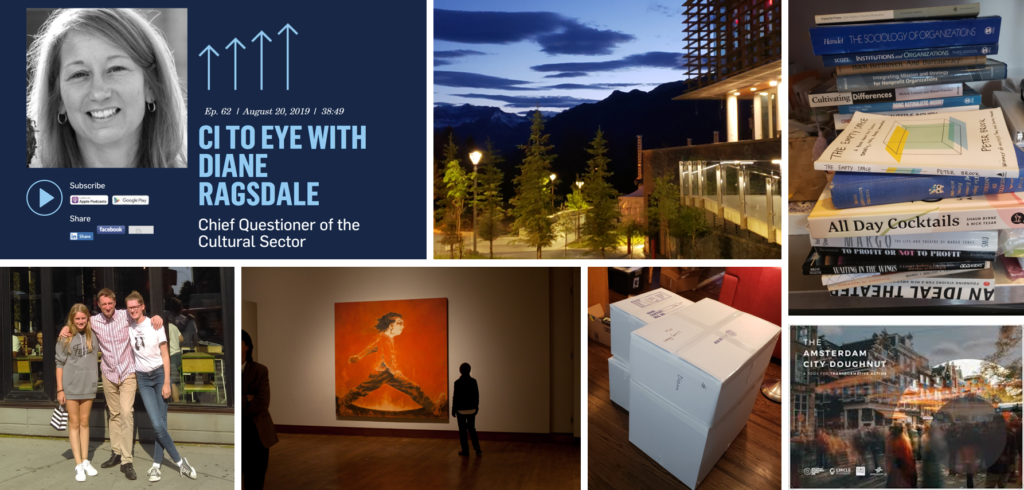 Time for Family in the Netherlands & Missouri
First and foremost, I miss my husband, stepdaughters, and the rest of my Dutch family. For the foreseeable future I want to work in the world in such a way that I can be based in the Netherlands with them and also spend some solid chunks of time with my parents, siblings, in-laws, nieces, and nephews back in Missouri.
Cultural Leadership @ Banff Centre
for Arts & Creativity
For the past three years I have been teaching periodically at The Banff Centre for Arts and Creativity. In 2019, I was offered the opportunity to become the external director of the Cultural Leadership Program and co-lead faculty with my colleague, Alexia McKinnon.
I feel incredibly grateful and privileged now to have the opportunity to continue working with this incomparable institution and to take on an expanded role with this particular program, which is focused on helping arts leaders transform themselves and their institutions in response to the changing cultural context. The co-leadership structure enables us to bring together Indigenous and Western ways of being, doing, and knowing as we approach the philosophy and practices of cultural leadership. The program's goals have become even more vital over the past few months; and as July begins, we are actively re-imagining a revised and expanded suite of programs as we head into next year. I could not be more enthused to have increased time and energy to devote to this work (about which I'll say more in future).
Given my increased bandwidth, I am also looking forward to continuing to deepen and expand my skills as a facilitator, adviser, coach, and teacher at a time of immense cultural differences (to be celebrated), divides (to be understood) and changes (to be navigated).This past fall I took a course in Working Creatively with Conflict: 40-hr Basic Mediation and Conflict Resolution Training, a week-long intensive in Truth & Reconciliation Through Right Relations at Banff; and Patti Digh's month-long online course Hard Conversations: Intro to Racism. These were all three exceptional programs that are already informing my work as a facilitator at Banff and elsewhere. (Other course recommendations welcome!).
My Back-Burnered Doctoral Dissertation
Working full-time for an academic institution, ironically enough, afforded me little opportunity to work on my dissertation. I am intent on moving it to the front burner and getting it DONE. My topic is the the evolution in the relationship between the commercial and nonprofit theater in the US since the mid-twentieth century, if you're new to my dissertation saga.
And, yes, that is a book on making no-alcohol and low-alcohol craft cocktails in the stack of research books above. While not related to the dissertation it is a text I picked up on a vacation in Porto, purchased at the amazing Livraria Lello, that I suspect I will reference on an ongoing basis.
"The Amsterdam City Doughnut"
I am incredibly inspired to be moving back to the Netherlands at a moment when it is, evidently, exploring Doughnut Economics as part of its Covid-19 recovery plan. I am curious to learn more about The Amsterdam City Doughnut and how Kate Raworth's Doughnut concept is being applied as a tool for city-level transformation. More generally, as a Dutch Citizen, I am enthused to jump in with both feet and become much more involved in the culture, politics, and social life of the Netherlands (and Europe more generally) than I was my first seven years living there. (If you know people and want to make intros, or want to connect directly, please reach out!)
Ongoing Work with Aesthetic Values & Beauty
This past year I developed a new workshop on aesthetic values in a changed cultural context for the Theater Management MA at the Yale School of Drama. This is also a topic I cover as a faculty member at Banff within the context of Cultural Leadership. When I finish my dissertation I would love to turn my attention back to beauty & moral imagination and build on the work I began with my course for business majors at the University of Wisconsin-Madison in 2015, Approaching Beauty; and the leadership intensive I facilitated for social and cultural entrepreneurs at Banff in 2017, The Aesthetic Advantage.
Provocateur-at-Large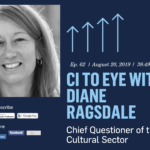 Finally, though I have never officially hung out my shingle, so to speak, I have had a steady stream of requests for consulting, facilitation, research, writing, and speaking engagements the past 10 years since leaving The Mellon Foundation. I am now looking forward to having more time to invest in such work. This image is from my guest appearance last fall on Erik Gensler's podcast CI to Eye. It offers a nice intro to me and the basket of questions I carry around. Erik and I talked about beauty, the purposes of nonprofit professional arts institutions, and much more.
Click here to listen to the episode.
*
Needless to say, I will miss teaching my soulful, tenacious, visionary MA AME students and supervising them on their beautiful capstone projects. I will miss the luminous and generous MA AME faculty, without whom there would be no program, as well as my comrades in Arnhold Hall 620. And I will miss my talented, inspiring, and incredibly hard working colleagues Maggie Koozer, Alex Chadwell, Raphael Anastas (also a graduate of the MA AME program), and Mac Blair, with whom it has been a pleasure and privilege to work on an ongoing basis.
An extra shout out to composer, teaching artist, and administrator Alex Chadwell, who joined me in late 2018 as a program coordinator and quickly became indispensable in helping me manage the program and take it to the next level. Alex, you were a lifesaver; and it was intellectually rewarding and a great joy to work with you day-in and day-out these past 18 months.
Barring travel disruptions, I will be headed back to the Netherlands this time next week. I leave grateful that so many are now fluent in Zoom meetings, happy hours, dinner parties, coffees, coaching sessions, conferences, lectures, interviews, breakouts, workshops, and much much more.
If you need to reach me, as always you can get in touch through the contact form located in the About section of Jumper, or LinkedIn.
Stay safe, stay awake, and thanks for reading!