This past week I had the privilege to participate in the 8th World Summit on Arts & Culture, produced by the International Federation of Arts Councils and Culture Agencies (IFACCA). The Theme of the 2019 Summit, which took place in Kuala Lumpur, Malaysia, was Mobile Minds: Culture, Knowledge and Change. And the panel on which I spoke was listed as a provocation called: Actors in Change. Below is a transcript of my remarks.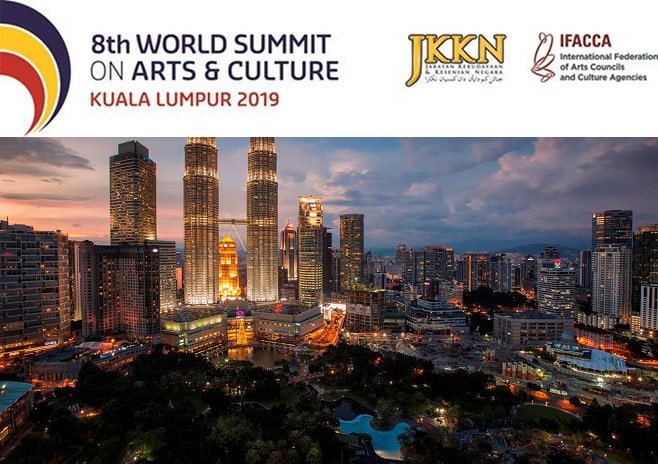 Good morning!
It is a privilege and pleasure to be here with all of you and to have an opportunity to offer some reflections today, which are rooted in my personal experiences within primarily a US context and consciousness. My sincere thanks to Magdalena Moreno Mujica, Kiley Arroyo, and others at IFACCA for the invitation.
A few weeks back, on a Zoom call, Magdalena suggested that I talk about "cultural leadership"—my current focus at both The New School and Banff Centre for Arts & Creativity—within the larger frame of "what makes change difficult." She then remarked, "It's important to know that this is not about Arts Practice. It's about the Policy Space."
I wrote down her statement thinking, "Got it!"
But later I thought, "Wait a minute …"
Because if I were to pinpoint anything that is making change difficult, anything in which I would center cultural leadership at this moment, it would be in aesthetic values and in practices that we might characterize as artistic.
So that's what I have decided to talk about. (This is a 12-minute talk in three sections and the first section is the longest.)
#1. On Controlling the Means of Production
On February 28th, the American theater lost an important cultural figure: John O'Neal, who founded with a few friends the boundary-breaking Free Southern Theater, which was part of the Black Arts Movement in the US and allied with the civil rights movement. In a 1964 interview with The New York Times (cited in this recent New York Times obituary), O'Neal said of his troupe:
We want to strengthen communication among Southern blacks and to assert that self-knowledge and creativity are the foundations of human dignity. …

In the South it has been very hard for a Negro to look at and see anything but a distorted view of himself.
These words feel even more vital in the US today than in 1964. Between politicized news channels and filtered Facebook feeds, it feels like none of us has the possibility of a clear view of self or others.
The US is not alone in this. In so many places, the social imaginary is a highly contested space; and this is one of the reasons, of course, we need artists.
John O'Neal's Free Southern Theater was practicing what some would call community cultural development, which my friend Dudley Cocke defines as: "developing the intellectual, emotional, spiritual, and material traditions and features of a community."[1]
Dudley is a legend in his own right and was a longtime friend and theatrical comrade of John O'Neal. With others he formed Roadside Theater in Whitesburg, KY to serve the people of the central Appalachian region of the US—to help them tell their own stories. He and others in his company then took their methods on the road to help others tell their stories.
If the arts hold the potential to bring people together across divides on equal terms, Roadside Theater is one of a handful of US cultural organizations I know that has actually done this for years. Its own artistic practices combined with policies in its contracts ensure that for every performance an audience shows up that is representative of the socio-economic demographics of the community.
Last year Dudley contributed a chapter in the anthology Arts and Community Change, in which he wrote, "Those who control the means of cultural production control the stories the nation tells itself."[2] It is a common refrain of his.
The work of Roadside Theater has been squarely aimed at disrupting this production system and fostering the democratic culture that so many of us claim we want to see. However, in the US, such community-based cultural organizations do not have (and have not had for decades) an equal opportunity to develop and grow.
This is in large part because in the US we still embrace the notion of the democratization of elite culture and our notion of excellence in the arts is still largely based in an "aesthetics of dominion" copied from Europe.
What do I mean by that?
"Aesthetics of dominion" is a powerful, poignant phrase I first heard used by composer Ashley Fure the evening before I flew to Kuala Lumpur. She used the concept within the context of a brief but extraordinary talk on the long-term cultural consequences of music notation—which (as some of you may know) emerged from Charlemagne's desire to control the means and quality of church music production in his empire. As her talk clearly demonstrated, we are living with these consequences to this day.[3]
Not dissimilar to the influences of Charlemagne's intervention, one can see in the US the long-term cultural consequences of the desire of organized philanthropy and government agencies to ensure high quality throughout their "empires" by developing criteria, models, and indicators of success that have basically resulted in the exponential growth of a small number of large, well-housed, historically white institutions, who to this day capture most of the sector's resources.
To wit, A 2011 report from Helicon Collaborative found that more than half of the sector's revenue goes to less than 2% of cultural institutions. These larger, prestige institutions "focus primarily on Western European art forms, and their programs serve audiences that are predominantly white and upper income." A second study released in 2017 found the picture had only worsened.
If the flow of money determines to a great extent who controls the means of cultural production, in the US we seem to be dominated by commercial interests (on the one hand), or elite interests advanced through the nonprofit industrial complex (on the other). Imagine what distorted stories our nation continues to tell itself as a result?
Even though we've lately seen an embrace of "social justice" ideals across the sector, it is quite difficult to trust this turn—in part because if historically powerful institutions are the evident backers of this "social justice movement" one can be almost guaranteed that they will design their interventions to contain any possibility of actual revolution in the cultural sector and any genuine shift in the power balance.
We can't keep dolling out small grants to the actors of change in Horizon Two and expect control of the means of cultural production to shift.
No matter the rhetoric about arts and social justice, or cultural democracy, the status quo will persevere as long as corporate and elite interests continue to control the flow of resources and continue to funnel a majority of those resources to sustaining Horizon One institutions—whose economics, aesthetics, and ethics are decreasingly fit for future purpose.[4]
#2. On Beauty in a Business School:
A few years back I designed and taught an experimental course in aesthetics and beauty for business students at the University of Wisconsin-Madison. The course was an opportunity for those trained to look at the world through an economic lens, to practice seeing the world through an aesthetic lens and thereby learn a different basis for valuation and decision making.
To be clear, this was not a course in arts appreciation. I was not concerned with having students experience a canon of great works. A premise of the course was that beauty is whatever wakes you up, grabs your attention and breath, stills your mind and heart, and decenters you.
A child. A whale surfacing. A Giacometti sculpture. A tattoo. A story. The closing argument in a court case.
The beautiful experience was also not the end—it was the means, the spur, the teacher, the stimulus intended to stir these business students to imagine, create, and one day perhaps work to build a better world.
When asked how the course had affected them, students said:
I do things I wouldn't do.
I look at things harder.
I see other people's points of view. I think, "There might be more going on here so I won't jump to a conclusion."
I am re-evaluating relationships in my life. I am asking whether I've had the emphasis on the wrong things.
I am thinking about homework differently—how to make it creative, not anxiety provoking.
I'm trying to focus on the process, not the product.
I am slowing down.
One student said, "This course is teaching us how to care."
I would say the beauty course was essentially a course in human development and moral imagination.
The US has become a "market society," to use Michael Sandel's term, in which market values, market incentives and market relations dominate.[5] We desperately need business leaders, lawyers, doctors, police officers, government workers, politicians, policy makers, heads of NGOs (including cultural institutions), and others in positions of power and authority to exercise wiser, more responsible, cultural leadership. To have skills in empathy, collaboration, and creative problem-solving. To be able to look beyond self-interest and distinguish excellence from its byproducts, money and fame (to quote John Dobson's article, Aesthetics as a Foundation for Business Activity).
And for this to happen our education system must change and we in the arts and culture realm must care more about that than we presently do.
#3. On Cultural-Enterprise Skills for Artists
I am currently working—in one of my capacities—as Asst. Professor and Program Director at The New School, helping to launch an Arts Management and Entrepreneurship Master's degree. There are dozens of arts management programs in the US; this is the only master's program in arts management that is offered exclusively to artists, who are required to continue their artistic practice, as they learn about finance, and creative producing, and community cultural development, and a host of other things.
I agreed to help launch this program because I believe artists need such skills so they can have greater agency, autonomy, impact and influence in this world—so they can exercise cultural leadership.
If we are scratching our heads and wondering why things in the sector haven't changed—if we are having a hard time moving towards the unknown future—perhaps this is in part because when we gather to deliberate and decide about important cultural matters in the US artists often don't have seats at the table; or if they do administrators or other professionals outnumber them 20 to 1; or we have invited them in but have put them in service of pre-determined strategies and goals—rather than bringing them in as actors of change.
If we want to reduce the policy-practice gap then I believe practicing artists need to have keys to buildings, seats at the heads of boardroom tables, posts in government, power over budgets, and access to data.
In closing I'd like to offer three summary questions:
Who controls the means of cultural production and how might existing policies, while celebrating and encouraging Horizon 2 activity, be perpetuating Horizon 1 power structures?[6]
To what extent are existing cultural policies engaged with changing educational policies, which at primary, secondary and tertiary levels are more-and-more aimed at training future workers rather than well-rounded humans with the capacity to participate fully in our democratic experiment?
Are practicing artists—representing in diverse ways the full spectrum of cultural production—central to and powerful within our institutions; and, if not, why not?
Thank you for your kind attention.

---
[1] Cocke, D. (2015). Community Cultural Development as a Site of Joy, Struggle, and Transformation in Max O. Stephenson, Jr. and A. Scott Tate (Ed's) Arts and Community Change. (New York and London: Routledge) p. 136.
[2] Ibid, p. 162.
[3] Ashley Fure was a speaker on a panel on the topic of Creating (in) a More Just Society, co-produced by The College of Performing Arts at The New School and International Contemporary Ensemble on March 7, 2019.
[4] The Three Horizons framework was discussed at the conference. If you aren't familiar with the framework, it is a tool for structuring thinking about future innovations, including social change. Horizon One represents the present state of things, most aspects of which will be decreasingly fit for future purpose; Horizon Three represents the future state we imagine and hope to create; and Horizon Two represents the space of experimentation and green-housing that will help us make the transition between the two.
[5] See Michael Sandel's 2012 book, What Money Can't Buy: The Moral Limits of Markets
[6] See Footnote 5 for a description of the Three Horizons Framework