Apologies for the radio silence. The beauty course marched on but I failed to get anything written on Jumper the past few weeks as I was finishing up the term and writing talks for two symposia (a symposium on Beauty and Business that I helped put together at UW-Madison and then the fourth biennial Pave Symposium on Arts Entrepreneurship at Arizona State University). I'll post transcripts from both conferences in conjunction with the videos from each being posted by the conference organizations (UW-Madison & ASU, respectively).
As I reflect on the second half of the beauty course I now perceive that it was about trying to add, subtract, multiply and divide with what we had soaked up (in terms of concepts and frameworks) in the first half. It was about releasing ourselves a bit from the philosophy and formal definitions; engaging with art, artists, and life; and seeing what would stick. In this post and the one that follows I am sharing highlights from the presentations by the several artists who joined us in class and key ideas from them that resonated most for the students.
March 17 – Revealing and obscuring ourselves through self-portraits (Lynette D'Amico)
You may recall that the students created photographic self-portraits the first week of class and we used the assignment to, among other things, discuss the difference between a selfie and a self-portrait. In the same week that Polly Carl discussed the Elaine Scarry monograph On Beauty and Being Just, Lynette brought in slides of self-portraits by two artists: Vivian Maier and Francesca Woodman (links are to documentaries on each artist and are highly recommended). Lynette discussed that what interests her is how these artists both reveal and obscure themselves in their self-portraits. Lynette shared the Diane Ackerman quote:
Selves will accumulate when one isn't looking; and they don't always act wisely or well.

— Diane Ackerman
As she scrolled through slides of self-portraits by Maier and Woodman, Lynette asked the students, What selves are being shown in these self-portraits? She also played the grammy video of Sia, a pop artist who has attempted to evade a celebrity's life by hiding her face in all live performances and videos and commented, Hiding oneself or camouflaging oneself is its own version of revelation.
Lynette ended her terrific lecture by encouraging the students to further consider their self-portraits and how they might re-approach the assignment in light of this idea. After spring break the students were given just this assignment. The students, by and large, did strong work on their second self portraits. Indeed, it was difficult to choose only five to share. It's perhaps also worth noting that more than a few students expressed gratitude at being able to go back and repeat an assignment from the past, with new knowledge, skills, awareness, and confidence.
March 24 – Designing beautiful interventions (Michael Rohd)
Michael Rohd  joined us for our final class before spring break for a terrific session that I titled "designing beautiful interventions." If you don't know Michael's work he is founding artistic director of Sojourn Theatre, founder of the Center for Performance and Civic Practice, and on faculty at Northwestern University. Much of Michael's work is situated in the intersection between theater and democracy. In advance of his session the students read a short text by Michael called Listening is the New Revolution, which is a good introduction to his ideas. They also spent two weeks collecting experiences (from real life, not their FB feeds) of the following: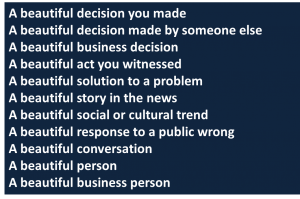 Michael's session was broken into three parts. In the first hour he did an exercise called, "Where I come from"—a kind of musical chairs in which the person left without a chair must go to the center of a circle and finish the sentence, "Where I come from …".  The "where" could be geographic, identity-based, or values-based. So,"Where I come from there are skyscrapers" was one geographic example. If this statement is true for others students they stand. Funnily enough, when someone made the statement about skyscrapers almost no one else in the class stood up. So instantly we all grasped that most of us were not from large, urban areas. An identity example: "Where I come from one's parents are divorced." A values example: "Where I come from most people are politically liberal."
Following this exercise students talked in small groups about which of these revelations by their classmates struck them most intensely. Working in groups students were then asked to design a scenario based around a particular perspective—for instance, "Where I come from, anyone can say anything." The aim was to demonstrate with the scenario how such a perspective could be a source of tension or conflict between two or more people. The students later commented that they loved this exercise as it allowed them to learn about their classmates and themselves in comparison.
In the second part of the class, Michael spent some time describing six projects he has worked on that he finds "beautiful" and asked the students to listen to these six stories and then reflect back to him his notion of beautiful work. There was a general consensus that beauty for Michael is knowing that the interventions or projects that he and his collaborators design have enabled individual citizens or whole communities to achieve their goals.
Finally, Michael led the students through a series of physical exercises with the material they brought to class (from having gone in search of beauty in the 11 sites outlined above). It's hard to do justice to this exercise in writing, but essentially the students were led through a process of embodying the essence of these sites of beauty, relating their individual physical expressions to each other, and then working together to create a a brief performance incorporating text, movement, lights and sound. I would characterize it as an exercise in combining, layering, iterating, and shaping. It was definitely a challenging experience for the students, but one they embraced and seemed to enjoy.
April 7 – Beauty in the Thing to Make the Thing (Paul Sacaridiz)
I've already shared a few points made by sculptor Paul Sacaridiz (concerning the role of beauty in a democratic society) in my prior post on beauty and justice. There were a couple more themes from his lecture that really seemed to resonate with the students. The first had to do with finding beauty in the creative process. As he scrolled through slides of his studio and works in process, Paul commented:
Our job as artists is to notice the moments, the little beauties everywhere. … I document the process. At every moment I am looking for what no one else will see.  … I find beauty in the thing to make the thing.
The second theme had to do with the tension between the ideas "art is for everyone" and "you need special knowledge to understand art." Paul commented:
Museums want people in their institutions because we believe that what is inside is worth the experience. That's why museums are often free. Nonetheless, people feel intimidated by art. We're confronted by something we don't understand.
One of the dangerous notions out there is that art is a universal language. It isn't. It's specialized. For instance, there is the Japanese notion of wabi sabi, that there is beauty in imperfection. The Japanese make pots that highlight the cracks and bumps. But westerners see the pots and mis-interpret them as "not successful." Our understanding of beauty is culturally contingent. Just because you don't get something, or even whole societies don't get something, doesn't mean it's not a "successful"  work.
Art is a kind of system. And we cannot grasp it immediately but we often feel immediately whether or not we are drawn to something, or repelled by it. Like physics or medicine we need to invest time and energy if we want to understand art, to figure it out. When we find something "stupid" or  incomprehensible or we don't grasp why it is worthwhile to anyone we can ask, "What is it?"  And we can stick around and seek to understand what we are offended by or what we don't understand.  We can transfer this same skill to other things in life. Rather than rejecting things we don't know and understand as stupid, we can back off a bit and seek to understand.
The idea that you need specialized knowledge to understand and the idea that everyone should be able to approach art are both true. On the one hand, you don't need historical knowledge to walk up to something and perhaps be compelled by its form, shape, colors, or even to understand it on some level. However, particularly with works from a different era, to have a deeper relationship with the piece, you may also find value in learning more, in understanding the context, the history, etcetera.
Portfolio Assignment: A second visit to the Chazen Art Museum
In order to examine the notion that art is a way to understand another culture, I gave the students the assignment to go to the Chazen Art Museum on their own to see the exhibition: Tradition and Innovation: The Human Figure in Contemporary Chinese Art. The students were generally quite enthusiastic in their responses to this exhibition. I gave them two assignments: (1) spend time with the exhibition and give me five adjectives to describe the culture being represented based on what you have experienced and (2) wait three days and document the work in the exhibition whose form proves to be most memorable.
In response to the second part of the assignment, foreign exchange student Constance Colin (from France) reflected:
At first I thought the piece that stuck to my mind would be the painting of Chi Peng entitled "Mood is never better than memory" because I stayed watching that one for a long time … However, two days after, the one that I could not forget was Endless Tower (sic) of Xiang Jing. It was so impressive by its size and striking. From a far point of view, you tend to think that all the women are similar but getting closer you realize the faces are all different. [It] raises the question of being special and unique in a society that pushes you to fit in, to be like others. To illustrate this experience, I chose a piece I found on a social media dedicated to art I really enjoy, Stack (theartstack.com), entitled "Dialogue" by David Kukhalashvili.
Another student, Stacey Dougherty, wrote about the following artwork:
I don't remember the name, but the piece that sticks most in my mind is the large painting of the Chinese man walking in what looks like fire. The picture intrigued me because I could not stop wondering, where is that man going? Why is he taking such long strides? Is he walking into hell?  …
She documented her interpretation of the work in a Haiku:
Hell is Near
Fire is burning now / I run, but cannot escape / Hell is awaiting
In class I reminded the student that the title of the work is Busy People No. 1. I remarked that her interpretation, combined with the title, caused me to think that by racing through life and not being present, by allowing life to be consumed by busy-ness, we are, in a sense, living in a kind of hell.
Perhaps letting beauty in and letting it work on us helps us make strides in the other direction?