This post discusses how the business students prepared for a visit to the contemporary art museum; their three-hour visit to the museum and the exercises they completed there; and the portfolio assignments created by students both leading up to the museum experience, and in response to it.
Before the Museum
In anticipation of a visit to the museum I assigned a few videos for the students to watch. The first was Michael Kimmelman on Art Parts 1 & 2 (two brief segments excerpted from the documentary My Kid Could Paint That).
Here are some of the key ideas from Kimmelman that we discussed in class after watching the videos:
Even things that appear simple can require great skill.
What you determine to be great art and what I determine to be great art may be different. Although there are no longer fixed and strict standards in art to which everyone must agree, this doesn't mean there are no standards. What is important is understanding why you have the standards you do. You may also want to keep your eyes open (meaning continue to seek out new experiences) so that you can evolve to have different standards.
Sometimes what is most important about a piece of work is the idea behind it rather than the technical skill; art works are often valued because they are innovative and push the art conversation forward.
The determination of what counts as art (beyond commonly accepted standards) is made by experts who are able to declare something a work of art. This can be alienating to people; but it's how the art world works.
Art is not meant to be instantly understood and you may need to make an effort to understand what makes a work of art great in the eyes of experts—but only if you want to. You are also under no obligation to increase your understanding of art.
We then discussed Alain De Botton's sermon Art As Therapy. De Botton's work is concerned with the content of art and how everyday people can derive meaning (a kind of self-help) from it. He posits that art is good for us in five key ways:
It keeps us hopeful.
It reassures us about the normality of pain and makes us feel less lonely.
It balances us and compensates for what is lacking in us; it has qualities we need.
It helps us appreciate the value of simple things in life. It's a counter to materialism.
It is a tool of memory and opens our eyes to what we are unable to see.
We also read a few texts. We examined a statement by Oscar Wilde from the preface to The Picture of Dorian Gray on the uselessness of art; a passage by Susan Sontag in her essay Against Interpretation (hat tip to my friend and former colleague Lane Czaplinski for recommending these); a brief 1949 essay by E.M. Forester published by Harper's Magazine called Art for Art's Sake; and the Claudia LaRocco talk, Some Thoughts, Possibly Related, on Time, Criticism, and the Nature of Consciousness, which I found in the Yerba Buena Arts Center Reading Room. The goal of pulling these various texts together was to get at several things: What does art for art's sake mean? What is art for? How might we approach art works (particularly if we don't have much experience with fine art)? and What does it mean to be present and engage with a work of art?
The session before the visit to the museum I asked a UW Grad Student, Tara Austin, to teach a brief drawing workshop. She led students through a series of observation and sketching exercises aimed at giving them a number of approaches to drawing and, thereby, developing their skills of observation. Tara showed slides of her own pieces, as well as those by other artists whose works are inspired by beauty in the natural world: Marianne North, Ernst Haeckel, Philip Taaffe, Beatriz Milhazes, Annette Davidek, and Fausto Fernandez. Tara also engaged in a Q&A with the students and talked about such things as how she approaches a work of art in a museum, why she's drawing orchids these days, and her artistic process. Here is a work of hers (in her orchid series) that she gave me permission to share.
After Tara's workshop, the students had a visit from a docent at the Madison Museum of Contemporary Art (MMoCA). Carol Hay covered the major periods of art, as well as the formal elements used to analyze drawings, paintings, and sculpture (e.g., line, shape, form, texture, pattern, tone, value)–however, she stressed throughout her presentation that such knowledge is not required to enter a museum and begin to engage with the work. Much of what she did was aimed at demystifying the museum experience. She engaged the students in a critical response analysis of two works (one realistic and one abstract) in the MMoCA permanent collection–asking questions such as, What do you notice? What does it remind you of? What feelings does it evoke? She also led students through an exercise in which they worked in groups to construct a poem (using a guide) in response to a work of art whose title they did not know. Finally, she provided information on the themes and artists in the current exhibitions and introduced students to a few of the works they would see.
MMoCA was a terrific partner for us at every step of this process (both before and during the museum experience). I worked with their curator of education, Sheri Castelnuovo.
Portfolio Exercises
As an exercise in advance of the museum visit I asked the students to watch a sunrise or sunset, then write a haiku and document the sunset visually (use old school or new school techniques to draw or construct). The goal of the exercise was to engage them in sustained close observation and to practice letting the hand capture what the eye sees. In this case I suggested they focus on capturing their experience of the colors and shapes of the sunset. Here are two of the submissions (Left, Michelle Croak; Right, Jackie Lee):
A second portfolio assignment was to write about a beautiful work of art (owned by a museum). Here was the assignment:
Choose a work you judge to be beautiful;
Briefly describe the work of art objectively;
Enumerate aspects or details you notice and the associations and feelings that arise as you examine the work;
State what makes the work beautiful from your perspective–(i.e., seek to understand your own standards for beauty in art);
Do some research and read about the artist and work. What do you learn? Does this knowledge enhance or detract from the beauty of the work?
Many students picked well-known masterpeices and generally it seemed that gathering additional knowledge about the work and artist was perceived to be beneficial and to enhance appreciation of the work (but not always).
At the Museum
When the students arrived at the Madison Museum of Contemporary Art in week three I had them reflect on the experience of the sunset and on the following passage from Claudia LaRocco's talk, mentioned above.
It's astounding the number of people who sleep through performances, even shows they have paid a good deal of money to see. Sleeping through a performance to me always seems akin to putting on headphones in a museum and letting the audio guide tell you exactly when and where to stop and look: you're there but you're not there; it's a form of sleepwalking, really.

And sleepwalking is always a tempting option. A lot of those 170 shows I saw, like a lot of what happens to any of us in the course of an average day, had problems: too slow, too manic, too much, not enough. Some of them were just plain wretched: no sense of themselves, yet possessed of a false sense of knowing. Or maybe I was the one with the problem: scattered attention, sore throat, incorrect understanding, bad attitude.

These problems, whether internal or external, always present the audience member with a choice: to engage or disengage. To stay in the present, stay in our actual time, or slip out through some back window of our mind.
We then split the students into three groups of seven for docent tours led by three terrific docents, Carol Hay, Bob Leschke, and Donna Rae Clasen. I learned this was quite meaningful to the students when I polled them the week after the tour. After their one-hour introduction to the three galleries, I gave a short talk on the nature of the aesthetic experience, as well as on ways that art experts approach art. These examples were largely drawn from two terrific books: The Art of Seeing: An Interpretation of the Aesthetic Encounter by Mihaly Csikzszentmihalyi and Rick E. Robinson and Rendez-Vous with Art by Philippe de Montebello and Martin Gayford.
I explained that aesthetic experience is not unlike the feeling of flow (this is the main argument of The Art of Seeing). I also stressed Michael Kimmelman's point that different works will speak to different people and that it may not be the most "important" piece in a collection that draws you in. As an example, I shared this comment by a curator interviewed in The Art of Seeing, who was visiting with a dealer, who was trying to turn her on to certain works he was representing:
When the dealer was giving me all these prices for other objects and trying to get me excited about things the he wanted me to be excited about, I kept looking at this little Polaroid … And I was really sort of working on other things, but what interested me was this ….
Part of what can become transfixing, I offered, is the desire to understand why you are drawn to a piece—why and how it is working on you. Here's another quote by a second curator (same text) that I used to demonstrate this point:
I think there's the initial response, and then there's a kind of curiosity as to what there is in the picture that gave you that response, which means that you're going from the whole picture down to … maybe it's the way that cherry is painted over there in the corner, that is really knocking me out …
Finally, I conveyed that it takes time for works of art to work on us and read the following quote by Philippe de Montebello before introducing an exercise in which they would spend 30 minutes with a single art work.
I use the word 'work' in my approach to art deliberately. …A deeply rewarding experience awaits visitors if they are willing to look searchingly at the works on view. Also … few works of art yield their secrets quickly. … Since most don't beckon, they must be approached and given time.  … We all know you can't squeeze Wagner's Ring Cycle into thirty minutes, yet, perhaps, because the eye can take in a work of art all at once, in a brief instant, we expect it to speak to us in shorthand—it doesn't. It demands an effort; it must be deciphered, decoded it you will, if we are to be absorbed in its world.
The students dispersed and were told to spend 30 minutes with a work of their choosing and to jot down thoughts, images, feelings, etc. When we reconvened I asked students about the experience. Their energy was a bit subdued and many had found it difficult to stay engaged for a full 30 minutes; but some seem to have become lost in the experience in a positive way.
I sent them back into the galleries in groups to share their works of art. As my TA and I roamed the galleries we noticed the students were much more animated. When we talked with them after this last exercise, we gathered that they enjoyed sharing what they had discovered and hearing, in response, what others saw in the works.
Portfolio Assignment After the Museum
Here was the weekly portfolio assignment: Create an artwork that conveys an idea that stuck with you from the work you spent time with at the museum; and write an artist's statement (7-10 sentences) that connects your work to the museum work. You may create a visual art work or a poem.
Students submitted poems, drawings, photographs of site-specific work, paintings, watercolors and sculptural works, like the following by student Lyndsay Bloomfield, responding to a work in the Lands in Limbo series by artist Narayon Mahon, documenting unrecognized countries of Abkhazia, Northern Cyprus, Transnistria, Nagorno Karabakh, and Somaliland.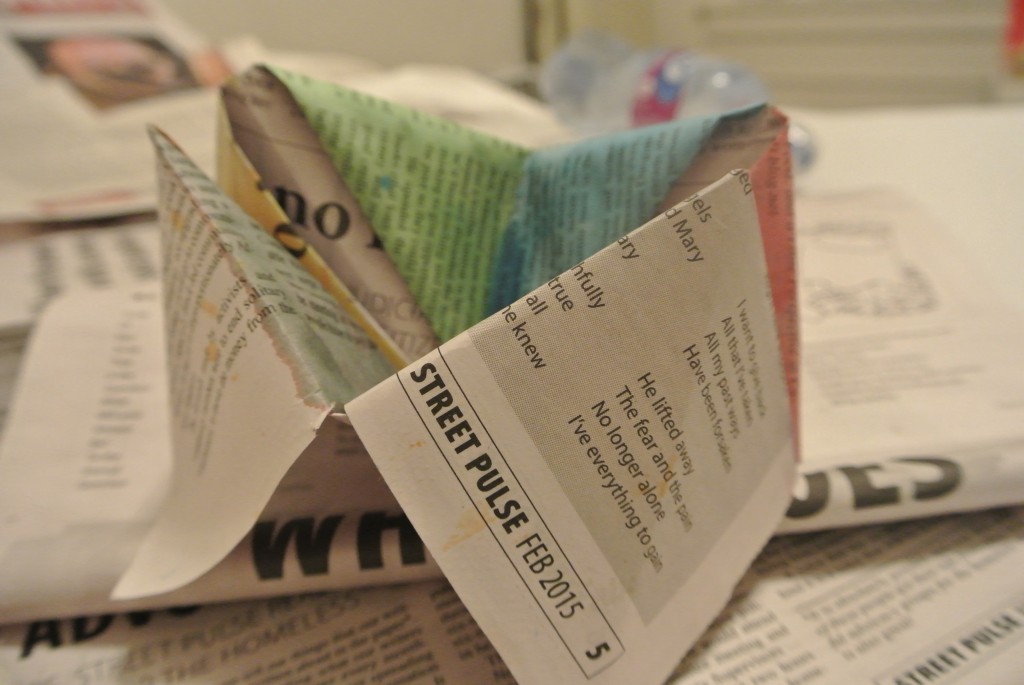 Response to Dividing Wall #1 by Narayon Mahon 
The piece spoke to me about loneliness. It had a sense of hope with the child, but the shadows seemed almost to engulf him. I have never known a child to seem so dark. I wanted to reach into the photo and speak to the kid, to share something with him, something that wasn't so dark or lonely. That is why I chose to make a Fortune Teller, something I still make when I want to pretend that picking the color blue or red will tell me my final fate. I used a Street pulse newspaper to make my gift because I think that the homeless people may be able to connect with that boy in the photo. They too after all are in their own land of limbo. I specifically choose the obituary of man, Tim DeDeyne that covered the front page. It had his poetry at the bottom, and maybe as that young boy grew he could look to the small stanzas to keep him sane, just as Tim DeDeyne once did. May his words be remembered, no longer cast aside or forgotten.
As I thought about the student's fortune teller another connection to Mahon's artwork occurred to me. The boy shown in the photograph had ended up in an unrecognized country because of a distance of a few feet. A line was drawn, rather arbitrarily. His home could have just as easily ended up on the other side. It was a twist of fate that he ended up in a land of limbo.
Student Hailee von Haden, who is studying design, submitted the following image and text in response to Death in Venice Portfolio: Dark Gondola/I Feel Sick/Death on the Lido by Warrington Colescott. Death in Venice is a portfolio of ten etchings inspired by Thomas Mann's novella of the same name.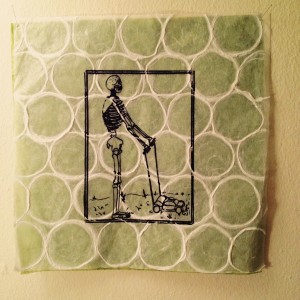 When looking at Warrington Colescott's Death in Venice Portfolio, I understood each to have everyday, present moments happening like they usually would but with a haunting ghost/death lingering within the layers of the etchings.  The colors were very vibrant which made them feel more manic than they were.  My first print of a series that I will be continuing combines everyday activities with a representation of death, the skeleton.  I chose to do a screen print because it is a similar technique as etching as a resist printing technique.  I also layered different papers to mimic the dozens of layers in Colescott's etchings.
I was moved by the submissions, many of which were quite thoughtful and imaginative.
By no means do I think all of these steps are necessary for a student to have a meaningful engagement with fine art. However, I wanted to give the students multiple entry points and opportunities to engage so they could determine for themselves, and I could learn, what helps them to engage.
Next Post
In my next post I'll talk about a series of experiences and lectures focused on how artists open our eyes to truths that we may not want to see. As Jeanette Winterson puts it in her essay The Secret Life of Us:
Art can offer no obvious return. Its rate of exchange is energy for energy, intensity for intensity. The time you spend on art is the time it spends with you; there are no shortcuts, no crash courses, no fast tracks. Only the experience. Art can't change your life; it is not a diet program or the latest guru—it offers no quick fixes. What art can do is prompt in us authentic desire. By that I mean it can waken us to truths about ourselves and our lives; truths that normally lie suffocated under the pressure of the 24-hour emergency zone called real life. Art can bring us back to consciousness, sometimes quietly, sometimes dramatically, but the responsibility to act on what we find is ours.
[contextly_auto_sidebar id="gB8ZlWLRgFy64RXkgXdU7GfgeJ4YuWsx"]