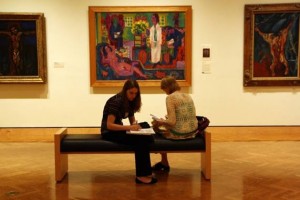 In a week I will be heading to Madison, Wisconsin to teach a 12-week course in beauty for undergraduate business majors.  The course is aimed at helping students cultivate an aesthetic sensibility. It will combine a bit of philosophizing on the nature and function of beauty in today's society; arts and other aesthetic experiences; and the documentation of these experiences in a portfolio. Over the next four months I will use Jumper as a platform from which to open up the class. I want to share what we're doing and learn from others who may be walking down similar or parallel paths. In this first post I thought I'd discuss where the concept for the class came from and how it has evolved, and share a couple sections of the course guide to give a sense of its thrust.
From a course for Arts MBA Students to a course for Undergraduate Business Majors
 In 2013, Sherry Wagner-Henry, Director of the Bolz Center for Arts Administration at the University of Wisconsin-Madison (UW-Madison) asked if I would be interested to come to the Center for a semester as a visiting guest artist/lecturer. For those who don't know, the Bolz Center offers one of the few Arts MBA degrees in the US, alongside its MBA degree. Students in the program take the required courses for an MBA, plus a range of arts-related courses. I was thrilled by the invitation and we agreed to put together a proposal. In support of that proposal Sherry asked me to think about a course I would like to teach.
At the time, I imagined I would be teaching the Arts MBA students. We set up a time to talk by phone so that I could bounce my ideas off her. I started by explaining that I have always been a bit critical of arts administration programs because they seem to be almost exclusively focused on developing the business skills of their students and rarely, if ever, focused on simultaneously developing their students' aesthetic sensibilities. Skills in the latter seem to be taken for granted in many arts admin programs (though I would argue that they shouldn't be).  I remarked that if I ever ran such a program I would probably encourage the students to attend performances and exhibitions on a weekly basis and ask them to write a 3,000-word essay on their tastes in art as one of their graduation requirements.
I then rambled on about three other points of inspiration. (1) One of the questions I have been circling around for the past 5-6 years is How can the arts matter to more people and matter more to people? I am curious about how people develop their aesthetics and tastes and what arts organizations can do to encourage this growth. (2) Like many others, I see time at university as a prime (and in many cases last) opportunity for exploring a variety of arts and cultural experiences and, thereby, learning about oneself, one's aesthetic, various art forms, and the culture generally. (3) I mentioned that I had seen Howard Gardner speak at MOMA a few years back on his True, Beautiful, and Good series and how compelled I was by the talk I had heard on The Good and, in particular, his concept of Good Work (i.e., work that is Excellent, Ethical, and Engaging).
I ended by saying that I somehow wanted to combine these various ideas into a course.
It turns out Gardner's 2011 book (Truth, Goodness, and Beauty Reframed) was on Sherry's bookshelf and that she and a couple colleagues in the business school had been thinking on and off (at the encouragement of the Dean of the Business School) about the virtue of beauty and how it might be incorporated into the curriculum. We started talking about Gardner's concept of the beauty portfolio.*
Gardner re-defines beauty (for the 21st century) as the property of experiences and asserts that "to be deemed beautiful an experience must exhibit three characteristics. It must be interesting enough to behold, it must have a form that is memorable, and it must invite revisiting."[1]  Gardner suggests that two educational implications follow from this assertion: (1) students should be encouraged to keep a portfolio of their experiences of beauty, aimed at tracing how those experiences have evolved over time; and (2) students should be encouraged to reflect upon the palpable reasons, or factors, that have lead them to consider one experience to be beautiful and another not.[2]
The more we talked the more I realized that the very course I was imagining could be anchored in Gardner's idea of a Beauty Portfolio and I blurted out, "I want to create that course—a course on beauty!" And as we continued talking, it became clear that the beauty course we were envisioning should be aimed at a broader population of business school students (rather than at the narrow cohort of Arts MBA students).
I hung up the phone and knew immediately who I needed as my co-conspirator—Polly Carl, who has been thinking and writing about beauty for years. See, for example, here  and also here. We had lunch in NYC and I shared what I was thinking and she jumped in and immediately rattled off a few texts for me to read and we created a napkin sketch of the bones of a course. (I'm incredibly enthused that Polly will be coming out to Madison to give three critical lectures over the course of the term.)
As soon as it was clear that this course was to be a reality I began wading into academic literature examining the links between beauty/aesthetics and leadership/business management, as well as artistic and philosophical reflections on beauty. I needed to be able to answer one question for myself, and others.
Why teach beauty in a business school?
In an effort to articulate the worth of the course I began writing a literature review/essay aimed at answering this exact question, which I'll share in my next post.
In the meantime, I leave you with an excerpt from the syllabus. I hope if you are at all interested in this experiment you will share your ideas, questions, or criticisms—or reach out if you'd like to think about ways to partner or collaborate.
 Approaching Beauty – Course Overview (excerpt)
 Approaching Beauty (a/k/a aesthetics and business) aims to give business students the tools and encouragement to cultivate an aesthetic sensibility. This is neither an arts appreciation course nor a philosophy course. This is a practical course that takes as a foundational precept that art is integrally linked to the experience of things and of life itself.[3] It will combine discussions on the nature and function of beauty in today's society (led by a range of scholars and artists); curated and self-directed aesthetic experiences; and the documentation of these experiences in a portfolio. Though Gardner is not specific about the form of such a portfolio, for the purposes of this class we are conceptualizing it as a multimedia (visual, auditory, and written) catalogue. Students will ask and answer (in their portfolios) in relationship to a variety of provocations and experiences a range of questions, including: Is it beautiful? Is it not beautiful? Why? On what basis am I forming this judgment? Students will also share their portfolio entries with each other and reflect upon where their ideas about beauty converge and diverge, and why.
Portfolio assignments will be aimed at giving students "bigger-than-me experiences"—to use the phrase coined by Sociologist Steven J. Tepper in a recent essay in the Chronicle of Higher Education. Tepper (2014) asserts that we are living in a period in which institutions of learning need to provide courses that help students "realize that authentic growth comes as much from escaping as from discovering the self."[4] Tepper makes a link between the rise in cultural activity focused on personal expression (what he calls me experiences) and several studies that indicate that empathy, compassion, moral reasoning and tolerance may be declining; ultimately, he makes a case that what is needed (both in the culture-at-large and at universities) is fewer me experiences and more bigger-than-me experiences. He distinguishes the two, writing:
"Me experiences" are different from "bigger-than-me experiences." Me experiences are about voice; they help students express themselves. The underlying question they begin with is, "What do I have to say?" BTM experiences are about insight; they start with, "What don't I know?" Voice comes after reflection. Me experiences are about jumping into a project and making something—an idea, an artifact, a piece of media. BTM focuses on John Dewey's notion of "undergoing"—making something happen in the world, which requires, first, a shift in our own subjectivity. We must anticipate problems, struggle with ideas, seek some resolution. It's a process.
Fundamental assumptions of this class are that art teaches us to see what me might otherwise (choose to) not see; art confronts or holds together things that are inherently in tension, it embodies paradox and ambivalence, and it resists easy resolution; and the beautiful (in art and life) arises out of struggle.
Because it is being offered through a business school, this iteration of the course is designed to bridge the inspirational/aesthetic and economic/business worldviews. It starts from a first principle that there is great value (for future business managers/leaders, in particular) in having the capacity to approach the world, or respond to it, aesthetically.
Scholar of corporate finance, business economics, and economic philosophy John Dobson (2007) argues that we are living in an aesthetics business era in which corporations increasingly need to recognize the importance of such things as "harmony, balance, sustainability, aesthetic excellence, judgment, context, compassion, community, beauty, and art."[5] Dobson suggests that aesthetic judgment is needed in business leaders, in particular, because they face the continual challenge of distinguishing between excellence and its material by-product, material wealth.[6]
Likewise, scholar of management and corporate responsibility, Sandra Waddock (2010) asserts that there are four leadership capacities that can be developed through the cultivation of an aesthetic sensibility (what she also characterizes as "better seeing"):
An intuitive grasp of the non-rational or observable elements of situations and decisions;
Creativity in imagining solutions or future action;
Understanding of relationships among elements in a system in a 'design' sense; and
The capacity for balancing conflicting elements with the greater good in mind.[7]
And in a similar vein, organizational behavior scholar Nancy Adler (2011) proposes that both "great leaders and great artists" demonstrate courage in three ways: (1) the fortitude and capacity to "see reality as it is"; (2) the daring to imagine new (beautiful) possibilities; and (3) the conviction to inspire others to shift their sights from current reality to imagining what's possible.[8]
While there is a wide range of literature that has informed the development of this course (laid out in the aforementioned literature review/essay that will be shared in a future post), it builds in particular on Gardner's construct of the Beauty Portfolio; Tepper's concept of "bigger-than-me experiences," Waddock's premise that aesthetic experiences can help leaders cultivate a different way of "seeing," and Adler's vision of "a leadership based more on hope, aspiration, innovation and beauty than on replication of historical patterns of constrained pragmatism."[9] It also takes as premise (following Dobson 2007) that aesthetic judgment is a critical skill for 21st century business managers and that there is a link between aesthetics, ethics, economics, and quality of life.
***
What do you think about approaching beauty in a business school?
 
* I'm quite pleased that Howard Gardner knows about our course and is enthused we are developing it.
[1] Gardner 2011, p. xi.
[2] Ibid, p. xii.
[3] Dewey, J. (1934). Art as Experience. New York: Penguin Group/Berkeley Publishing
[4] Tepper, S. (2014). Thinking 'Bigger Than Me' in the Liberal Arts. The Chronicle of Higher Education, 9/15/2014. Available at http://chronicle.com/article/Thinking-Bigger-Than-Me-in/148739/.
[5] Dobson 2007, p. 46.
[6] Ibid, p. 45.
[7] Waddock 2014, p. 140.
[8] Adler 2011, p. 210
[9] Ibid, p. 208