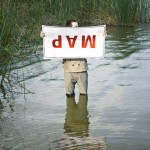 Happy New Year! This is a condensed and slightly adapted version of a short talk I gave in October at an event called Blowup: Innovation in Extreme Scenarios, hosted by a hub organization called V2, located in Rotterdam.
INNOVATION TO WHAT END?
I predicted in an article I wrote in 2005 that "innovation" would become the next buzz word to emerge in US funding applications and I was right. Predicting the rise of innovation hardly required super human insight.  The whole world was striving to innovate—even before the great recession. And over the past few years the hunt for the next great product for the as yet untapped market has become ever-more-desperate.
Speaking of the recession, in 2008, Paul Light, a professor of public service at NYU wrote an article in which he speculated four possible futures for the subsidized sector in the US arising out of the recession: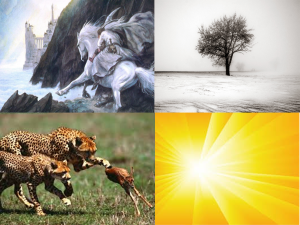 Rescue Fantasy: nonprofits are saved by significant increases in contributions;
Withering Winterland: organizations starve themselves into a weakened organizational state;
Arbritrary Winnowing: survival of the largest, oldest, and best connected organizations; and
Transformation: a redesign of the sector that leaves it stronger, more vibrant, more sustainable, and more impactful.
At the end of the article, Light predicted that if we let the future take its course it would result in a Withering Winterland or Arbritrary Winnowing and noted that the benefits of transformation could only by reaped deliberate choice. The same prediction could have been made about the future state of the Dutch cultural sector following the government cuts in 2010.
And what picture is emerging in the arts and culture sectors (in both countries)?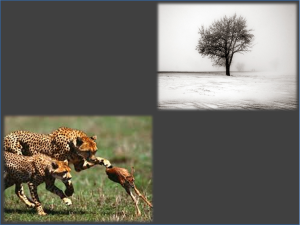 From what I can tell it appears Light's predictions are panning out.
I have been a critic of the broken-record calls for innovation in the arts sector from governments and private funders; however, I propose to forget about the motivations, expectations, and rhetoric of those holding the money bags for a moment. Instead let's ask ourselves whether Withering Winterland and Arbitrary Winnowing are the future scenarios that we want for the arts and culture sector. If not, then transformation may be our only choice. And yes, transformation, requires new ideas, new ways of thinking, creating, and distributing, new conceptions of our very purposes, and new value propositions.
Dare I say it? Sector-wide transformation may require innovation.
But we know this, right?
We know that the world has changed and that we need to adapt or otherwise respond to it.
We know this.
So why haven't we seen massive transformation in the arts and culture sector in response to this changing world?
A couple decades ago two researchers, Pralahad and Bettis, asked just this question. They wondered why it is so difficult for organizations to change and why, even when organizations see change in their environment, they are unable to act.
Pralahad and Bettis conceptualize organizations as having, in essence, a dominant logic – an information filter that focuses the attention of managers on some issues but not others.  The dominant logic also underpins the beliefs about causality that are inherent to an organization's business model. For instance, we do X, which is of value to society and, in return, Y revenues are paid to us by the government, citizens, sponsors.
We are living in an era in which the logic underpinning our institutions appears to be unsound. It is no longer clear that what we're doing is of great value to sufficient numbers of people. It is no longer clear that enough people are going to step up and pay for us to continue pursue our missions. How many people stormed the ministry to demand subsidies for the arts in the Netherlands a few years back?
Not enough.
We need a new logic … a new relationship to society … a new way of seeing our place in the world.
Pralahad and Bettis would argue that we cannot find this new logic without first unlearning the old one.
That's what this model is showing.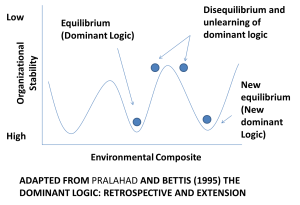 This graph suggests that instability assists in unlearning an old logic: If your organization becomes sufficiently destabilized, you may abandon your old filter, thus enabling you to see the world in a different way. To see partners where previously you saw competitors. To see venues where previously you saw useless space. To see co-creators where previously you saw ticket buyers. To see clients where previously you saw "non-arts people". To see 50 ways to deploy existing assets where previously you saw one. To see multiple businesses within your organization where previously you saw one. To see numerous markets for your services where previously you saw a single, rather niche market, of upper middle class, educated people.
Of course, unlearning is not inevitable. Finding a new dominant logic is not an automatic outcome of instability. Some organizations will simply fail. Others will hunker down, wait out the storm, and return to the status quo (the old equilibrium and dominant logic). I wrote about the latter possibility in a post last year when I picked up on a provocation by a field colleague who wondered whether the arts sector in the US had squandered the recession–whether it had, in essence, wasted its opportunity for transformation.
So if we have failed to see transformation (at the organizational or field level) perhaps one reason is that we have not yet been (or allowed ourselves to be) sufficiently destabilized, in a sense, to abandon old models and the long-held beliefs underpinning them.
But I suspect that's not the only, or even primary, reason.
I suspect the primary reason is that we do not yet have a vision (or buy-in) for what sector-wide transformation would look like or what purpose/whose interests it would serve. And I would say the same is often true of our pursuit of innovation at the individual organization level.
My friend Todd London gave a talk at an innovation summit recently. In it he said, "I come to bury innovation, not to praise it." I thought very much of doing the same thing today because I, too, am so weary of this discourse. I once ran an organization that had a solid reputation for being innovative; however we never attended an innovation lab or even thought about needing to innovate, per se.
Instead, I would say we had three goals: to do work that no one else in our city would dare to do; to increase the fan base for the art and artists on our stages; and to do everything possible to make sure that the experience was always social, intimate, and meaningful for both the artists and the audiences. Very simple goals and we were willing to question just about everything about the development, production and distribution of our work in order to reach them. And we were willing and able to experiment continually (1) because it was inherent to the mission of the organization and (2) because we were in a state of crisis at the time and it was clear that some things had to be blown up in order for us to move forward.
From my experience innovation is a side product of:
actively throwing away existing maps and having one's organizational eyes wide open to a changing environment (i.e., having vision);
having strong values but flexible forms and practices;
encouraging creativity throughout the organization;
having the courage to see the truth about organizational performance and act upon it;
rejecting the status quo as a goal; and instead
continually seeking to create greater value in the world.
But how to innovate seems to me the less interesting and powerful question. Beyond "staying alive"or "replacing lost government funds" how will innovating allow you to advance your mission: increase your capacity to bring people together on equal terms, create and share knowledge, provide greater support for artists, develop and produce higher quality work, take risks, or make relevant and meaningful that which has become tired, is unfamiliar or misunderstood, or has been forgotten?
Or to do something else?
More importantly, could innovation serve the goal of sector-wide transformation? If so, how?
What would sector-wide transformation look like?
Until we can answer this question I don't think we will successfully undertake the overhaul that is needed.
Innovation is a process, not a destination.
It's a means to an end … The bigger question is, to what end does your organization, or the arts and culture sector as a whole, need or desire to innovate?
What is the changed state you/we want to see in the world? And why?