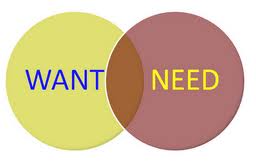 Recently, Nina Simon has written a smart post taking aim at the "Need versus Want" distinction often used to describe the role of (nonprofit) arts organizations—as in, "Our job is not to give people what they want but what they need." As someone that has, at times, used this distinction to make points in various talks I was eager to read Simon's post, Let's Stop Talking About What People Want and Need As If They are Different (and We Can Tell How).
Simon makes three arguments: (1) it's presumptuous for arts organizations to think they know what people need; (2) sometimes those running arts organizations (rather disingenuously) wrap up what they want to do in something called "serving people's needs"; and (3) it's depressing to think that art is not something that people might want. Reading Simon's post inspired me to think a bit more about why the distinction between Need versus Want is one that has appealed to me in the past and whether I agree that it may be a false and unhelpful comparison for the arts to continue to make.
Taylor Mac on Need and Want:
At the 2013 Under the Radar Festial artist Taylor Mac performed a Manifesto in which he elaborated on "a good number" of his beliefs about the theater. When I read the talk I was immediately taken with a section in which he distinguishes Need from Want in the relationship between artist and audience.
I believe theater is a service industry.  It's like being a plumber and theater artists are blue-collar workers who wear better clothes, for the most part.

I believe theater artists should be students of humanity

I believe, to learn what your audience needs, is the job

But caution that sometimes we confuse need with want.

Giving our audiences what they want is not the job

Sometimes giving them what they want is a fringe benefit or happy accident but it is not the job

I believe you may be saying to yourself, "That's very presumptuous of him to think he knows what the audience needs".  But I believe if I were a plumber you wouldn't think it was presumptuous of me to say my job is to learn what your plumbing needs. You would say I was a good plumber.

I believe sometimes we confuse what the audience needs with what the artist wants.  That makes crappy art.  But I believe there is room for it all.  Including crappy art.
I am drawn to Mac's conceptualization for many reasons—not least of which he suggests that the job of the artist is not to presume the needs of the audience as much as learn or discern them. Mac seems to submit that the artist's ability to comprehend and respond to the world is a skill. Whereas the plumber has the ability to diagnose the needs of a plumbing system, the artist has both the ability and responsibility to do the same with other (social) systems.
Alain de Botton makes a similar argument in his TED talk Atheism 2.0. De Botton rejects the idea of Art for Art's Sake and asserts, instead, that Art must "do something for this troubled world." By assigning to Art the responsibility to do more than exist and by characterizing the world as in need de Botton proposes that the 'job' (to use Mac's characterization) of artists and arts organizations is to bring something of value to bear in a 'system' (so to speak) in need of repair, maintenance, or perhaps complete overhaul. When I have held up the importance of responding to Need versus Want it has quite often been in this vein.
Moreover, I have often taken the line that effective arts organizations essentially broker an opportunity for people to engage with (and with each other through) the arts experience; and in curating a season arts organizations (ideally) pay attention to their communities and program work that they believe has social or intellectual relevance–that will matter–which can be different from saying that they program work that they believe will sell well.
This alludes to what I would argue is a reason to hold onto the distinction: Need versus Want is quite often shorthand for what it means to choose to work in the part of the sector that is endeavoring to operate outside a market logic. Giving people what they want is often shorthand for being market-oriented and giving them what they need is often shorthand for being artist- and/or community-oriented. This is a potentially critical distinction. Everywhere we look arts organizations (like the rest of society) are encouraged (or permitted, perhaps) to measure their worth (the value of their contributions to society) almost exclusively in short-term, market-driven metrics (positive press garnered, strong box office generated, jobs created, budgets balanced, hotel beds filled).
There can be a tension between serving markets and serving communities and serving the artform and artistic processes—particularly for disciplines like theater which exist in a mixed-market (meaning the markets for theater are occupied by commercial, nonprofit professional, and amateur organizations). I perceive that the Need versus Want language is, at times, useful in helping to parse our relationship to these peculiar masters.
A Caution: Philanthropic Paternalism
Both Simon and Mac rightly allude to the possibility of conflating audience needs with artistic wants. At the organizational level I would characterize this as a caution against what is sometimes referred to as philanthropic paternalism. Philanthropic paternalism is a term I've encountered in academic literature primarily drawn from nonprofit studies; it refers to a tendency of those in the private nonprofit sector to identify and address problems as they see them rather than as those they serve see them. Philanthropic paternalism stems from developing programs and services with very little input from those they are intended to benefit. This is a construct that is, arguably, more easily grasped in relation to the health and human services arm of the nonprofit sector, but it still holds in the arts (for both arts organizations and those that fund them).
How might we 'gather input' in the arts? Well, what are the processes for identifying where the community's needs (read: hopes, fears, controversies, voices, stories, history, important events, values, etc.) and the organization's purpose and goals intersect? We may do market research but are we diligent about thoughtfully accounting for, or engaging the community in, the process of developing missions, vision statements, and strategies? Perhaps tendencies toward philanthropic paternalism are mitigated by inviting a more representative group of individuals from the community to participate in those processes. Even better, why wait for the annual retreat or future-planning summit? Why not change governance and staffing structures and administrative and artistic processes to ensure that the organization (or perhaps a community of organizations working together) will regularly encounter, absorb, and reflect upon knowledge about who lives in the community, what they value, how they live and how they are impacted (or not) by existing cultural institutions in the community?
Need versus Want: Where the distinction makes little sense
While it may be useful for artists and arts nonprofits to distinguish between Need and Want in conceiving of their "jobs" it's not a distinction we should expect the audience itself to make. Do I need to see Fun Home and Good Person of Szechwan at the Public Theater in New York City when I'm in town next week, or do I want to? It seems a strange question. On the receiving end the distinction begins to evaporate.  Is art necessary and life-saving? Do we sometimes go out of duty or obligation only to find that the experience is (or becomes with time) an enjoyable one? Do we delight in it like a kid in Willy Wonka's chocolate factory? Sure. Maybe yes to all of the above, or some, or none.
What matters to me is not whether I need or want to see a couple shows at the Public. I value the chance to see these two particular shows sufficiently to pay just over $180 (which is steep on my PhD salary) to see them. What would seem meaningful to me is if I were to browse the offerings of the Public theater, shrug, and come to the conclusion that there's nothing there I need or want to see.
And that, really, should be our larger concern: Are we losing people? If so, why? Due to what action or inaction on our part in response to ever changing communities, markets, and artworlds? We are perhaps on thin ice if framing our job as giving people what they need (rather than what they want) has become a form of cognitive dissonance reduction–a way of rationalizing declining relevance as a problem outside of our control. Cultural organizations arguably exist to influence the values of the culture as much as reflect or manifest them.