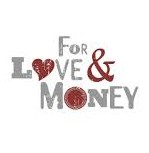 Last week, over on New Beans, Clay Lord wrote a post in which he mentioned the release of a new report on the salaries at arts agencies and used some of the findings, as well as some personal experiences, to discuss (among other things) the relationship between passion and salaries. He opined:
 We, as a field, need to get out of the cycle of allowing passion or lack of knowledge to displace financial worth—especially when this (and other) data show that such passion likely in part allows for disparities that should not exist.  We, as a field, need to better understand that we have inherent disparities, that we have created systems where moving up is challenging in part because our leaders are being paid in passion as much as they're being paid in salary, and that passion isn't something that you can retire on—systems where talented would-be leaders reluctantly fall away, frustrated at or unable to afford the reality of working in it—systems where some of our brightest cannot devote their whole energies to what they're doing and also afford balance, family, time, space.
The link that Clay makes between intrinsic motivation (e.g. passion) and extrinsic motivation (e.g. salary) is one that has been studied quite a bit, particularly in the creative industries. People have theorized, and studies have confirmed, that people accept lower salaries than they might otherwise make (or than what they might actually need to live) in exchange for the various intrinsic benefits that they derive from a life in the arts.
Interestingly, some researchers have also looked at this question from the other direction. That is, what happens when you pay people to do something that they might normally do just for the love of it? Bruno Frey is a leading discussant on this topic and, in particular, on Crowding Theory as it relates to motivation, money and the arts. He writes in his 2000 book, Arts & Economics: Analysis & Cultural Policy:
Crowding Theory analyses the effect of external interventions on intrinsic motivation. It is thus applicable to the creativity of individuals, which relies strongly on motivation to act for its own sake, rather than because of external compensation. The external intervention may consist of monetary and non-monetary rewards, as well as certain stipulations. It is based on a well-developed psychological effect known as 'Hidden Cost of Rewards' and 'Cognitive Evaluation Theory', stating that rewarding highly motivated persons to undertake a task tends to reduce their intrinsic motivation. Due to the external incentive introduced intrinsic motivation is no longer needed nor appreciated. This psychological relationship has been generalized to the Crowding-Out Effect.
In other words, money tends to crowd out intrinsic motivation.
Crowding theory may help explain such things as:
 Why volunteers may get a warm glow from a job well done, a hearty thanks, and a token gesture, like a T-shirt or a free meal, but may feel less enthused (and appreciated) if they are instead offered a low hourly wage for their efforts.
Why, once you have been paid very well to do something you love, over time it feels more like a job and you both expect to be paid and (perhaps) enjoy it less than you did when you weren't making much money doing it.
Why people often romanticize the early days of nonprofit startups when no one was being paid but everyone was there for the love of it—and why they often feel something is lost as the organization grows and begins to hire others, often paying them a living wage.
Therese Amabile is also a leading scholar on the relationship between the external environment and internal motivation for people working in the creative industries. Amabile has found that money, severe deadlines, competition, and fear of retribution all (contrary to some myths) tend to hinder creative work.
And some months ago (in a post called Not In It For The Money) I shared a link to a terrific RSA video (called Drive) in which Daniel Pink reflects on the findings from a couple studies that look at the relationship between monetary rewards and work performance and found that–with the exception of jobs that are mechanical (e.g., working on an assembly line)–larger financial rewards do not necessarily lead to higher performance and may even be inversely correlated with performance. He describes non-mechanical tasks as those that are complicated or require a high degree of conceptual or creative thinking.

However, Pink also makes the critical caveat that this finding only holds once you are paid enough that money can be taken off the table as an "issue" (meaning, you can stop thinking about money and think about the task). I recommend that you watch the entire video to get the nuance underpinning these statements. It's a great animated talk and is only ten minutes or so.
Reflecting on Clay's post and these ideas, I began puzzling on this relationship between passion for the mission/arts and money and wondering  (particularly with regard to larger arts nonprofits):
Which jobs within a typical art group would be categorized as "mechanical" and which as "creative/conceptual/complex"? Do we (or should we) reward accordingly (i.e., using financial rewards to get higher performance out of the former, but not the latter)?
Does money crowd out passion for the mission the way it crowds out intrinsic motivation for the job itself? And how might equity in pay relate to this? In other words, does paying exceedingly high salaries to a few at the top crowd out intrinsic motivation/passion of the rest?
Is there a money-motivation sweet spot, where a staffer or artist is paid enough that money can be "taken off the table" but not so much that the job attracts even those with no intrinsic motivation for the task? In other words, is there any benefit to leaving a modest "compensation hole" to be filled by passion for the work or mission of the nonprofit?