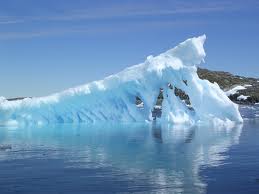 A couple weeks ago, one of my favorite arts bloggers, Andrew Taylor (a/k/a The Artful Manager) wrote a post whose title conveys a pretty strong thesis: Organizations don't evolve; they cope.  While I share Andrew's skepticism of the field's use of natural world metaphors (ecosystem, ecology, evolve, adapt, sustainability, etc.) it's not because I think the metaphors don't apply (within limits); it's because I think we sometimes misapply them.
Andrew begins his analysis with a comparison between individual organizations and individual organisms, writing:
We're calling on existing organizations to evolve to the new environment, as living organisms evolve to theirs. Only, individual organisms don't evolve. They only cope. So, we can tell a nonprofit corporate organization to evolve just as effectively as we can tell a fish to grow opposable thumbs. Its traits and tendencies were inherited at birth. It can adjust its tendencies, it can retrain its reflexes, but it's still a nonprofit corporate organization, even if it can do new tricks.
He then rightly points out a couple paragraphs later that there are differences between an organization and a fish:
An organization is a bundle of people, things, processes, and traditions, bound by contracts and covenants, and restricted in its operation by laws, codes, and norms. A fish is, well, a fish.
The distinctions that Andrew makes between an organization and a fish are critical; indeed, it is these very distinctions that would seem to make it possible for an organization to evolve and impossible for a fish to do so.
Moreover, I would argue that (legally constraining, in principle, as the form may be) the nonprofit corporation has demonstrated that it can be rather easily manipulated to ends (goals) other than the (educational or charitable) ones which any given 501c3 organization is presumably formed to pursue. In other words, where there's a will to evolve, there seems to be a way.
***
Organizations are socially-constructed systems with goals, presumed to be shaped by the contexts in which they are established. Typically, variations in organizations have been perceived to come about primarily through the deaths of old forms and the births of new ones. With the birth of new organizations, variations may be introduced, some of which will be retained in the population.
The introduction of the nonprofit form in theater is a nice example. In the first half of the twentieth century it was relatively rare to find a professional, nonprofit theater company in the US. With the emergence of funding from the Ford Foundation, and later the NEA, the nonprofit form became (in the words of Arena Stage founder, Zelda Fichandler) the apava for resident theaters across the US. In a 2011 talk, she remarked:
There's an expressive word, I believe it's Sanskrit – and the word is apava – that translates as "the effective means to make a vision concrete" or workable or real. Our apava, strangely enough, turned out to be the nonprofit corporation. Some of us might take that fact for granted, but we shouldn't. It's the basic reality of our existence. Before nineteen hundred and fifty something, theatre was excluded from the benefits given to science, universities, charities, the church, opera, and maybe dance – but not theatre, because it made a profit. We knew that without the nonprofit blanket we could not exist, for it allows us to receive gifts and grants and to be free of taxes on tickets.
Beginning in the 1960s there was an exponential growth in the number of nonprofit theaters. Organizational ecologists would suggest this was a reflection of the legitimacy of the form over other forms and that this growth would continue until the population had reached its carrying capacity, and then it would begin to decline. The carrying capacity is the maximum population size that an environment can sustain indefinitely given available resources.
As an example of the growth and decline in a population, as part of HowlRound's recent weekly series on Black Theater in the US, Sade Lythcott noted in her essay that "in the roughly ten-year span of the Black Arts Movement in New York alone (1965-1975), over two hundred black theaters emerged; today there are less than ten." The decline in that population (not only in NYC but across the US) has been considered by some in the theater field to represent the struggle of black theaters to attain legitimacy, resources, support, meaning, etc: they were birthed in a certain context and as the environment around them shifted they were unable to compete and survive.
Likewise, it is rare these days to see a young contemporary choreographer form a permanent company in NYC with a large number of dancers on the payroll, or a resident theater company (in any city) formed with a permanent acting company.
And it's not just certain forms of arts organization that are now harder to sustain; reading the "bracing" conclusion of the executive summary of the 2010 National Arts Index (as reported by Ben Davis), one wonders if we have reached the carrying capacity for the nonprofit form in the arts generally:
Given the profusion of underfunded organizations, the nonprofit model may have to be abandoned in favor of more experimental or market-oriented business models for the arts.
This is frequently how evolution in an organizational population is seen to occur: through the death, birth, and (importantly) growth of some organizations (and not others) in response to a shifting environment.
But as we have seen now and then, and as more recent research has theorized, it's not only populations that can evolve. Individual organizations themselves can transform (sometimes dramatically, sometimes incrementally) and do. While a fish may not be able to grow a new central nervous system, an organization, in essence, can.
An organization can "unlearn" practices and beliefs and norms and strategies, and learn new ones. It can shift its "dominant logic." One paper on this topic (Bettis & Prahalad, 1995 – The Dominant Logic: Retrospective and Perspective) asserts that this "unlearning" and "shift in logics" may be more likely to occur out of a period in which an organization experiences a high degree of instability. (Of course, this is not always the case: other possibilities arising from instability are that the organization will survive and revert back to the status quo, or simply fail entirely).
It's not hard to identify arts organizations that have been transformed out of periods of duress. The Louisiana Philharmonic Orchestras is a musician-owned and –led orchestra that formed after the demise of the New Orleans Symphony. The fact that the name has changed is less important than the fact that many of the same people re-organized and re-formed with new goals and a different structure and relationship between management and musicians.
Or consider the new strategies introduced in the opera world when Peter Gelb traveled from Sony to the Metropolitan Opera (which was, at the time, struggling with declining audiences and financial challenges). Consider the way the HD broadcast adaptation, specifically, has begun to influence the creation, production, and distribution processes not only at the Met but in other organizations, as well, and has begun to change the relationship of audiences to the art form of opera.
Or look at how Diane Paulus has radically re-interpreted the mission of the American Repertory Theatre. She has changed the goals, relationships, identity, structure, and strategies of the organization in response to not only a changed "world" (i.e. larger societal context) but also changed expectations from ART's "host," Harvard University.
Of course, organizational evolution is rarely this dramatic. More often, it happens so slowly we don't recognize it. Paulus did in one season what other theaters took two decades to enact.
We tend to talk about the arts and culture sector these days as though it is "stuck" – unable or unwilling to change – but it might also be useful to consider how the present state is a function of small adaptations (in structure, people, processes, culture) in response to a shifting environment and the persistence of some of those changes over time (i.e., those that were perceived to increase the chances of survival).
Evolution occurs both through adaptation and through the perpetuation of whatever is working well. In The Resilient Sector, Lester Salamon has suggested that we have been witnessing a long creep towards commercialism in the nonprofit sector in the US generally (not only in the arts), because this is, essentially, what the slings and arrows of the US system encourages.
With the lack of subsidies and increased competition for funding, what options exist for staying alive? Do an enhancement deal and produce a new musical; reduce production expenses and beef up the development and marketing staff; find a corporate sponsor and produce a sensational exhibition of some kind; hire a celebrity and charge $300 for tickets; avoid producing works that require a large number of actors or musicians or dancers and more than the standard amount of rehearsal time; replace an unknown work by an emerging playwright with last year's Tony Award-winning work; or better yet, a revival of a well-known title by a household name.
These strike me as coping mechanisms. Tactics to enable short-term survival.
In this sense, I agree with Andrew. Organizations often adopt coping mechanisms in response to changes in the environment and uncertainty. However, sometimes a coping mechanism, perhaps because it's working in the short-term, becomes a longer-term strategy. It gets re-framed as a process innovation and becomes a new way of doing business — a model for existing organizations, or new ones being formed, to replicate. Eventually, one adaptation can begin to have repercussions on the audience, the art, and the identity of not just one organization, but on an entire organizational field.
Some of these changes may strengthen nonprofits and their ability to realize their missions and goals. Some may not.
Therefore, from my perspective, the question is not whether or not organizations can (and thus should be expected to) evolve; they do evolve. The question is how, and in response to what?
***
BTW, closely related to this blog, I've endeavored to tackle the concept of sustainability in the arts in a recent talk that I've given in Minneapolis, Lyon, Salzburg, and Belfast. It's called, "Holding Up the Arts. Can We Sustain What We've Created? Should We?" There is a permanent link in the sidebar "Stuff I've written".