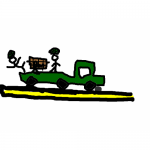 About a month ago I wrote a post on ''on artists making a living and artistic directors that could make a difference but don't.' I had a significant number of comments (relative to other posts on my blog) including several from actors (thanks, all). One of the most inspiring posts came from Ron Russell of Epic Theatre in NYC.
Epic (founded in 2001) has operating expenses of approximately $1.7 million (according to its 2010 990 filing on Guidestar) and recently renegotiated its contract with Actors Equity Association (AEA) to enable it to (among other things) (1) put an ensemble of actors on a 20-week off-Broadway contract that includes teaching responsibilities and (2) to pay each actor a weekly salary of $900 per week (which, according to Ron, is 'higher than the highest non-commercial minimum of any contract in NYC'). This 20-week contract also allows actors to get a year of health insurance at the end of the period. You can read about the specifics of the contract in a post on Ron's own blog (evidently the first in a series).
Ron writes that, for years, Epic had an unspoken rule of thumb that the weekly salary of its actors would be equivalent to 1% of its total operating budget. The ratio began with its first show, which paid actors $200 per week (at the time its budget was $200,000 per year). But Ron remarks in his post that in recent years the ratio was not maintained. It was out of concern for this trend and a strong feeling that artists are critical to a thriving theater company that Epic condensed its production schedule, thereby enabling it to offer an 'ensemble' of actors nearly half a year's work and a salary increase. He mentions in the post that AEA was cooperative when Epic approached the union to discuss its ideas.
In my post this was exactly the sort of thinking and action I was encouraging – however, I wasn't aiming my comments at smaller theaters like Epic (which are often lightly institutionalized). I was directing my post to larger theaters.
If you've browsed the comments you'll note that the response to the post was mixed. While most artists and many running theaters agreed that it's an important issue and should be addressed, some theater staffers were quick to point out that theaters are barely getting by as is and that, in the most recent recession, it was administrators that took cuts to their salaries even while the weekly salaries of actors working at their theaters increased. (I feel compelled to point out that, while trimming administrative costs, many theaters also reduced the number of shows in their season, or their productions weeks, or the size of their casts, or all three–changes which would seem to negatively impact the total wages paid to artists even if their weekly rates were increased.)
More than a few people asked, "Where's the money going to come from to pay for this?" Looking at Epic as an example, I would suggest that the short (and admittedly rather glib) answer is from other areas of the budget–as a result of restructuring and getting priorities straightened out.
While there were several comments that were quite moving, I was perhaps most struck by a comment from Zak Berkman (also from Epic) who wrote:
Reading your post and response to Carl reminded me of my experience reading OUTRAGEOUS FORTUNE – and something Zelda F told us co-founders of Epic Theatre Ensemble ten years ago. I'm paraphrasing but it was essentially this: "when we started the regional movement, somewhere along the way the playwright fell off the truck and we never turned around to pick them back up." I think as the economics and cultural dynamics of the regional theater evolved with various larger theatres disbanding or diminishing their rep/resident companies it does seem like even more artists are tumbling from the truck… And in the process the image of the artist as someone outside of the institution, outside of the community, is more and more perpetuated: not just by the public or by funders, but even by the artists themselves.
I read Zak's comment and imagined a jalopy filled with artists lumbering across the US and all along the route a hand reaching out and hauling arts administrators onto the flatbed while quietly giving artists a gentle shove over the side. When the vehicle arrives at its destination it is filled with a bureaucracy of administrators, who have traded in their dilapidated wheels for something spiffier that they can proudly park at the Country Club when they meet with donors.
I recently listened for the 3rd or 4th time to a terrific 2005 TED talk on 'institutions vs. collaboration' by Clay Shirky, in which he discusses the ways that technology and the shrinking costs of communications have enabled systems to be designed that allow groups to coordinate their activities without institutional models (this is the theme that he addresses at length in his terrific book Here Comes Everybody). In his talk, Shirky describes four side effects of institutions: (1) institutions don't simply require employees, they require managers to oversee employees; (2) institutions require structures, which bring costs; (3) institutions are exclusionary (they can't hire everyone); and (4) as a result of this exclusion institutions end up with a 'professional class'.
Shirky posits that there is a tension between institution as 'enabler' and institution as 'obstacle' and elaborates on this point saying:
Institutions hate being told they're obstacles. One of the first things that happens when you institutionalize a problem is that […] the first goal of the institution immediately shifts from whatever the nominal goal was to self preservation.
He goes on to say that when institutions are told they are obstacles they go "through something like the Kubler-Ross stages of reaction to being told you have a fatal illness."
For decades the goal of the nonprofit arts sector was institution building. We celebrated each time an organization could beef up its administrative staff and increase its budget and survive a leadership transition. Today, many arts institutions are increasingly perceived to be obstacles rather than enablers. And as Shirky and others might predict, their impulse to this threat is to self-preserve: to say, "No matter what, I think we'd all agree, that this institution must exist; the only question is, how do we sustain it?"
Instead, as difficult as it seems, I think the impulse needs to be to ask ourselves quite seriously whether the institution (as we currently conceive of it) needs to be sustained in order for great art to be created, presented, distributed and preserved. We've spent decades building exclusionary, professional, hierarchical institutions; perhaps it's time to start moving to a cooperative infrastructure model (as Shirky suggests) and releasing control of at least parts of our major institutions to artists, community members, and other stakeholders.
It's time to get not only artists back on the truck (as Epic has done) but the 'communities-at-large' that presumably 'own' our nonprofit institutions.