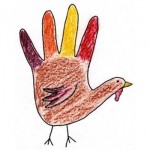 I may be unable to post much the next few weeks as I'm on planes and trains, buried in research materials, visiting friends and family that I too rarely get to see these days, and sprinting to the finish line on a few projects. But I want to take the opportunity to thank Doug Mclennan for the opportunity to launch Jumper on ArtsJournal.com (a gift for which I will be forever grateful) and to thank everyone that has taken the time these past twelve months to read posts, post comments, send emails, Tweet, ReTweet, republish, or otherwise engage.
In a year of transitions — single to married, no kids to stepmom, living in the US to living in the Netherlands, living in a cultural capital and seeing shows several nights a week to living in the suburbs and cooking potatoes several nights a week, working fulltime at a private foundation to going back to school — the transition to 'blogger' has been one of the best.
OK, not better than marrying my amazing husband, becoming a stepmom, and being adopted into my amazing Dutch family, but truly rewarding.
I will continue to challenge myself to make it worth your time to check out Jumper now and again; and I will continue to be grateful whenever you do so.
I will be back in full force in December.
Until then, gobble gobble.