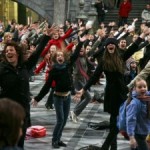 A new acquaintance recently recommended the Jan-Feb 2011 HBR article, "Creating Shared Value" by Michael E. Porter and Mark R. Kramer. The authors define the concept of shared value as "policies and operating practices that enhance the competitiveness of a company while simultaneously advancing the economic and social conditions in the communities in which it operates."
The article, which is compelling, gives several examples of policies and practices that create shared value, including: food companies traditionally focused on taste and quantity refocusing on the fundamental need for better nutrition; firms focused on holding down wage levels and reducing benefits refocusing on the positive effects that a living wage, safety, and wellness programs can have on employee productivity; and firms re-conceiving products to serve disadvantaged communities and by doing so developing robust new markets. One of the recurring ideas of Porter and Kramer is that companies need to shift the short-term/zero-sum mindset that investing in 'doing good' will harm profits. The authors posit that companies that refocus on creating societal and economic value, in the long term, can generate increased profits.
It strikes me that arts nonprofits may have a similar short-term/zero-sum mindset when it comes to investments in arts education: because such investments don't pay off in immediate returns at the box office, and may siphon resources away from other areas, many will not invest in arts ed, or will invest only in response to incentives, when dedicated funding is available (and available only for that purpose). Moreover, those arts education departments and programs that are created (even with dedicated funding) often seem to receive insuficient organizational attention and resources.  
On Twitter a few days ago, someone referred to education in arts organizations as the 'tail wagging the dog.' I wonder if this idea stems from another issue–the sector having at once too liberal and too narrow a conception of what it means to exist for 'charitable and educational' purposes? On the one hand we posit that our educational purposes are fulfilled simply by putting on shows or exhibits and creating program notes; on the other, when we decide to invest in 'education' programs, they often end up being limited to two types of activity: kids at craft tables or adults listening to erudite lectures.
One of the definitions of education provided by Wikipedia is 'the act or process of imparting or acquiring particular knowledge or skills'. There seems to exist a far greater range of knowledge and skills and means of imparting and acquiring them than arts nonprofits are currently embracing. Given the newly published NEA report indicating a significant correlation between taking an arts course and adult participation, increased demand for arts education and participation activities (noted by the National Arts Index), and the dearth of such activities for some members of society, there would seem to be tremendous opportunity for nonprofit arts groups to respond to this societal need.
As I suggested a couple weeks ago, it does not seem unreasonable to think that addressing this societal need could provide new (earned and contributed) revenue streams for arts organizations, and (in the long term) increase interest in performances, exhibitions, etc. In my previous post on the subject I suggested arts/ed hybrids as a possible solution– but by no means do I think this is the only or best path forward. What does seem clear, however, is that arts organizations that want to pursue this path need to take the role seriously and invest accordingly.
If doing so seems to be at odds with a mission 'to produce excellent shows' then why not consider a dual mission and add the statement 'and to help members of our community gain the knowledge and skills necessary to have an expressive life' (thanks Bill Ivey)?
I often hear organizations protest that arts education is the role of government, not arts nonprofits. Perhaps, but nonprofits were created to fill societal needs that government either cannot fill, or chooses not to fill. Who better than nonprofit arts groups to step in and invest in developing quality resources to meet the societal need—and if Porter and Kramer are right—to potentially strengthen themselves while doing so? The Joffrey Ballet's investments in dance classes for the public, which yielded significant returns to the organizations strikes me as a great example of this. And there are many more, including Elizabeth Streb's Trapeze Academy, (which I've mentioned before), Chicago Symphony Orchestra's Beyond the Score programs, and  the Metropolitan Opera's Live in HD broadcasts and ancillary programs. To my mind, these organizations are creating 'shared value'.
Image of TMobile Do-Re-Mi Flash Mob at Antwerp Central Station.