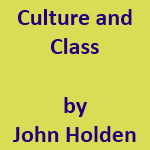 Last week, I wrote a response to a blog by Judith Dobrzynski in which she asked, "Are we, as a country, defining the arts down?"  I essentially challenged her question. Responses to my blog varied, with one person calling my views 'nonsense'. A few days ago, I happened to read a provocative new pamphlet by Counterpoint, the British Council's think tank, called "Culture and Class," which goes straight to the crux of last week's conversation. Author John Holden describes a culture war being waged on two fronts:  the first concerns who has access to 'culture' (as traditionally defined) and the second concerns who gets to decide what 'culture' is, in the first place.
The director of Counterpoint writes in the preface to the pamphlet:  "… at a time when we know that the gap between rich and poor is at its widest, worldwide, and likely to widen as the economic recession deepens, we are entirely failing to address the direct role played by culture in perpetuating these distinctions." Using the UK as a case study, Holden argues for a more democratic definition of culture as the first step towards a more egalitarian society.  
To achieve a more democratic culture, he asserts that two things need to happen in parallel: a shift from cultural exclusion to cultural inclusion and a shift from culture defined by a narrow elite to culture created by everyone. He then describes three different groups that affect the ability of people to participate in culture, as follows:
The cultural snobs are a small but still influential group, typified not only by their allegiance to certain art forms and periods, but by their insistence that only the already educated should enjoy them.
The neo-mandarins are 'cultivated' and are cultural enthusiasts who wish to share their enthusiasms with others. They believe it is patronizing to assume that anyone is incapable of understanding and enjoying culture and are keen to educate them in 'high' culture.
The new cosmopolitans respect, enjoy, and are knowledgeable about Shakespeare, Berlioz, and Fra Bartolommeo and the rest [but also] find cultural quality (meaning emotive power, intellectual stimulation, inventiveness and skill) in popular music, folk art, product design, Youtube uploads – and even in new media and film. The fact that some of these are readily embraced by masses of people and are 'popular culture' does not bother them. 
I was glad to see all three of these perspectives (and others) represented in the volley of comments to last week's blog.  The conversation about how 'culture' (or 'art') is defined and who gets to define these terms is an important one; and "Culture and Class" is a stimulating text on the topic.