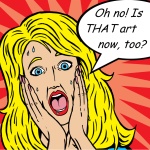 AJ Blogger Judith Dobrzynski recently asked, "Are we, as a country, defining the arts down?" She questioned the quality of small-town festivals, the inclusion of "gastronomic arts" in arts education, and the merits of an exhibit at the Albright-Knox Gallery featuring photographs and videos of the local hockey team, the Sabres. I would respond to her question by first asking, Is it fair to categorically (and sight unseen) cite these activities as evidence of the lowering of artistic standards?
Just as you can find bad art in Manhattan, you can find great art in places like Fishcreek (WI). There's a book by John Villani, 100 Best Small Art Towns in America, which highlights communities with terrific festivals, vibrant artist communities, or museums with impressive permanent collections.
And gastronomy? The study of the relationship between culture and food strikes me as a worthy pursuit for students and one that should not be assumed to crowd out appreciation for the "fine arts". I also wonder whether its presence in schools reflects the reach of Slow Food — whose strategies for changing the relationship between people and food have been, in my opinion, more effective than those of the arts sector to "develop audiences." (A topic for another day.)
Finally, while the 40th anniversary Sabres exhibition probably could be categorized as a "blockbuster", is the reason the collection is assumed to be of low artistic quality because it has broad appeal, or because it was created as a celebration, or because we assume that photographs of hockey players and their coaches could never be artistic? 
I saw an exhibition at the Brooklyn Museum called BAM! BAM! BAM! Catching the Next Wave for 20 Years, which was, essentially, a highlights reel celebrating a festival at the Brooklyn Academy of Music. Did anyone question its merits? Of course, I watched the video while lying on a mattress inside a specially designed structure. Perhaps that's what made it qualify as "art"?
Dobrzynski borrowed her question from a phrase, "defining deviancy down" in an article by the late Sen. Daniel Patrick Moynihan, which questioned whether increased crime was the result of the normalizing of deviant behavior. Beyond questioning her examples of "defining art down," I guess I'm puzzled by the "threat" implied in Dobrzynski's question; I'm not sure I understand who or what is harmed, exactly, by broadening the definition of art. 
I agree with Bill Ivey, who has challenged the perpetuation of a Western European artistic hierarchy in the US (in his book Arts, Inc.); or as I have taken to adapting his idea and saying—if we want to reach new audiences we may need to stop hammering so hard on the idea that Bach is intrinsically better than Björk, who is intrinsically better than my brother, who plays in a pro-am banjo club in St. Louis. Greatness can be found in the nonprofit, commercial, or amateur art realms. (And, of course, so can mediocrity.) Does it take anything away from Bach if I also consider both Björk and my brother's banjo playing to be artistic?
PS – Sincere thanks to all who weighed in on my posts on dynamic pricing and economic impact studies and helped to generate some really interesting debates. If you haven't checked out the comments posted by others, I encourage you to do so as they are well worth reading. 
Screaming woman image licensed from Shutterstock.com and modifed by DER.