Richard Aaron writes in an email: "Here is a work by Brion that I have in front of me. He did very many of these.  Around 1958 the calligraphic element began to appear, but this is from 1951. I used to own a large bunch of his surrealist work from the 1930s.  Typical of the period.  He was fortunate to have been tossed out of the movement by Breton."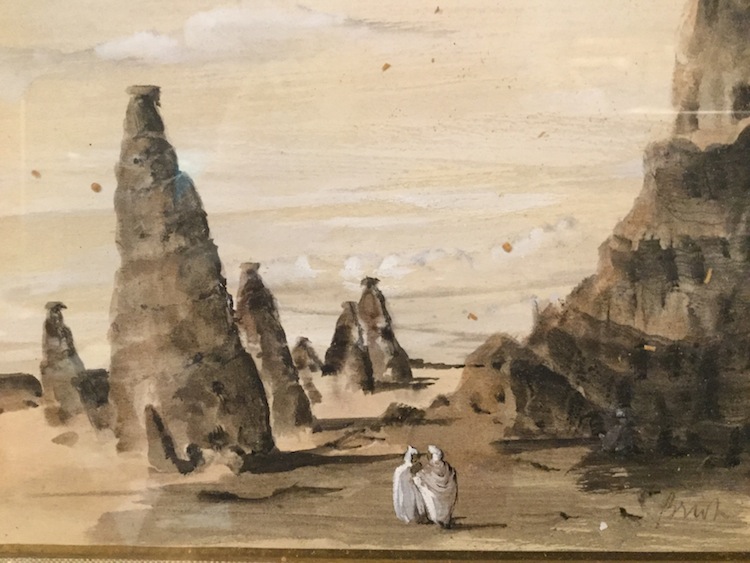 Some years ago Ted Morgan showed me a Gysin watercolor not unlike that one, though more colorful and of a different subject. It hung in the bedroom of Ted's Manhattan apartment. He too said Brion had done many others like it. What amazed me was the delicacy of the work and the technical control. Apart from the beauty of it, Ted was eager to have me see the optical phenomenon of it; from a distance the work looked "realistic"—it was a marketplace scene in Tangier, as I recall—but when you moved closer it resolved into a figurative abstraction that did not look pointilistic. It simply looked fabulous.
Here's an example of the "calligraphic element" that Aaron mentioned: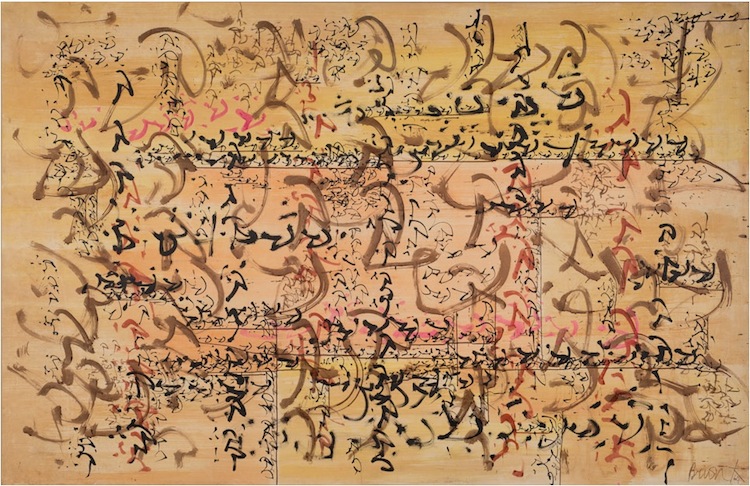 Brion Gysin was born on January 19, 1916, in Taplow, Buckinghamshire, England. Gysin first established himself as a painter, attending the Sorbonne from 1934-1935 and associating with figures such as Max Ernst, Yves Tanguy, and Salvador Dali. In 1935 he participated in the Surrealist Drawing Exhibitions, although his work was withdrawn by Surrealist founder Andre Breton. Gysin also attended the University of Bordeaux from 1949-1952 and Archivos de India at the University of Seville from 1952-1953. In 1939 he held the first single-artist exhibition of paintings at Galerie Quatre Chemins, Paris. A year later, Gysin immigrated to the United States, becoming a naturalized citizen in 1945. He worked in New York City as an assistant costume designer before moving to New Jersey to work as a welder in the shipyards. He was drafted into the United States Army during World War II; after the war ended he received one of the first Fulbright fellowships and traveled to Tangier, Morocco. Gysin is best known for inventing "cut-ups," a technique in which words are clipped from printed material such as newspapers and randomly arranged. His later innovations included permutated poems, in which a computer program rearranged six-word lines into all their possible combinations. Gysin also co-invented the Dreamachine with Ian Sommerville, collaborated on numerous works of poetry, film, and sound recordings with William Borroughs, and published two critically acclaimed historical narratives on slavery. Gysin died on July 13, 1986, in Paris, France.
Biographical Source:"Brion Gysin," Contemporary Authors Online, Gale, 2004.